DreamWeek / MLK March 2023 
Kicking off 2023, we promoted DreamWeek and the 2023 MLK March. Visit San Antonio executed a targeted media plan with a geographic reach focused on Austin, Houston, the Rio Grande Valley, and San Antonio. Throughout the month of January, these efforts resulted in 1.4M impressions.  
In addition to the targeted media plan, we utilized our social media platforms, including video elements with Facebook reels and TikToks, as well as blogs that contributed to over 7,000 pageviews in January.  
Blogs to check out:  
San Antonio Rodeo 
Visit San Antonio supported the San Antonio Stock Show & Rodeo's marketing efforts with a media marketing campaign that ran from January 1-24 targeting audiences in key geographic areas resulting in 4.3M impressions and an 87:1 ROI. 
We also promoted with organic social posts across our leisure channels as well as a blog, "What to Expect at This Year's San Antonio Stock Show & Rodeo,"  which was viewed over 4,000 times in February. 
Spring Break 
Our marketing team led a media campaign to market San Antonio as a premier Spring Break destination. We targeted efforts both regionally and nationally, focusing on our family personas, then adding college students and last-minute travelers in Austin, DFW, and Houston to the campaign as we went into March. 
We supplemented our media campaign through our social media channels with posts not only highlighting Spring Break, but also spotlighting specific attractions to visit, like the Disney Immersive Art Exhibit and Dino Safari. We further supported these efforts with blogs, suggesting great places to eat and fun things to do.  
Blogs to check out: 
River Walk Event Support 
Two major River Walk events took place in Q2, Mardi Gras and St. Patrick's Day. The Mardi Gras marketing campaign resulted in 2.4M impressions and a 38:1 ROI. Shortly after, the Bud Light St. Patrick's Festival and River Parade campaign resulted in 1.4M impressions. Both marketing campaigns were supplemented with organic and boosted social posts on both the River Walk and Visit San Antonio social channels as well as blogs and placement in the quarterly Rio Magazine.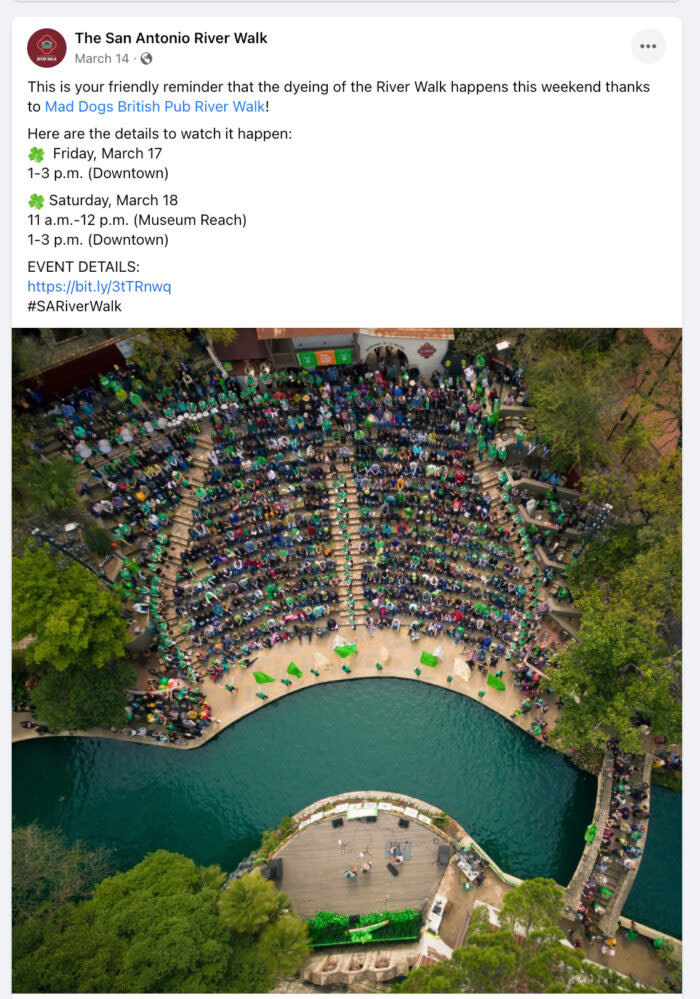 Online Engagement (OLE)  
OLE has been incredibly strong the first half of FY23. We hit 41.4M in OLE fiscal year to date. That is 83% of our total FY23 OLE goal of 55M! Year-to-date combined ROI is also strong at 45:1. 
Website 
The Visit San Antonio website also saw a strong Q2. Over 1.2M users visited the website contributing to over 2.4M pageviews. The Visit San Antonio homepage has made great use of blogs and trending topics to ensure fresh, relevant content is always served to our visitors.  
Social Media 
In just under six months, the Visit San Antonio TikTok channel has cleared 20,000 followers. We've seen great audience growth on our channels and our video views are up 80% thanks to improved strategies and the addition of TikTok.  

Additional Key Updates 
In Q2, we initiated an audit on all our websites in preparation for upcoming renovations to better serve our visitors. In addition, an AI tool was implemented on our website to allow visitors to ask questions and get responses in real time. And, we recently added a feature to sell tickets and added the Buy Tickets page on our website.  
All Visit San Antonio Members can now display their Real & True pride and share what makes their business unique, authentic – and Real & True! We deployed our Real & True Tool Kit for all Members to access. 
Visit San Antonio has been meeting with City Council district representatives to take a closer look at all the hidden gems in each of the city's districts. With these efforts, we are developing Food Trails to help visitors and locals alike navigate San Antonio's incredible culinary scene across the city.   
We are also wrapping up successful Marketing Co-op campaigns with the San Antonio Museum of Art, The DoSeum, and L'Etape. If you are interested in collaborating with Visit San Antonio on a Marketing Co-op, learn more at members.visitsanantonio.com.   
Arts & Culture 
As part of our ongoing efforts, Visit San Antonio continues to support the City of San Antonio's Arts & Culture Department and the overall arts and culture scene. Not only have we featured arts and culture gems throughout our social media channels, in Q2 we had eight blogs dedicated to arts and culture, resulting in over 19,000 pageviews! Our website is filled with arts and culture pages that we feature in blog posts and on social channels. In Q2, our arts and culture pages were viewed over 162,000 times!  
Arts & Culture Q2 Blogs to Check Out: 
The city's brilliant arts and culture scene was also captured in the latest Beautiful Destinations video as well as our spring video efforts: 
We will continue with our ongoing annual paid and organic media support to arts and culture through display, video, search, email marketing, social media, TV/Connected TV, radio/audio, and outdoor marketing.