Dear Partners:
As we continue to battle the unparalleled challenge of COVID-19, a struggle that has now stretched for more than three months, we're beginning to see tangible evidence of how things will change as we move forward.
From how and where we work, eat and play to the makeup of our conferences, our industry is reinventing itself almost by the day. It remains a difficult and complicated time, but I continue to admire the spirit of collaboration and unity that is fueling recovery.
It's why, in a Texas Meetings Industry Day webinar, I spoke about being "perpetually optimistic" about the future. In the face of all that is happening, the tourism and hospitality sector has kept its bearings and remained resolute in seeking solutions.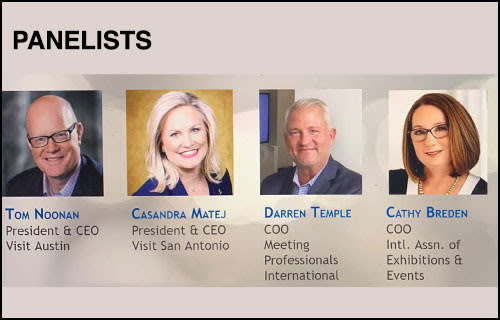 Of course, the challenges continue:
Our year-over-year hotel numbers for May were dramatically impacted. We experienced a 75.2 percent drop in room revenue, part of a 51.5 percent fall in occupancy. We experienced a decrease of 40.9 percent in room rate, and room demand fell 58.1 percent.
For the year through May, room revenue is down 47 percent, occupancy has fallen 34.3 percent, room rate is behind 14.8 percent and room demand down 37.7 percent.
We continue to see group leads coming in, both short- and long-term, although down roughly 85 percent year over year. However, our messaging to groups that are considering their future is direct: Postpone, don't cancel! That message has resonated for some:

For example, the Humane Society of the United States confirmed its moving its 2020 Animal Care Expo, originally set in May of this year, to May 2024. The 2020 WorkHuman Live conference, set for May 2020, is in the process of confirming for May 2021. And the 2020 AvonCon, which had been planned for August, is close to confirming for the same month a year from now.
Altogether, those three events alone add up to nearly 15,000 attendees, 22,700 room nights and $11.4 million of economic impact salvaged for the future.
A big victory for San Antonio occurred in recent days when the Texas High School Coaches Association announced it would be holding its planned 2020 Coaches School as scheduled from July 19-21 at the Henry B. González Convention Center. With 7,500 attendees expected, the event will be the first large citywide meeting in the city since early March. Click here.
We're working hard to ensure that there are plenty more to come. As of this week, we have a total of 152 conventions and in-house meetings still on the books for the rest of the year, including nearly 178,000 in total room nights and $113.9 million in projected economic impact.
Again, our success is going to rely on us to be perpetually optimistic indeed!
This includes our role in trying to be a part of real change in the world around us. As that landscape has been radically and irrevocably altered by tragedy and brutality stemming from racial injustice, Visit San Antonio has issued a statement in support of Black Lives Matter and the fight for equality. Please check out our webpage dedicated to this and please join us in Standing in Solidarity. Click here.
We're keeping a finger on the pulse of decisions associated with COVID-19 that may affect you and our visitors. For instance, Gov. Abbott on Friday announced a new executive order that again closes bars and similar establishments and scales back the capacity at restaurants to 50 percent from the previous 75 percent allowance. Also, under his new orders, rafting and tubing outfitters must close. This comes on the heels of Bexar County and the city moving to restrict outdoor gatherings of 100 or more people, down from the previous limit of more than 500 people. More on that and other rulings of impact will be reviewed in our Government Relations update in this report.
As I mentioned earlier, I was a panelist on an informative webinar this week that included colleague Tom Noonan of Visit Austin and executives from Meeting Professionals International and the International Association of Exhibitions and Events. The topic was the status of the meetings industry and the importance of collaboration on the road to recovery.
Earlier, I had also appeared on a very unique Destinations International panel with my friend Butch Spyridon of Visit Nashville. The webinar sponsored by the Pandora music platform, addressed how important music is to telling a destination's story, and how it can be used in marketing a destination.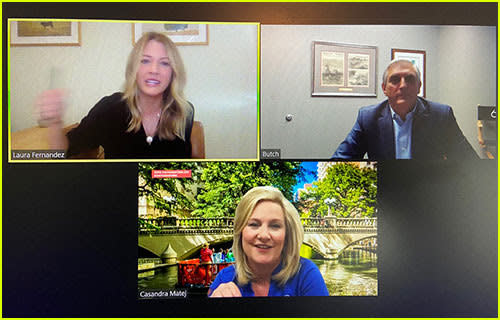 As we open those doors for travelers, we're working hard to do so safely in all areas. In addition to the "Greater. SAfer. Together." pledge that local businesses have committed to in recent weeks, the industry is following the safety protocols being issued by Bexar County and the City of San Antonio. Earlier this week, that meant a return to requiring customers who cannot adequately social distance to wear masks. The Texas Hotel & Lodging Association, in a webinar sponsored earlier this month by the San Antonio Hotel & Lodging Association, offered some clarity on the recent ordinances: Bexar County COVID-19, Click here for the latest local news and updates.
If you have any questions or suggestions for next month's newsletter, don't hesitate to contact me. Thank you for all that you do, and thank you for your continued support. We look forward to better days ahead!
Deep. In The Heart,

Casandra Matej, CDME, CTA
President & CEO
Visit San Antonio