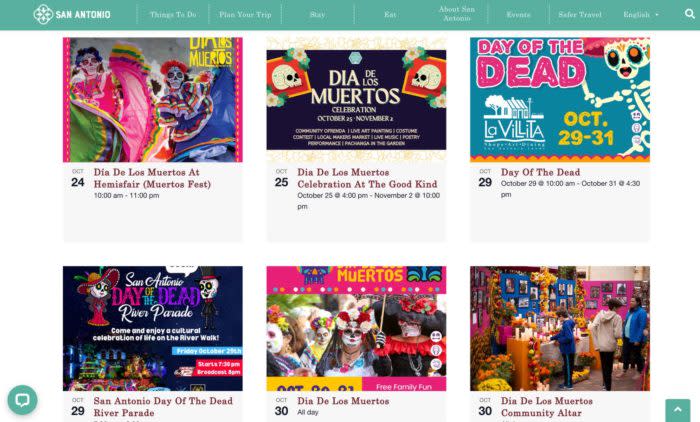 Day of the Dead Festivities 
September and October marketing efforts include promoting October's Day of the Dead celebrations. Messaging tells the story of the authenticity of Day of the Dead/Dia de Muertos festivities in San Antonio due to the strong Hispanic heritage of the city and position San Antonio as a premier destination to experience this holiday and the traditions surrounding it. Implementation of these efforts involve digital ads, social posts, prime placement on VisitSanAntonio.com on both the homepage banner and featured images, highlighted positioning in the monthly Visit San Antonio e-newsletter, and ad buys in the broadcast and streaming of the Dia de los Muertos Festival at Hemisfair event on NBC LX. Additionally, the Day of the Dead River Parade will broadcast locally on KSAT and will be broadcast in markets throughout the country on syndication. The Dia de Muertos landing page on the Visit San Antonio website includes a link to a curated list of Dia de Muertos/Day of the Dead events throughout the city. If you have a Day of the Dead event you would like highlighted on this page, events may be submitted to the event calendar here. You do not have to be a Visit San Antonio partner to submit an event. 
Social Channels and OLE  
Visit San Antonio's social channels continued to grow in September with the highest net follower count on Twitter. September also saw Visit San Antonio's Instagram follower count topping competitor Visit Houston with over 86,000 followers. 
September total online engagement (OLE) reached 1.4 million surpassing our projected goal of 1,080,000 OLE. Visit San Antonio exceeded all projected OLE goals across the board this month which includes active social media channels and web engagements. 
Visitor's Guide  
The Visit San Antonio Official Visitor's Guide surpassed 31,000 reads at the end of September. Now available in both English and Spanish, the guide will continue to be promoted across all active social media channels in the coming months in addition to the prominent placement it has on VisitSanAntonio.com. 
Promote Your Events     
Increase awareness of your upcoming event and ensure visitors know all they can experience in San Antonio. Add your events to the VisitSanAntonio.com Event Calendar here. The Submit an Event link appears at the bottom of every page of VisitSanAntonio.com to make it easier for you. You do not have to be a Visit San Antonio member to submit events.