Destination Experience Team provided support to 149 meeting/convention groups convening in San Antonio which represented 119,036 attendees and 175,231 total room nights.  The estimated economic impact of these groups was $71.1 million. The Destination Experience Managers coordinated and led 27 planning site visits during Q3 for groups who will meet in San Antonio between 2023 and 2024.   
In an effort to enhance customer engagement during their convention, Destination Experience launched a new Social Enhancement program offering key groups a hosted reception at the HBGCC. This Social Enhancement is designed to connect VSA, HBGCC, and customer leadership in a social setting to further a strong partnership. The groups below have enjoyed this initiative to show our appreciation.    
San Antonio Breast Cancer Symposium  
Texas Computer Education Association  
America Academy of Allergy Asthmas & Immunology   
Ace Hardware  
Association of PeriOperative Registered Nurses  
Tyler Technologies  
American Society of Safety Professional   
BODi (formerly Beach Body)   
Upcoming July/August/September Citywide Groups (1,000+ Peak):  
Avid Center (7/12 – 7/14)  
Texas Bandmasters, Choral Directors & Orchestra Directors Association (7/20 – 7/22)   
Herbalife (7/28 – 7/30)   
American Society for Healthcare Engineering (8/6 – 8/9)  
Association of Latino Professionals (8/6 – 8/9)   
Victory Outreach (8/22 – 8/24)   
San Japan (9/1 – 9/3)  
BlueStar (9/10 – 9/13)  
Southwest Veterinary Symposium (9/21 – 9/24)  
Customer Spotlight:  
The American Society of Safety Professionals held its annual conference and expo in San Antonio, June 5-7, 2023. SAFETY 23 boasted a record-breaking number of exhibitors and attendees for ASSP with 550 exhibits, 3,000 exhibitors, and more than 5,000 registered attendees.   
BODi held their annual summit June 21 – 24 in San Antonio and kicked off with an outdoor workout on Market St. for their 6,000 attendees. At their general session, BODi attendees cheered and yelled after it was announced that their 2024 conference will be held at the Alamodome.  
Events:   
Q3 offered a great opportunity for the experience team at Visit San Antonio to engage in the execution of IPW 2023. The Experience team managed multiple areas of IPW 2023, including Hotel Activations, Volunteers & Amenity Procurement.  
 The Hotel Activation Team managed the "Lobby Activation" at the eight designated hotels. Each lobby activation featured an illuminated backdrop, showcasing a San Antonio mural flanked by a painted wooden bench by a local artist. Volunteers manned the activations and assisted with familiarizing the attendees with San Antonio along with entertaining them with our local celebrities and historians.   
In addition to hosting three in-person training sessions, the volunteer team managed 602 Volunteers, completing 684 shifts over five days.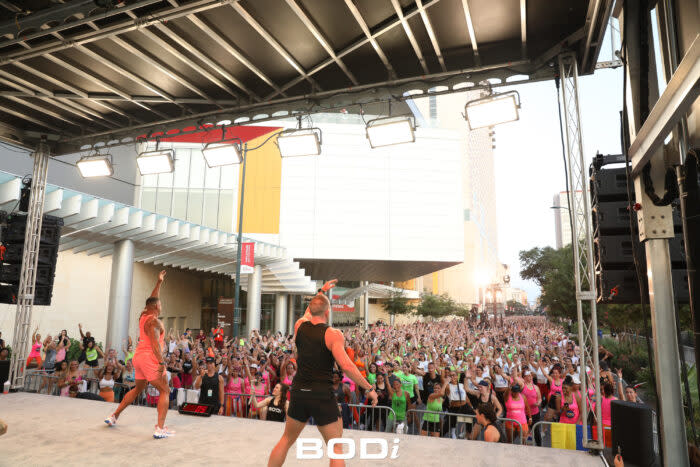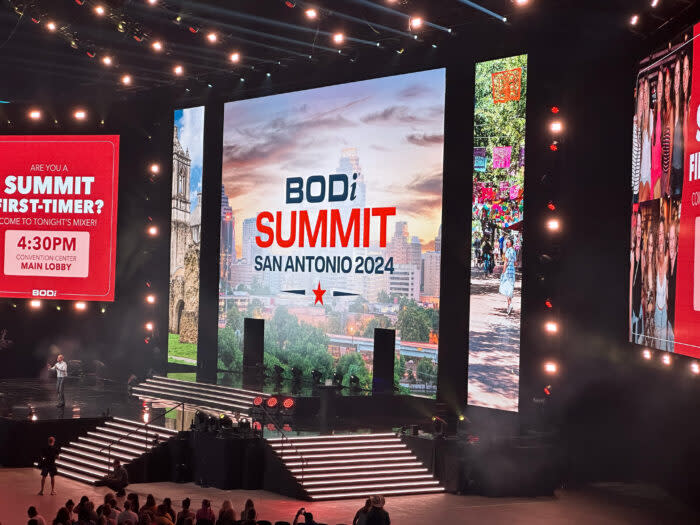 Destination Sales
The third quarter of Fiscal Year 2023 proved to be a strong convention sales production quarter.  The Convention Sales team finished the third quarter booking with 184 events, resulting in 103% (545 events) to goal for the first nine months of FY 2023.  June was the strongest month of the quarter for future room nights booked, with 86,867 rooms confirmed.  June room night production more than doubled our strongest month in Q2, of March with 41,816 rooms confirmed.  The team is now at 80% of the room night target for the year.    
Q3's sales production continues the trend of new and short-term business for San Antonio.  88% of the events booked so far this year occurred in 2023 or will occur between now and the end of 2024. 46% (or 253 events) of these future events are new to San Antonio.  In addition, we placed 15 citywide events within our destination, which puts the team at 76% to the annual goal of 50 citywide events.  All event bookings year to date will have a future economic impact of $413.6 Million for San Antonio.  
The third quarter of FY2023 also saw the following travel and trade shows:  
April  
Connect Spring Marketplace – Las Vegas, NV  
FIESTA Fam Trip – San Antonio, TX  
May   
Midwest sales calls – Chicago, IL + Minneapolis, MN  
MPINCC Ace + Bay area sales calls – Oakland, CA  
CINCO DC Sales Mission – Washington, DC  
IPW – San Antonio, TX  
HelmsBriscoe Annual Business Conference – Denver, CO  
June  
Client Advisory Board Meeting + Pride – San Antonio, TX  
MPI World Education Congress – Riviera Maya, MX  
PCMA EduCon – Montreal, CA