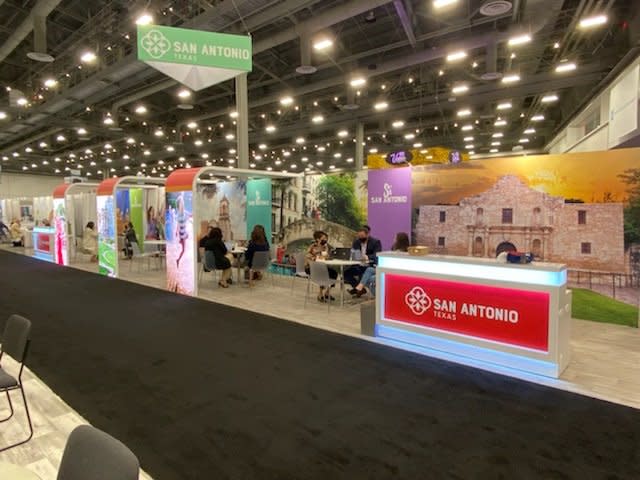 U.S. TRAVEL ASSOICATION IPW 
IPW is the leading inbound travel trade show in the country. Past IPWs have generated more than $5.5 billion in future travel by connecting U.S. travel exhibitors with travel buyers and media to promote their product and negotiate future business, securing America's position as a foremost global travel destination and showcasing the best of what the U.S. has to offer.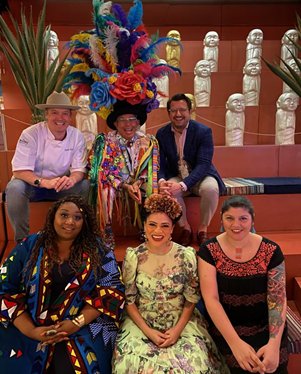 IPW LAS VEGAS SEPTEMBER 19 – 23, 2021 
In this time of COVID, U.S. Travel Association was charged with coordinating a conference that met all the health and safety standards of the city and state of Nevada. Despite a somewhat abbreviated version, the excitement and enthusiasm of attendees was not affected. We were all happy to be meeting with friends, colleagues, and new clients from all over the world in a business environment. Visit San Antonio staff coordinated over 200 business appointments with travel trade and media, hosted 40 clients for dinner at China Poblano featuring a menu curated by San Antonio Chef Jason Dady. The storytelling included local artists Michael Quintanilla, Andrea "Vocab" Sanderson and Azul Barrientos. To say that clients were captivated does not do justice to what clients expressed about the evening and San Antonio.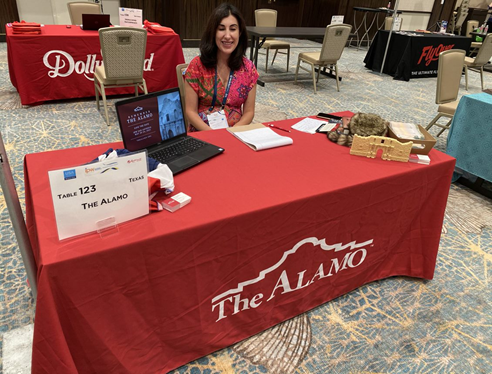 A special thanks to our partners Spurs Sports & Entertainment, The Alamo, Go Rio River Cruises and Thompson San Antonio Riverwalk for joining us. We know that the pandemic prevented other partners from attending this year, and we look forward to your participation in 2022. 
IPW ORLANDO JUNE 4 -8, 2022 - REGISTRATION IS NOW OPEN! 
IPW in Orlando is a short seven months away, and registration to participate in the Visit San Antonio IPW Booth is open for registration.  
Cost to participate $5,000 
Participation includes: 
Pre-IPW International market training: 
Intro to San Antonio international markets, profiles, visitation numbers. 
IPW 101 introduction and introduction to selling channels. 
IPW appointment taking preparation. 
Three days of pre-scheduled business appointments with International and Domestic Buyers.  
Networking opportunities include daily designated preferred seating at all the luncheons and participation in the State of Texas client evening event*. 
Invitation to Visit San Antonio hosted client event. 
Pre- IPW appointment list and profiles for each client we will meet. 
Post IPW appointment list and notes from each appointment. 
We invite partners to REGISTER NOW to participate in IPW 2022 with Visit San Antonio as we build momentum for hosting IPW 2023 in San Antonio.  Let us help you prepare to take advantage of this opportunity to build a new source of business from international markets.