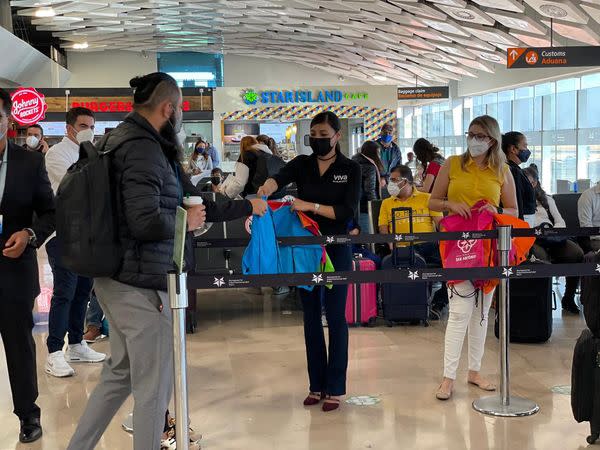 Virtual Field Trips – Austin ISD 
After launching the Virtual Field Trip in the Rio Grande Valley schools, staff partnered with the Austin ISD to share the program right before the end of the school year (last two weeks of May until June 3).  There are 89 elementary schools with approximately 12,000 students that are in the third- to fifth-grade range.  Similarly, to the RGV schools, marketing included paid social media and cross-platform programmatic digital ads all in time to inspire an educational visit to the destination during the summer months.  Program results will be available by the end of this month.  
Viva Aerobus May Launch from Bajio Region 
On May 1, San Antonio International Airport obtained a new nonstop flight from the Bajio Region in Mexico with the start of the Leon, Mexico, to San Antonio flight.  The inbound flight to San Antonio occurs on Saturdays and the outbound to Leon is on Tuesdays of every week.  Visit San Antonio was able to secure pre-flight and in-flight activations to support the launch of the new flight. In-flight, staff was able to give out tickets to our attractions thanks to our highly engaged partners.  The flight was sold out with 186 passengers in total.  To show continued support, we also plan to schedule fam trips with tour operators who specialize in the Bajio Region and social media competitions. 
June ABA Appointments 
The industry's premier travel business event where more than 3,500 tour operators, supplier and exhibitors will meet virtually to kick off a new year of business opportunities.  They have more than 800 buyer members that are tour operators and travel planners who package travel product domestically and around the world.  The ABA Marketplace ended June 8 for DMO's, we were able to meet and successfully conduct travel strategies/plans with 19 mature tour operator clients on June 8 and completed 50 total appointments over the course of four months beginning March 16.  Most of those appointments were mature travel-focused with discussions to include tour trends, current status, health and safety protocols and new product development.  Furthermore, we also attended professional networking events, educational seminars and conversed with other Texas DMOs on itinerary collaborations. 
MasterCard Priceless Experiences  
Exclusive to Mastercard cardholders, priceless.com provides access to unforgettable experiences and everyday value in the cities where you live and travel.  Visit San Antonio has joined the MasterCard Priceless platform to create an unforgettable virtual experience of our own.  Our priceless experience is The Conscious Couple: Cultivating Connections through the Senses. Through specific exercises, viewers will capture techniques that focus on cultivating a couple's connection through the five senses (breath, touch, empathetic listening, eye contact and scent).  Given by a wellness Instructor, these techniques are designed to help couples improve their relationships and connection. These practices also create specific pathways in the brain that create those intense feelings of love.  Connect conscience breathing with embodied techniques through the five senses all while overlooking 550 acres of the Texas Hill Country and spotlighting other areas of the La Cantera Resort and Loma de Vida Spa.