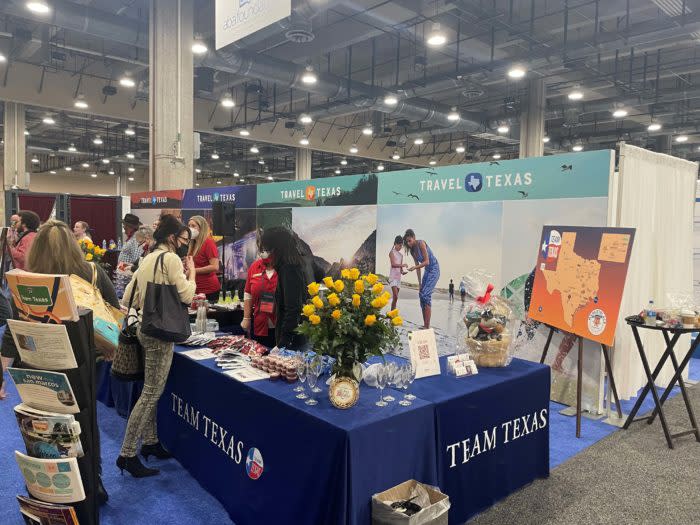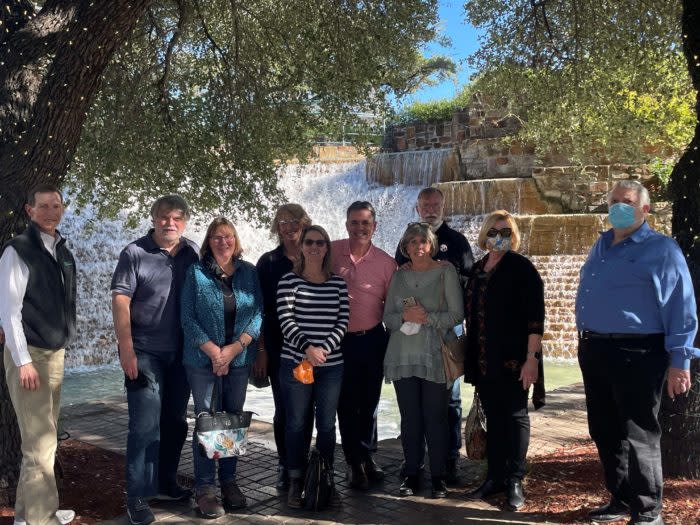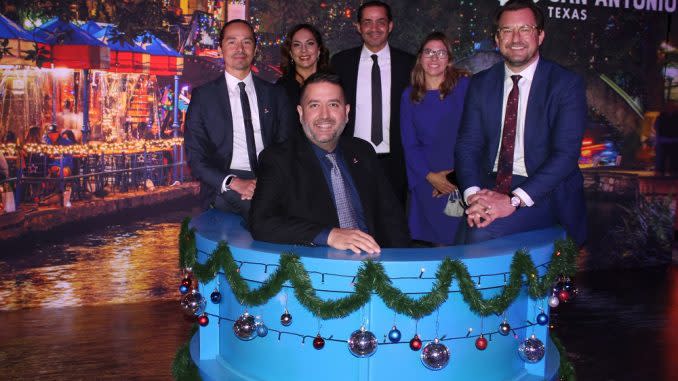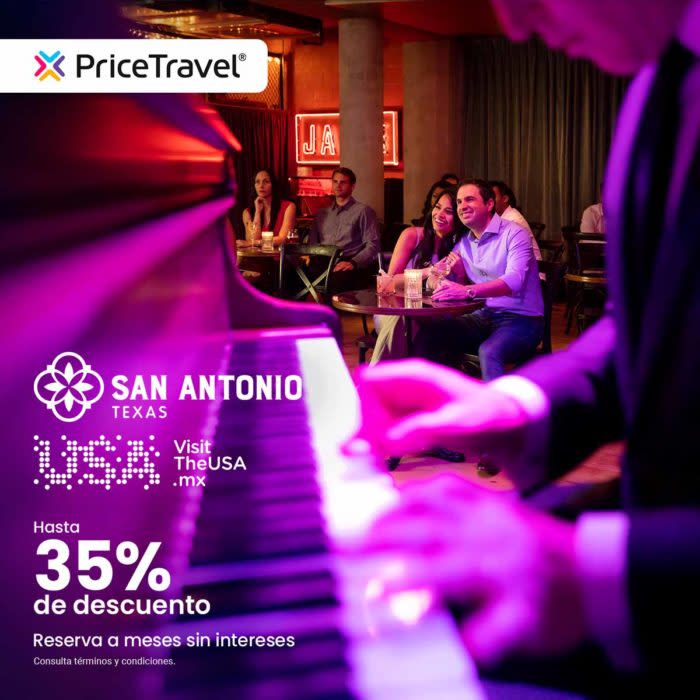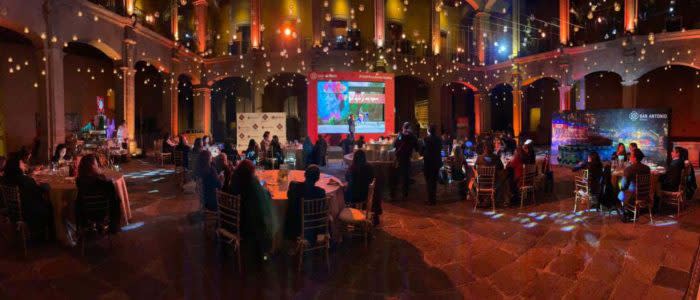 AMERICAN BUS ASSOCIATION MARKETPLACE – GRAPEVINE – JANUARY 7- 10 
The industry's premier travel business event is where domestic tour operators, supplier and exhibitors convened in person in Grapevine to kick off a new year of business opportunities.  Staff conducted 34 appointments with clients who package travel product domestically and around the world.  These appointments allowed staff to pitch and increase awareness as well as share what's new. In addition, Visit San Antonio discussed future tour development and new opportunities.  Staff also introduced clients to the new Tourism Professional website and our first digital Mature Market Travel Planner.   
Prior to the ABA Marketplace, Visit San Antonio hosted a pre-familiarization tour that was exclusive to buyers, tour operators, travel planners and group coordinators. Staff initially registered 20 participants; however, with the Omicron spike we ended up hosting six. The pre-fam took place from January 5-7.  This was an amazing opportunity to continue to grow our group tour network and a chance to showcase San Antonio as a premier group location that buyers can consider when developing their tour itineraries.   
If you have any questions about ABA or the motor coach tour market, please contact Alex Gonzales at alexgonzales@visitsanantonio.com. 
MEXICO SALES AND MEDIA MISSION- MEXICO CITY, DECEMBER 1-3  
Tourism Development and Communications coordinated a Mexico Sales and Media Mission to Mexico City from December 1-3. The objective was to introduce our new President & CEO to  the Mexico City market. Staff coordinated appointments with top tour operators, Price Travel and Aeromexico.  Staff also researched opportunities for consumer engagement, as well as opportunities for new product development.  The mission closed with an evening event at Club de Banqueros, where attendees discovered new updates on the destination while also being reminded of the San Antonio's unique selling propositions. 
PRICE TRAVEL NEED DATES CAMPAIGN – JANUARY-APRIL 
Through a partnership with Brand USA, the Tourism Development Department has put together a campaign with Price Travel that includes special offers for need dates from mid-January to the end of April.  The partnership includes digital media marketing throughout Mexico, including banner ads, a Mexico City Airport panoramic big-screen display, email distribution, a travel guide, blogs and social media reach. Also, it includes Google ads in the country's main markets such as Mexico City, Guadalajara, Monterrey, the Bajio Region and Puebla.  The focus of the campaign will be to help improve need periods during the activation months with short-term bookings.  If you have any questions about Price Travel or this campaign, please reach out to Francisco Gallegos at franciscogallegos@visitsanantonio.com. 
U.S. TRAVEL ASSOCIATION IPW – ORLANDO, FLA., JUNE 4-8 (REGISTRATION IS NOW OPEN!) 
IPW is the leading inbound travel trade show. Past IPWs have generated more than $5.5 billion in future travel by connecting U.S. travel exhibitors with travel buyers and media to promote their product and negotiate future business, securing America's position as a foremost global travel destination and showcasing the best of what the United States has to offer. 
IPW in Orlando is only seven months away, and registration to participate in the Visit San Antonio IPW Booth is open. Cost to participate is $5,000. Participation includes: 
Pre-IPW International market training: 

Intro to San Antonio international markets, profiles, visitation numbers. 
IPW 101 introduction and introduction to selling channels. 
IPW appointment-taking preparation. 
Three days of pre-scheduled business appointments with international and domestic buyers.  
Networking opportunities include daily designated preferred seating at all the luncheons and participation in the State of Texas client evening event*. 
Invitation to Visit San Antonio-hosted client event. 
Pre-IPW appointment list and profiles for each client we will meet. 
Post IPW appointment list and notes from each appointment. 
We invite partners to REGISTER NOW to participate in IPW 2022 with Visit San Antonio as we build momentum for hosting IPW 2023 in San Antonio.  Let us help you prepare to take advantage of this opportunity to build a new source of business from international markets.  If you have any questions, please contact Francisco Gallegos at franciscogallegos@visitsanantonio.com or Dorah Benavidez at dorahbenavidez@visitsanantonio.com. 
MEXICO SALES MISSION, MEXICO CITY, GUADALAJARA AND MONTERREY – APRIL 24-29 (REGISTRATION IS NOW OPEN) 
Every year, Visit San Antonio conducts a sales and media mission to Mexico. December 2021 was our first time back in the market since 2019. Staff is finalizing details for the pre-summer mission, and plans on visiting Mexico City, Monterrey and Guadalajara, which are the three main source markets of visitors to San Antonio. This year, the mission will take place April 24-29, and we are inviting partners to attend with us to increase visitation from this very important market.   
Cost to participate is $1,500, and participation includes: 
Pre-mission Mexico market training. 
Market profile and visitation numbers. 
Educational presentations with Mexican airlines, tour operators, OTAs and travel agencies. 
One-to-one meetings and sales calls with top clients in each market. 
Photo and/or logo of participating partners on digital and printed collateral. 
Program book of events, schedules and company profiles. 
Networking opportunities throughout the mission. 
Invitation to private evening events in each city. 
Select media appointments where opportunities exist. 
COVID testing for inbound travel to the United States. 
We invite partners to REGISTER NOW to participate in the Mexico Sales Mission with Visit San Antonio. Let us help you develop a new source of business or help you increase your current base by putting you in front of key clients in each market.  If you have any questions, please contact Francisco Gallegos at franciscogallegos@visitsanantonio.com.