Expedia Summer Campaign 
The Expedia Summer Campaign, which runs May 24–Aug. 6, includes digital ads and a focus on the regional drive market.  The digital ads will go to a destination landing page featuring San Antonio hotel offers. If you are interested in participating, please contact Lesley Daugherty at ldaugherty@expediagroup.com.  The Expedia San Antonio market management team is currently collecting hotel offers that will be featured on the destination landing page.  If you have any questions or would like additional information, please contact dorahbenavidez@visitsanantonio.com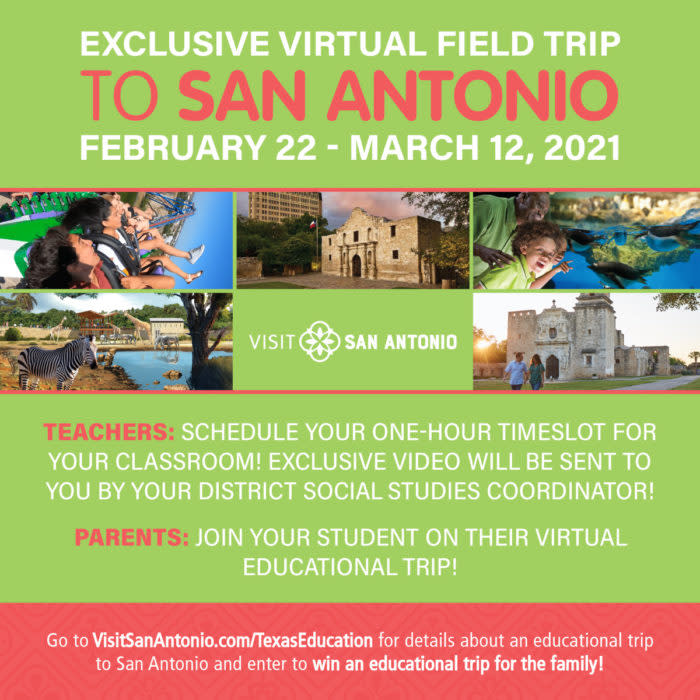 2021 RGV Virtual Field Trip  
Staff created an engaging Virtual Field Trip for students at four school districts in the Rio Grande Valley. The 53-minute program included Texas Essential Knowledge and Skills aligned content (state standards for what students should know in the classroom) at the Alamo, SeaWorld San Antonio, Mission San Jose, San Antonio Zoo and Six Flags Fiesta Texas.  The program included activities for students, programs for teachers and student-related itineraries for parents.  Campaign results include: 
15,083 pageviews of the dedicated landing page, a reach up to 11,000 students. 
More than 2.7 million impressions from paid social media and cross-platform programmatic digital ads, as well as local reach on broadcast TV.   
More than 5,000 visitors from the targeted areas during the month of March.  
$1.5M generated. 
ROI of 39: 1 as of the end of March. 
Staff will be reaching out to other drive markets to begin discussions on when we can roll out the Virtual Field Trip programming. If you have any questions or would like more information about this program, please contact franciscogallegos@visitsanantonio.com 
Coming Promotions and Programs 
Staff continues to work on programs and promotions with MasterCard Travel Rewards Mexico, MasterCard Priceless Experiences and MasterCard Travel and Leisure. These programs will have opportunities for partner participation.