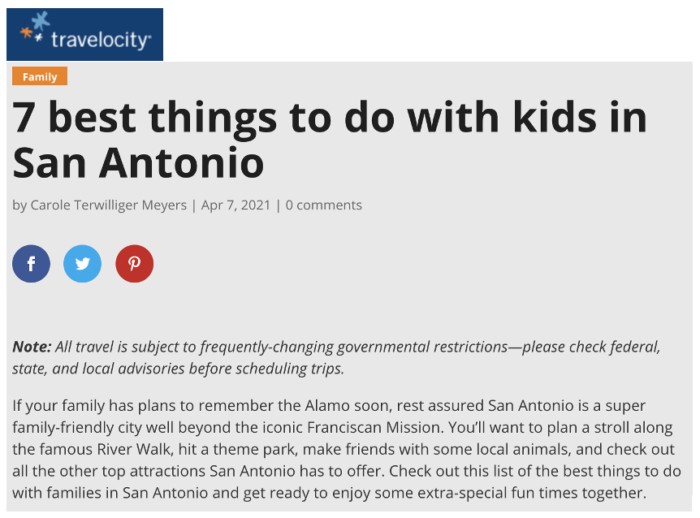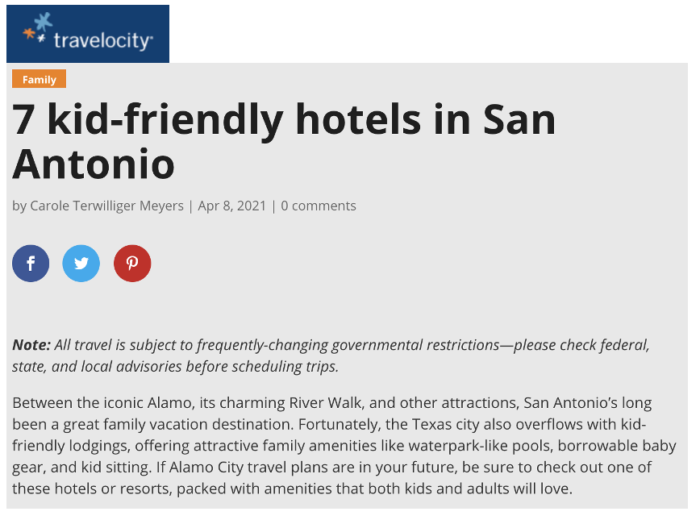 The Communications Department recorded $870,131 in outer-market earned-media value from 24 media placements logged in April, with the quantity and values still affected by the pandemic changes in media and travel. Coverage recorded for the month included MSN News, Travelocity, Travel + Leisure, Lonely Planet, Tech Republic, Travel Awaits, Texas Town & City, So Scottdale, Michigan's Big Show, Hand Luggage Only, USAE, Northstar Meetings Group, Convention South, Tradeshow Executive, Exhibit City News, The Meetings Magazine, Travel Vertical, Aeromexico's Aire (Mexico), Viajeros TV (Mexico), Vidalturismo (Mexico), Travel Report (Mexico), Turitips (Mexico) and Frecuencia Turistica (Mexico).  
April's destination media coverage is a strong indicator how the ongoing media pitching, even during the pandemic, is paying off for our city as regional, national and international outlets are lauding San Antonio as a top vacation destination as travel returns. The month's top media value hit is a fantastic clip from Travel + Leisure that was also picked up on MSN News, highlighting San Antonio as one of the top destinations as the summer begins.  
Ongoing pitching and relationships were also on display for three additional top clips for April. Two destination features in Travelocity's inspirations blog highlight San Antonio's family-friendly side. Strong coverage from Mexico continued in April with a television feature story rounding up the top four clips of the month.  
Travel + Leisure – Best Places to Travel in July 
Earned media value – $606,518 (all coverage combined) 
Travelocity – 7 best things to do with kids in San Antonio 
Earned media value – $71,681 
Travelocity – 7 kid-friendly hotels in San Antonio 
Earned media value – $71,681 
Viajeros TV (Mexico) – San Antonio 
Earned media value – $30,008 (all coverage combined)