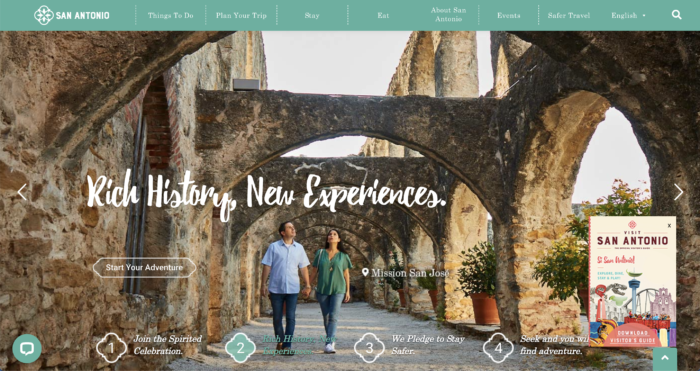 Si San Antonio Promotion 
August marked the final complete month for Visit San Antonio's summer promotion, Si San Antonio. Si San Antonio ran from May 26 until September 6, and visitors were encouraged to book their stay with a participating Si San Antonio hotel. But this was not the only opportunity to take advantage of the promotion. QR codes leading visitors to download the Si San Antonio promotion via mobile were spread out throughout the city including the River Walk, San Antonio Zoo, San Antonio International Airport, participating hotels, and high-traffic streets downtown. The final download total came in at more than 2,700 downloads, with the top attractions for redemption being the Tower of Americas, San Antonio Zoo, Ripley's Entertainment and Aquatica San Antonio.  
Social Channels and OLE  
August was another strong month for the Visit San Antonio social media channels. We continued to see growth both in followers and engagement across the board on our Facebook, Instagram, Twitter and LinkedIn profiles. We also had the highest engagement on our channels compared to our competitors Visit Austin, Visit Houston and Visit Dallas. 
Online engagement was phenomenal in August, reaching more than 2.2 million. With one month left in the fiscal year, we are projecting a 2021 online engagement total of 30 million.  
Visitor's Guide  
The Visit San Antonio Official Visitor's Guide continues to see impressive engagement numbers with more than 19,000 reads by the end of August. Visit San Antonio will continue to spread awareness of the guide throughout the coming months on social media and our websites.   
Promote Your Events     
Increase awareness of your coming event and ensure visitors know all they can experience in San Antonio. Add your events to the VisitSanAntonio.com Event Calendar here. The Submit an Event link appears at the bottom of every page of VisitSanAntonio.com to make it easier for you. You do not have to be a Visit San Antonio member to add events.