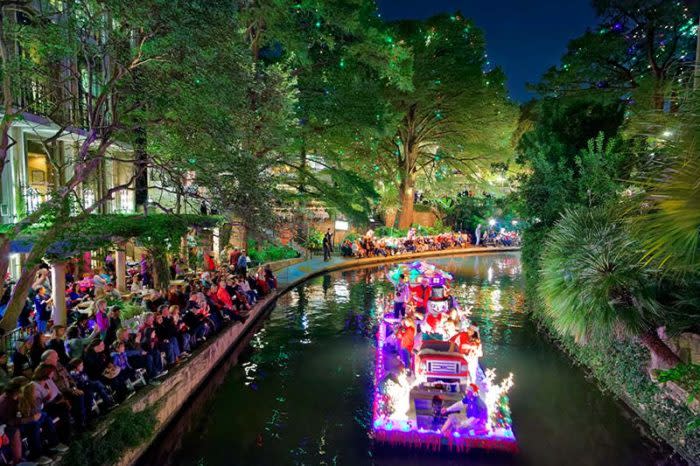 Holidays in San Antonio 
After the celebration and promotions of Day of the Dead cultural festivities, Marketing is shifting focus to the many merry events and whimsical entertainment offerings of the holiday season in San Antonio. Ads promoting the variety of opportunities to celebrate the holiday season in San Antonio are running (in both English and Spanish) on TV/cable, streaming radio, digital and social channels. In addition, we have launched a holiday staycation campaign targeting locals. Efforts included the promotion of ticket sales for the recent Ford Holiday River Parade.   
If you have a holiday event you would like to submit to the Visit San Antonio Event Calendar, please submit your event here. 
Social Channels and OLE  
October was another solid month for Visit San Antonio's social media channels. Engagement on our social channels increased in October by just more than 7 percent and all channels experienced an increase in followers. 
Online engagement (OLE) for October proved to be strong. Visit San Antonio surpassed 605,000 online engagements – a 16 percent increase over the projected 525,000 engagements. Contributing to this goal was an impressive month of web sessions that saw more than 265,000 and landed at 261 percent over the month's web sessions projection.  
Visitor's Guide  
The Official Visitor's Guide continues to be a valuable tool for visitors. The English version of the guide has reached just under 40,000 reads as of the end of October. The Spanish version of the Guide launched at the start of October and saw almost 400 reads throughout the month.  
Visit San Antonio will continue to promote the Official Visitor's Guide on all social channels, including in Mexico, and we will continue to give it prominent real estate on our English and Spanish websites.   
Promote Your Events     
Increase awareness of your coming event and ensure visitors know all they can experience in San Antonio. Add your events to the VisitSanAntonio.com Event Calendar here. The Submit an Event link appears at the bottom of every page of VisitSanAntonio.com to make it easier for you. You do not have to be a Visit San Antonio member to add events.