The Communications Department recorded $6,302,858 in outer market earned media value from 286 outer market media placements logged in FY23 Q1, with the values and quantity still affected by the pandemic changes in media and travel. Key coverage recorded for the quarter included Fox News, MSN News, Forbes, INSIDER, USA Today, Conde Nast Traveler, Travel + Leisure, The Epoch Times, Today, Barron's, New York Post, Travel Awaits, Best Life, In the Know, WTTG-TV (FOX Washington, DC); Mexico's Milenio, Susana Moscatel, Alex Montiel, Teresuch, Rocio Cordova, Publimetro, Viajeros TV, Food & Travel Mexico; UK's T3 Magazine, MSN News UK, Wanderlust.
The top media coverage for the first quarter showcases the top pitch priorities for the end of 2022 including a must-visit destination for the winter holidays, a best destination for 2023 and long-lead pitching for romantic getaways. The top clips also include coverage from a top social media influencer from Mexico as we seek to make San Antonio a desirable destination for the younger, affluent Mexican traveler, and early results from expanded media outreach efforts in the UK.
Fox News – Romance in America: 5 honeymoon destinations in the USA worth considering  
Earned media value – $1,444,955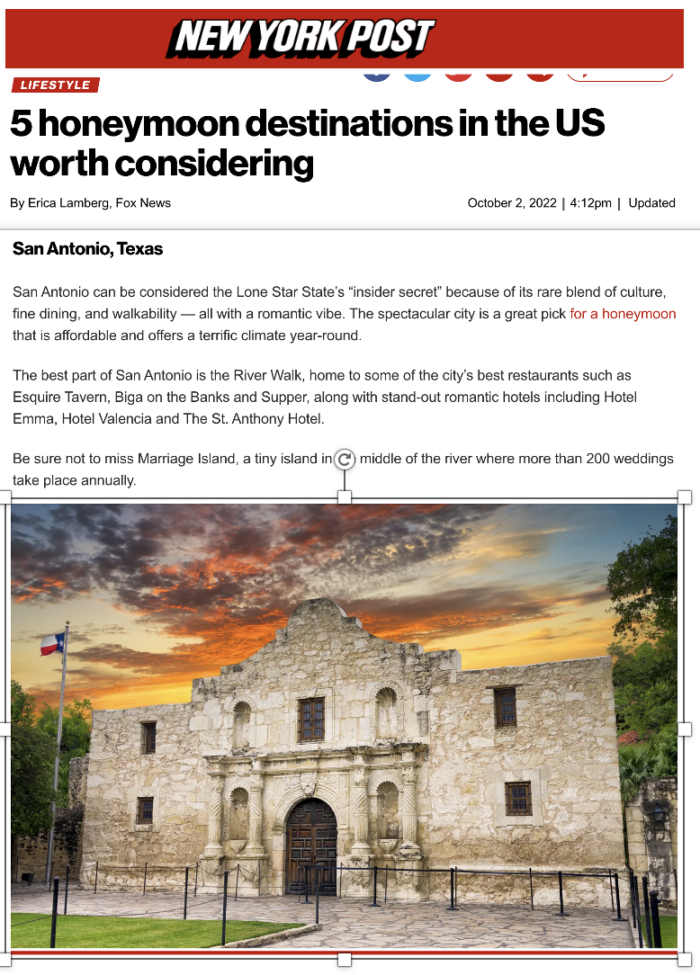 ---
  MSN News – Best Winter Vacation Ideas in the US and Abroad: 35 Warm and Sunny Family Vacation Spots  
Earned media value – $702,019  
---
  MSN News – 19 Fantastic Experiences On San Antonio's River Walk  
Earned media value – $702,019  
---
  Forbes – Where Can You Find A Warm-Weather Vacation Near You?  
Earned media value – $498,829  
---
 INSIDER – 23 of the best places you should travel to in the US in 2023   
Earned media value – $192,605  
---
  Teresuch – Resumen de mi fin de semana  
Earned media value – $179,673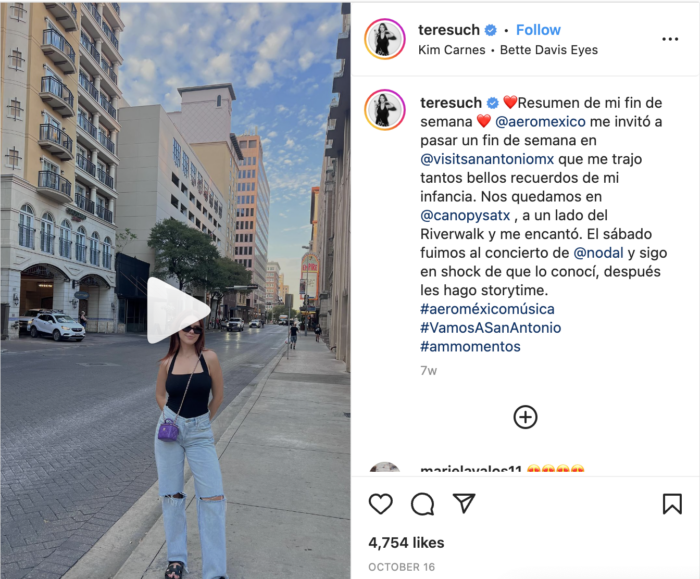 ---
 The Epoch Times – The party never ends in spirited, radiant San Antonio  
Earned media value – $128,484  
---
USA Today – Toast to Veterans (print only)  
Earned media value – $61,300  
---
T3 Magazine (UK) – New Year, Not Here (print only)  
Earned media value – $17,850  
---
Conde Nast Traveler – The 23 Best Places to Go in the USA in 202  
Earned media value – $10,172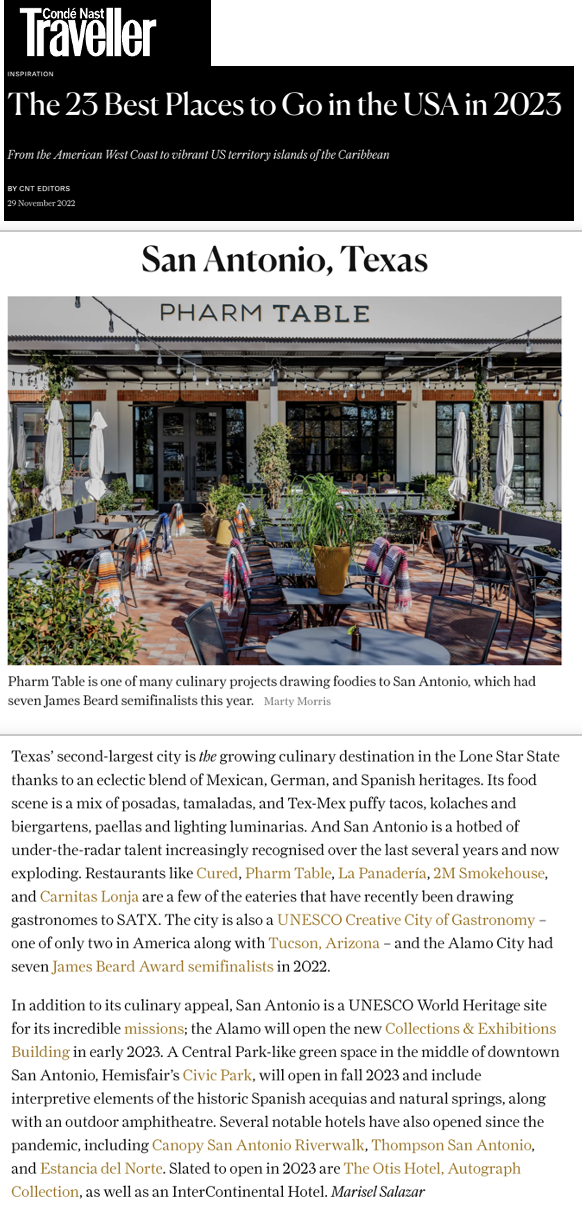 ---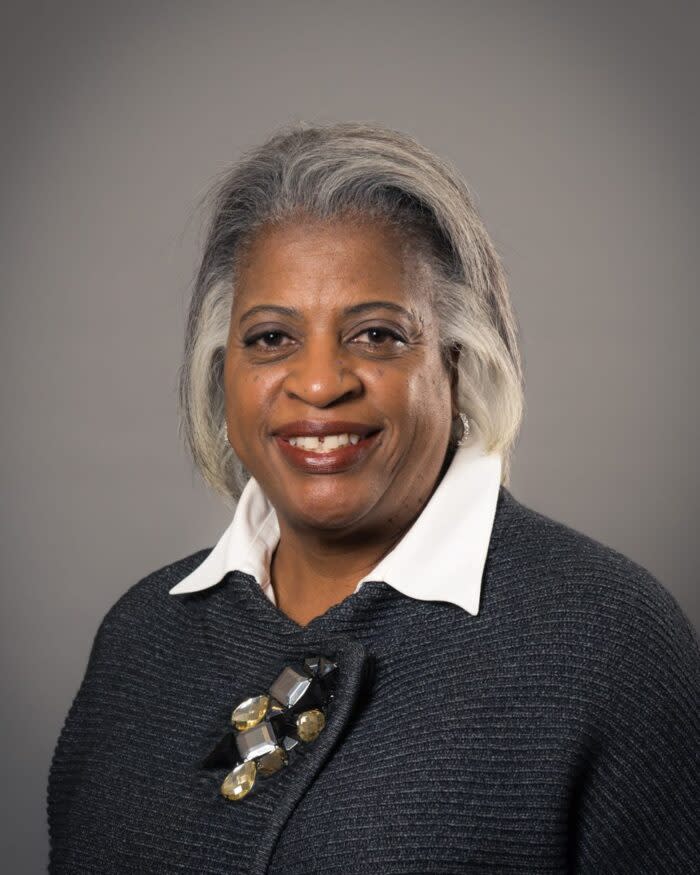 We are saddened to announce the passing of Visit San Antonio's former colleague, Brenda Square, CMP, CTA. Brenda retired in 2018, following 17 years of distinguished service with the organization and 35 years in the industry. Brenda was always committed to providing San Antonio's clients with service that was above and beyond. Her spirit of service and gift of compassionate leadership will be greatly missed. Brenda had a tremendous impact on San Antonio and our industry. Please join us in sharing condolences for her family during this very difficult time.