Federal 
President Joe Biden and his administration continue to work with members of Congress on his "Build Back America Agenda" containing roughly a $4.5 trillion price tag: 
The American Families Plan 

Make education more affordable and expand opportunity. 
Provide economic security for families. 
Expand tax credits that help workers and families. 
The American Jobs Plan 

Fix highways, rebuild bridges and upgrade ports, airports and transit centers. 
Rebuild clean drinking water infrastructure, a renewed electric grid and high-speed broadband to all Americans. 
Modernize homes, commercial buildings, schools and federal buildings. 
Create caregiving jobs and raise wages and benefits for essential home care workers. 
Revitalize manufacturing, ensure products are made in America and invest in innovation. 
Create good-paying union jobs and train Americans for jobs of the future. 
The American Rescue Plan 

Provides direct relief to Americans. 
Efforts to contain COVID-19. 
Help provide relief to the U.S. economy. 
Specifically, President Biden's economic agenda is facing a major challenge on Capitol Hill, as the Senate seems to be moving toward an early vote on a roughly $1 trillion proposal to improve the nation's infrastructure, although White House and Senate negotiators still have not agreed on key details. 
Notwithstanding months of intense discussions, lawmakers returned to the Capitol on July 19 in the same political position in which they departed last week.  Both Democrats and Republicans broadly support new spending to upgrade the nation's transportation and communications infrastructure including roads, bridges, pipes, ports and Internet connections.  There is no agreement on how to finance the still-forming package. 
The Government Relations Team continues to monitor federal issues and any impacts they may have on the hospitality industry
State 
On July 8, the Legislature convened for the first called Special Session.  The 11 agenda items such as bail reform, Article X funding and social media censorship were anticipated, and others like election integrity, border security, youth sports and abortion-inducing drugs, while anticipated, will certainly cause tensions to rise between Democratic and Republican members.  It remains to be seen if all of these items can be addressed in one special session, but it will surely be an interesting 30 days. 
Special Session agenda items will include: 
BAIL REFORM: Legislation reforming the bail system in Texas to protect the public from accused criminals who may be released on bail. 
ELECTION INTEGRITY: Legislation to address the integrity of elections in Texas. 
BORDER SECURITY: Legislation providing funding to support law-enforcement agencies, counties, and other strategies as part of Texas' comprehensive border security plan. 
SOCIAL MEDIA CENSORSHIP: Legislation safeguarding the freedom of speech by protecting social-media users from being censored by social-media companies based on the user's expressed viewpoints, including by providing a legal remedy for those wrongfully excluded from a platform. 
ARTICLE X FUNDING: Legislation providing appropriations to the Legislature and legislative agencies in Article X of the General Appropriations Act. 
FAMILY VIOLENCE PREVENTION: Legislation similar to Senate Bill 1109 from the 87th Legislature, Regular Session, requiring schools to provide appropriate education to middle- and high-school students about dating violence, domestic violence and child abuse, but that recognizes the right of parents to opt their children out of the instruction. 
YOUTH SPORTS: Legislation identical to Senate Bill 29 as passed by the Texas Senate in the 87th Legislature, Regular Session, disallowing a student from competing in University Interscholastic League athletic competitions designated for the sex opposite to the student's sex at birth. 
ABORTION-INDUCING DRUGS: Legislation similar to Senate Bill 394 from the 87th Legislature, Regular Session, which prohibits people from providing abortion-inducing drugs by mail or delivery service, strengthens the laws applicable to the reporting of abortions and abortion complications, and ensures that no abortion-inducing drugs are provided unless there is voluntary and informed consent. 
THIRTEENTH CHECK: Legislation similar to House Bill 3507 from the 87th Legislature, Regular Session, relating to a "thirteenth check" or one-time supplemental payment of benefits under the Teacher Retirement System of Texas. 
CRITICAL RACE THEORY: Legislation similar to House Bill 3979 concerning critical race theory as originally passed by the Texas Senate in the 87th Legislature, Regular Session. 
APPROPRIATIONS: Legislation providing appropriations from additional available general revenue for the following purposes:  

Property-tax relief 
Enhanced protection for the safety of children in Texas' foster-care system by attracting and retaining private providers for the system 
Better for the state from potential cybersecurity threats. 
Governor Abbott's Official Proclamation 
On July 12, more than 50 House Democrats left for Washington, D.C., to deny the House of Representatives a quorum, or the minimum number of lawmakers needed to conduct business, as it takes up voting restrictions and other Republican priorities in a special session. The legislative agenda, set by Gov. Greg Abbott, includes House Bill 3 and Senate Bill 1, the election legislation at hand that would make several changes to Texas' voting system, such as banning drive-thru and 24-hour voting options and further restricting the state's voting-by-mail rules.  These bills are similar to the voting bills debated at the end of the 87th Regular Legislative Session, where the House Democrats first walked out of the chamber, essentially killing the passage of the legislation. 
Despite political posturing from both sides, it is unclear if or when the House Democrats will return to Texas.  Governor Abbott has made it clear that he will continue to call Special Sessions until his legislative priorities are adopted by the Legislature.
Local 
With the final results of the general and run-off elections, the City of San Antonio now has a full City Council comprised of the following members: 
Mayor Ron Nirenberg 
Mario Bravo – District 1 
Jalen McKee-Rodriguez – District 2 
Phyliss Viagran – District 3 
Dr. Adriana Rocha-Garcia – District 4 
Terri Castillo – District 5 
Melissa Cabello Havrda – District 6 
Ana Sandoval – District 7 
Manny Pelaez – District 8 
John Courage - District 9  
Clayton Perry – District 10 
City Council has been in recess in July.  This period of time kicks off the city's annual budget development process for fiscal year 2021, which begins on Oct. 1, 2020. 
As City Council begins to review and develop their budget priorities, the Visit San Antonio Government Relations Team will be engaged with the city to determine if there will be any programs and/or funding opportunities – in particular, federal COVID-19 relief funds – available to help the San Antonio regional hospitality recovery from the negative economic impacts experienced over the past 15-16 months. 
Council Member Meetings and Tours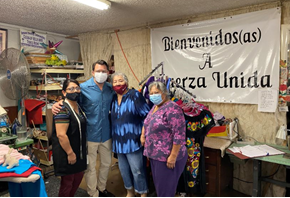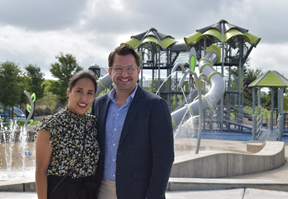 During July and August, Visit San Antonio President & CEO, Marc Anderson, will be scheduling "Meet & Greet" meetings and possible council district tours.  Marc will make a concerted effort to introduce himself to each council member and learn about the communities in each council district and the multitude of businesses, organizations and community assets in San Antonio. 
On July 15, Marc met with Councilwoman Adriana Rocha Garcia and toured several points of interest in District 4.  These locations included: 
Pearsall Park  
The Texas A&M-San Antonio campus 
Traders Village 
Lackland Air Force Base 
The Port of San Antonio 
Tribute to Freedom Tower 
The tour provided good insight into the District 4 community.  Several opportunities were identified for Visit San Antonio to partner with different organizations to showcase District 4 and increase awareness of travel and tourism opportunities for leisure and business travelers and San Antonians. 
On July 29, Marc will also be meeting with Councilwoman Phyllis Viagran of District 3 in the councilwoman's City Hall office.