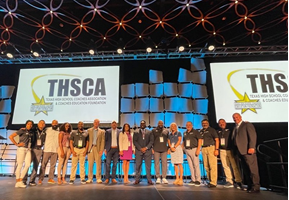 July Groups Recap: 
During July, the Destination Experience Team provided support to 13 groups convening in San Antonio with a representation of more than 53,000 attendees accumulating nearly 35,000 total room nights.  The Destination Experience managers coordinated and led six planning site visits during the month for groups that will meet in San Antonio between 2021 and 2022. 
Representatives from Destination Experience were present to promote San Antonio at the following 2022 prior-year meetings: 
Conference for the Advancement of Mathematics Teaching (CAMT) 2022 – Held Virtually on July 21, 2021 | Definite for San Antonio July 13-15, 2022 | Peak 2,400 | Attendance: 8,000  
International Association of Fire Chiefs (IAFC) | Held July 28-31, 2021 in Charlotte, NC | Definite for San Antonio August 24-27, 2022 | Peak 2,800 | Attendance: 7,500  
Upcoming August Large Groups (500+ Peak): 
Sheriff's Association of Texas | 2021 Annual Convention | July 30-August 4, 2021 | Peak: 580 | Attendance: 1,500 
Texas Nursery & Landscape Association | 2021 Annual Exposition | August 5-8, 2021 |Peak: 1,700 | Attendance: 5,000  
APCO International | 2021 Annual Conference and Exposition | August 14-18, 2021 | Peak: 2,490 | Attendance: 4,000 
National Independent Automobile Dealers Association | 2021 NIADA Convention & Expo | August 23-26, 2021 | Peak: 642 | Attendance: 700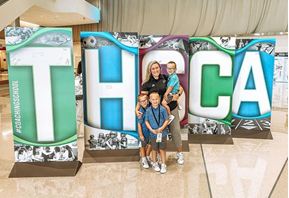 Citywide Spotlight: 
The largest group to convene in San Antonio, post-pandemic, has been the Texas High School Coaches Association (THSCA). Attendees flooded the downtown area in the middle of July excited to convene in person this year. Like many meetings, its 2020 convention moved to a virtual platform due to the pandemic. This year's convention featured top keynote speakers including Nick Saban from the University of Alabama as well as the top 12 Division I football head coaches from the state of Texas. With more than 14,153 on site, it was an all-time record-breaking attendance year for THSCA. We look forward to welcoming the group back again next year for its 90th anniversary.  
The Destination Group Sales Division confirmed 34 meetings worth 24,301 total room nights in June.  The production is the highest number of events booked in a month since February 2020.  Our lead volume also reached its highest point since February of last year.     
In July, division members participated in the following customer events:  
PCMA EduCon – This year's event took place in Phoenix, AZ, and was more limited in-person attendance than years past due to COVID-19 concerns.  There, as one of PCMA's partner sponsors, we were able to host five planners for the conference, enabling us to attend education and networking sessions on a more one-on-one setting. 
Destination International's Annual Conference – Held in Baltimore, this event enabled the Visit San Antonio team to learn about industry trends for Convention Sales, Tourism, Marketing and Experience. 
August is another busy month for the Destination Sales Team. It will participate in the following events: 
Cvent Connect – An annual event in Las Vegas, Cvent Connect brings together almost 2,000 short-term, corporate meeting planners for an education and a trade show.  We will have a team of six, including three of our hotel partners, to meet with customers.  Visit San Antonio will be premiering its new trade show booth. 
Association Forum's Honors Gala – This is Association Forum's annual awards event to honor the Chicago-area meeting planners. 
Smart Meetings 3-Day National Event West – Located in San Diego, we will spend three days for pre-set appointments with meeting planners. 
Southwest Showcase – Visit San Antonio will participate in this Austin annual event.  This trade show is always a well-attended event featuring meeting planners from the Austin area, which represents one of San Antonio's largest feeder market for conventions. 
Maritz Global Events' Next& - This is a brand-new conference, combining what were Experient's and Maritz's annual conferences. 
Association Forum's Forum Forward – Forum Forward is Association Forum's annual convention, bringing together top meeting planners in the Chicagoland area. 
PCMA's Visionary Awards - This is PCMA's annual awards event to honor the convention industry's top contributories. 
SISO's Summer Conference – The Society of Independent Show Organizer's Summer Conference, located in Louisville for 2021, will offer education and networking opportunities to this important short-term market. 
Connect MarketPlace – Connect's largest meeting of the year is looking to bring in approximately 2,000 meeting planners in the Association, Corporate, Sports and Religious markets.  There, we will spend three days with pre-set appointments with these customers in those market segments. 
To see what other opportunities there are to partner with Visit San Antonio please go to our partners' website.