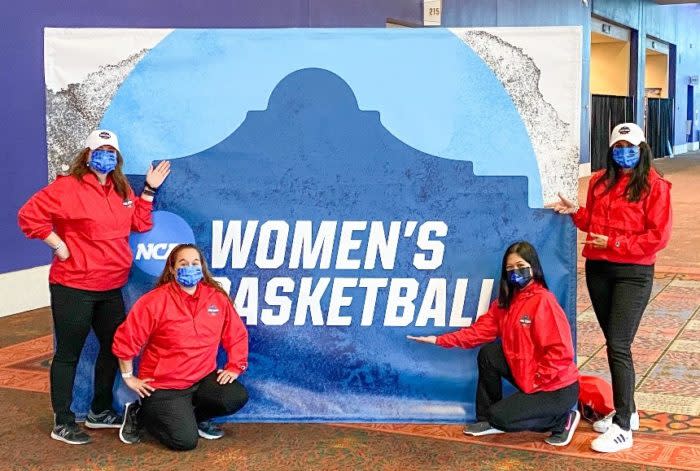 Client Engagement:  
Last month we launched a Basketball Bracket Challenge to excite and engage clients with a little friendly competition. This effort coincided with San Antonio hosting the historic NCAA 2021 Division I Women's Basketball Tournament featuring a "bubble" format with all 64 teams. To spotlight all of the wonderful efforts that went into play to host a successful event, three "Behind the Scenes" videos were produced to showcase the meticulous planning that took place leading up to the tournament. The videos highlight the Health & Safety, Logistics, and Engagement for the event. We invite you to watch them here.   
Coming May Citywide Group:  
We look forward to welcoming the following citywide group next month: 
Texas Dental Association | 151st Annual Session| Definite for San Antonio May 7-8 | 972 Peak | 700+ Attendance  
Site Visits: 
American Physical Therapy Association (APTA) – 2022 Annual Conference | Virtual Site April 8| Definite for San Antonio February 2-5, 2022 | 3,400 Peak | 8,500 Attendance  
National Independent Automobile Dealers Association (NIADA) – 2021 Convention and Expo | Site visit April 13 – 14 | Definite for San Antonio August 20-27, 2021 | 642 Peak | 700 Attendance  
Association of Water Board Directors - Texas | 2021 Annual Conference | Site visit April 15 | Definite for San Antonio June 14-19, 2021 | 1,500 Peak | 2,400 Attendance  
American Water Works Association – ACE22 | Virtual Site April 26 and 27 | Definite for San Antonio June 12-16, 2022 | 4,000 Peak | 12,000 Attendance  
Prior Year Promotion:  
In April, the Destination Experience team participated in two virtual prior-year promotion events for the American Occupational Therapy Association and NACE International. Both conferences provided a virtual platform where the team was able to share assets including San Antonio hype videos, mariachi performances, guacamole and margarita cooking demonstrations. Attendees also had the opportunity to take home their own "San Antonio in a Box" by correctly answering some fun San Antonio trivia questions. The conferences will be in San Antonio in March of 2022.  
Dates held: 
April 6-9 – American Occupational Therapy Association | Definite for March 28- April 4, 2022 | 10,000 attendance projection 
April 19-30 – NACE CORROSION | Definite for March 7-10, 2022 | 7,000 attendance projection 
NEW Attendee/Group Microsites 
Be one of the first to view our newly reimagined attendee facing microsites generated for meeting planners to help spotlight the city and generate greater attendance for the destination: https://meeting.visitsanantonio.com/  
Convention Sales Production: 
March production – 17 bookings worth 24,817 room nights 
122 Leads worth 173,725 total room nights 
90 groups, representing more than 574,573 total room nights and 653,550 attendees.  Lost economic impact of $366,114,384.