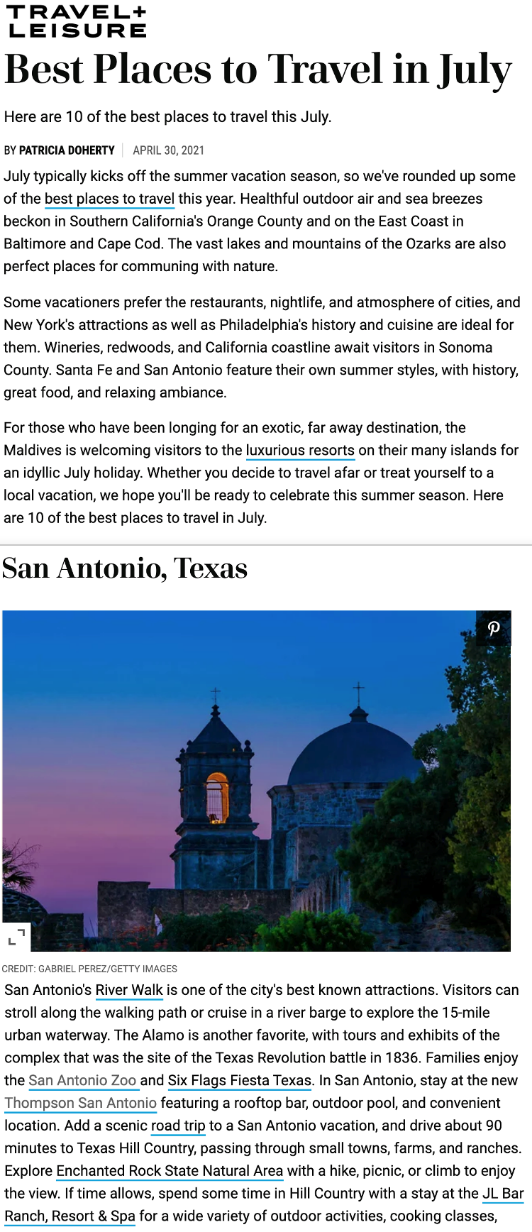 The excitement for travel was palpable in April as more media anointed San Antonio with must-visit accolades. Travel + Leisure highlighted San Antonio as one of 10 destinations to visit this summer and in the last couple of weeks in May, Lonely Planet and Esquire also featured our city.  
In just a few days, Visit San Antonio will launch the Si San Antonio campaign with a coordinated marketing and editorial media push. The Communications team has been pitching media for the past few weeks and several stories are already lined up for the initial launch weeks. If you're an attraction, restaurant or experience and haven't signed up yet, please be sure to do so by contacting the Tourism Development team so we can include you in our campaign messaging to media.  
As we continue pitching San Antonio as a travel destination for spring and summer, we'll lean further into telling the story of what positive news the rest of 2021 brings, including the openings of hotels, restaurants, attractions and exhibitions. Many fantastic local businesses have opened or are about to open, and it will certainly tell the story of San Antonio's recovery from the pandemic. If you have news to tell, please be sure to share with Visit San Antonio so we may help amplify the news as possible and appropriate.