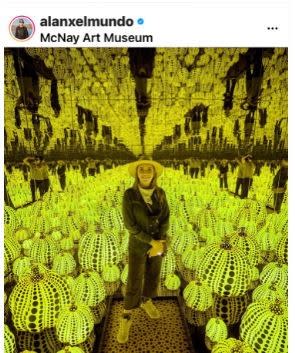 June marked the strongest month of media value since the beginning of the pandemic. As the rest of the tourism industry is seeing, with explosive growth with leisure travelers, likewise from a media perspective there's fantastic interest from traditional and social media in visiting and covering San Antonio.  
During the month, Visit San Antonio hosted three waves of media groups from Mexico, most of them coming for the first time and hearing how well our city has handled post-pandemic reopening. The groups included traditional media from the new direct flight market of Leon in the Bajio Region and from Mexico City. Also, there were celebrity social media influencers from Mexico City and Monterrey.  
The Communications team also continues to focus on our core feeder markets in the Dallas-Fort Worth, Houston and Austin markets to pitch destination features. During June, the team worked with online news outlets and influencers representing these important markets and should see the resulting coverage in the following weeks.  
As we continue pitching San Antonio as a travel destination for summer, we'll lean in further into telling the story of what positive news the rest of 2021 brings, including the openings of hotels, restaurants, attractions and exhibitions. Many fantastic local businesses have opened or are about to open, and it will certainly tell the story of San Antonio's recovery from the pandemic. If you have news to tell, please be sure to share with Visit San Antonio so we may help amplify the news as possible and appropriate.