San Antonio (Feb. 15, 2023) – The design renderings and a 3D model of the new terminal planned for San Antonio International Airport (SAT) were revealed at today's City Council meeting. The Terminal Development Program (TDP) will reimagine the passenger experience – creating a sense of place for everyone arriving in San Antonio. The TDP is on schedule with a completion date in mid-2028.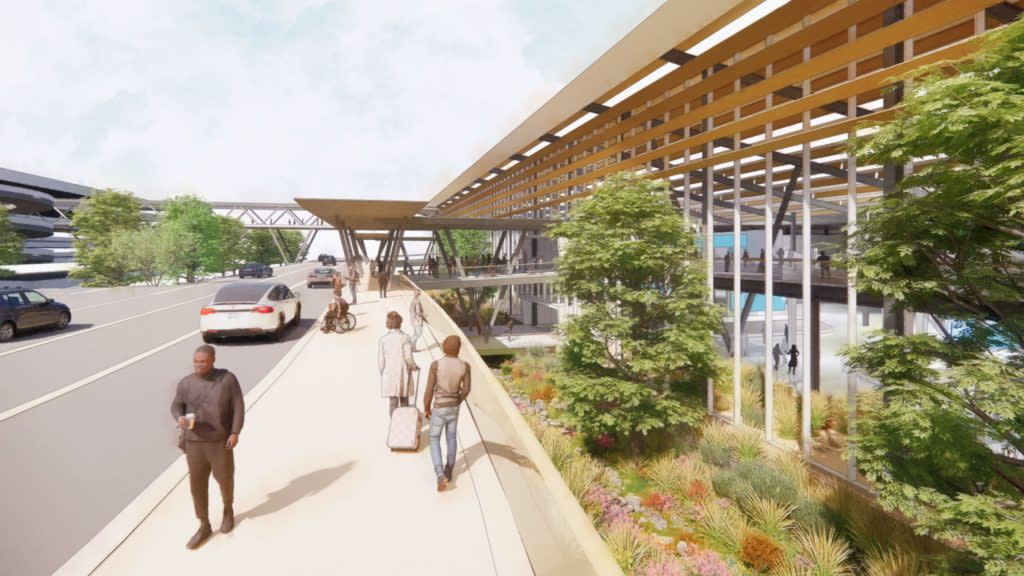 The San Antonio Airport System (SAAS) has been working with international architecture and design firm, Corgan and its project partners – which include local award-winning Lake|Flato Architects and airport/transportation planners from Kimley-Horn as the TDP transitions into the design phase. At 15% designed, the preliminary plan includes:
Up to a 17-gate expansion, six of which will be able to accommodate both domestic and wide-body international flights
More than 850,000 square feet of new terminal space, which will make the new terminal larger than Terminals A and B combined
A landscaped, riparian paseo between the curb and the terminal that references the River Walk experience and tells the story of San Antonio's creeks and spring-fed waterways
Outdoor courtyards within the new terminal that offer an opportunity to showcase San Antonio's 250+ days of sunshine per year
Approximately 41,000 square feet of new concessions space (in addition to the existing 24,000 sq. feet) that will allow SAT to feature shops and restaurants
More than 29,000 square feet of available club lounge space
Larger holdrooms (seating areas) at each gate, equipped with the latest technology
A modern Federal Inspections Service area, which will allow SAT to expand international air service
Roadway improvements to increase traffic flow and remove congestion along a curb front that will nearly double in length
Mayor Ron Nirenberg said the much-needed expansion will strengthen SAT's competitiveness in the aviation industry.
"This expanded facility will accommodate current and future air service expansion to meet our community's constantly growing demand through 2040 and beyond," Nirenberg said. "The airport is the doorstep to our beautiful city. The paseo, as you enter, will say you've arrived in San Antonio. We're putting San Antonio on the map with every step of this much-needed project. We're building a world-class airport to give people more options domestically and internationally."
Erik Walsh, City Manager, said the TDP budget will be developed over the next year, and there are numerous factors that will impact the final cost, including more detailed designs, negotiations with the airlines and an analysis of the financial capacity of the airport and the City. The City has established a streamlined procurement process with the City Council, which has already shaved months off the development timeline.
"This is the most important capital project in San Antonio's history. I'm confident in the team we've put together and we are ready to make this expansion a reality," Walsh said. "A modern, vibrant airport makes travel easier for our residents, while also streamlining business travel and attracting more tourism to San Antonio. This modernization of our airport is essential as we expand and add new air service options."
Jesus Saenz, Director of Airports, SAAS, said the design phase is anticipated to take the remainder of 2023.
"If all goes to plan, we'll put shovels in the ground around this time next year," Saenz said. "When people step off a plane at SAT, there will be no question where they've arrived. The thoughtful way nature is being incorporated into the design will make them feel welcomed. And their experience getting through the airport will be even easier than it is now. We are elated to be at this milestone as we make critical decisions regarding the design, the layout and the ease of access that will impact millions of travelers as San Antonio continues to grow."
Please monitor SAT's social platforms for updates as the TDP progresses:
For more information, go to: flysanantonio.com/
###
City of San Antonio - Vibrant & Thriving
San Antonio is a vibrant city with a thriving economy, deep cultural heritage and communities that are compassionate, inclusive and proudly diverse. It is the seventh largest city in the United States and one of the strongest fiscally managed cities in the country, nurturing entrepreneurship, encouraging investment and funding infrastructure. The City fosters partnership and growth opportunities in aerospace, bioscience, cybersecurity, green technologies, healthcare, and information technology. San Antonio's famed Riverwalk and Alamo are the top tourist attractions in Texas, and its historic missions are a designated World Heritage Site – the first and only in Texas. Proudly called Military City, USA®, San Antonio is home to one of the largest populations of active-duty military and veterans, as well as mission-critical commands, including military medicine, cybersecurity, pilot training and basic training. For more information, visit SanAntonio.gov and follow @COSAGov on social.