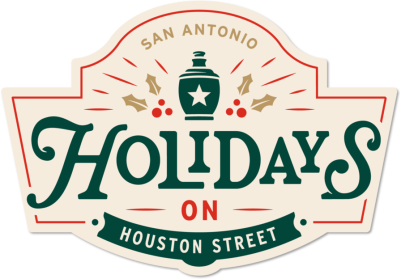 SAN ANTONIO (November 21, 2023) – The holidays in San Antonio will be even more memorable starting this year with the launch of what will no doubt become a time-honored holiday tradition for residents and visitors. Set against the backdrop of one of the city's most historic and charming promenades, San Antonio Holidays on Houston Street kicks off November 24 and runs through January 2. Of special note, December 15-17 will be chockfull of enhanced special events.  
The City of San Antonio, CENTRO San Antonio and Visit San Antonio have partnered to bring more holiday sparkle to five blocks of Houston Street (from Legacy Park to the Alamo). The stretch will glisten with twinkling lights and oversized décor elements, bustle with entertainers and themed offerings from restaurants, shops, and partners along the way. More exciting activities are below, and for the market, guests will feel as if they have stepped into a charming European Christkindlmarket. The nostalgia of San Antonio holidays will unfold under the soft glow of Houston Street lampposts, recalling memories of Christmas' past, and inspiring the making of new holiday memories for all. 
Holidays on Houston Street is an exciting new addition to the ever-evolving festive season in the Alamo City. View the Visit San Antonio website for citywide information of events and more.  
Here is a sampling of San Antonio Holidays on Houston Street highlights:  
Ongoing: November 24 – January 2  
Enhanced décor includes almost 400,000 mini-led lights that will grace some 80 trees, creating a canopy of holiday glow. There will be special lighting at each intersection, oversized ornaments, and wreaths on the lampposts along the sidewalks.  
Many Houston Street businesses are participating with special holiday offers, décor and ambiance at a variety of shops, hotels, restaurants and bars.  
Listen for carolers and entertainers December 13-18 and 24 when, during select hours, carolers and additional performers will fill the street with holiday music and song.  
Adding culture and vibrancy to Houston Street (and nearby locations), art is everywhere with more than a dozen murals and art installations by local artists. Visitors and residents will not want to miss, the new 75-foot-tall mural on the corner of Houston and Navarro streets celebrating the world-champion San Antonio Spurs. 
The Alamo Lights shine bright November 19 – January 3 with festive lighting throughout the grounds and extended hours at the Shrine of Texas Liberty.  
Enjoy family-friendly holiday themed movies throughout the season at Legacy Park. 
The nearby world-famous San Antonio River Walk will be illuminated in thousands of lights from November 24 – January 7. 
Visit nearby Travis Park for the H-E-B Christmas tree lighting ceremony on November 24, and enjoy the Rotary Ice Rink November 17 – January 15. 
Date Specific: December 12-19 
December 12: Taste of Houston Street Community Dinner. Join diners on Houston Street between Navarro and North St. Mary's streets to experience the food and drink of the diverse Houston Street restaurants and bars. This special evening will feature a block-long communal table, inviting residents and visitors to dine and celebrate under the glistening enhanced holiday lighting of historic Houston Street in the heart of downtown San Antonio. 
December 15-16: Legacy Park.  This urban green space is the west-side boundary of Holidays on Houston Street, anchored by Pinkerton's Barbecue and will activate with food, children's activities, music and prime viewing location for Holiday Lights in the Sky.  
December 15-17: San Antonio Holidays on Houston Street Enhanced Weekend. Non-stop activity is planned for this highlight weekend. Besides the elements detailed above:  
Visitors and residents will feel they have stepped into a European-style Christkindl market at the Holidays on Houston Market where some 30 vendors will have carefully curated gifts available - artisan crafts, delectable treats, candles, and clothing by local artists. 
The Market will be enhanced by the Houston Street Experiential Lounge, where revelers can not only enjoy great holiday food and drink but add experience-based gifts to their bags from San Antonio attractions across town.  
Holiday Lights in the Sky will have everyone looking skyward in the evenings as multiple 15- minute shows will feature drones in a themed display choreographed with holiday music. Shows are every 30 minutes from 6:30 p.m. to 9 p.m.  
December 19: Holidays on Houston Street Fun Run. Visitors and residents are invited to don both holiday costume and running shoes to participate in the first Holidays on Houston Street Fun Run. Runners will be cheered on by woodwind performers along the route which includes Houston Street and the River Walk Museum Reach River of Lights (5K route) and Houston Street to downtown's Travis Park (one-mile route). The race will be followed by a free concert at the Race After Party! Activities are open to anyone and will include live music, food, ice skating, games, giveaways, and more.   
Three-Way Collaboration 
Holidays on Houston Street amasses the energy and vision of the City of San Antonio, CENTRO San Antonio and Visit San Antonio in a collaboration to continue to enhance and evolve San Antonio's vibrant downtown with events and activations, leverage the city's central and cultural core and legacy for residents, and provide even more incentive for outer market visitors to choose the Alamo as the destination of choice to spend the holidays.  
"I invite the community to join us in reviving the holiday magic of downtown San Antonio during Holidays on Houston Street," said Mayor Ron Nirenberg. "The holiday season is a special time of year in downtown San Antonio, with events and activities for everyone, and we hope you will join us for Holidays on Houston Street! I want to thank our partners at Visit San Antonio and Centro, as well as all of local organizations who are making these wonderful events possible." 
"Centro San Antonio has long been an advocate for activating Houston Street in a significant way. I'm thrilled our organization could cultivate this initiative with our partners, The City of San Antonio and Visit San Antonio," said Trish DeBerry, President & CEO of Centro San Antonio. "The transformation of Houston Street will truly kick off the magic of the season, providing a thoroughfare of lights for our entire community to embrace and enjoy our beautiful city. In support of this initiative, our ambassadors will also be collaborating with city services to ensure a welcoming, clean, and secure environment for all who live in and visit our city."  
"From a tourism standpoint, there is always room to grow leisure demand this time of year and Holidays on Houston Street gives us even more leverage to do just that. Visit San Antonio is targeting our key drive markets of Houston, Dallas/Fort Worth, Austin, Corpus Christi and the Rio Grande Valley with a robust media engagement plan that launched November 15 with a goal to secure over four million media impressions through a strategic paid media mix. Further, our team is on the road to these markets promoting on key lifestyle television shows through earned media. We are hosting the Holidays on Houston landing page and using the power of our social media channels to get the word out as well. We are thrilled to partner with COSA and CENTRO on what no doubt will become a holiday tradition not only for our residents but for visitors as well," said Marc Anderson, President and CEO, Visit San Antonio.  
For a full list of Holidays on Houston Street happenings, more details, and access to ticketed events, go here. For overall holiday events in San Antonio, click here.  
Plan Ahead  
The holiday season is busy in downtown San Antonio – plan ahead! There are numerous street closures in the downtown area as well as the potential for heavy traffic with many large events taking place throughout the holiday season. Take public transportation, ride-share, bike, walk, or consult a navigation and traffic app before you leave. Visit the City of San Antonio's street closure website for more information and sign up for downtown street closure notices by subscribing to the City's street closure updates email.  
Visitor Parking  
Check out the City of San Antonio's SAPark website for easy, convenient, and affordable parking! A full list of City-owned garages, lots and meters can be found here. Downtown Tuesday offers free parking on Tuesdays from 5 p.m. to 2 a.m. in City-owned parking facilities, and City Tower Sundays offers free parking on Sundays from 7 a.m. to midnight at the City Tower Garage located at 117 W. Commerce. 
# # #  
ABOUT THE CITY OF SAN ANTONIO  
CITY OF SAN ANTONIO – VIBRANT & THRIVING 
San Antonio is a vibrant city with a thriving economy, deep cultural heritage and communities that are compassionate, inclusive and proudly diverse. It is the seventh largest city in the United States and one of the strongest fiscally managed cities in the country, nurturing entrepreneurship, encouraging investment and funding infrastructure. The City fosters partnership and growth opportunities in aerospace, bioscience, cybersecurity, green technologies, healthcare, and information technology. San Antonio's famed Riverwalk and Alamo are the top tourist attractions in Texas, and its historic missions are a designated World Heritage Site – the first and only in Texas. Proudly called Military City, USA®, San Antonio is home to one of the largest populations of active duty military and veterans, as well as mission-critical commands, including military medicine, cybersecurity, pilot training and basic training. For more information, visit SanAntonio.gov and follow @COSAGov on social. 
ABOUT CENTRO SAN ANTONIO  
Centro San Antonio is a nonprofit placemaking organization that manages the Downtown public improvement district (PID). Centro's purpose is to create a more beautiful, playful, welcoming, and prosperous Downtown in the spirit of San Antonio. Learn more at centrosanantonio.org 
ABOUT VISIT SAN ANTONIO  
Visit San Antonio is a 501(c)6 and serves as the sales and marketing arm of San Antonio as a leading leisure and meetings destination. In 2022, San Antonio welcomed approximately 34.8 million visitors. Hospitality is one of the top five industries in the city, contributing $19 billion to the local economy annually and employing more than 140,000. More information about Visit San Antonio and the city's vast offerings can be found at VisitSanAntonio.com.   
FOR MORE INFORMATION:  
Ja'Nise Solitaire, Visit San Antonio 
janise.solitaire@visitsanantonio.com 
210/326-1154 
Kelly Saunders, City of San Antonio 
Kelly.saunders@sanantonio.gov 
210/207-8031 
Chris Cortez, CENTRO San Antonio 
ccortez@centrosa.org 
210/849-9762 
Emily Baucum, Alamo Trust, Inc. 
ebaucum@thealamo.org 
210/669-0282