San Antonio's Cowboy Culture
Find Authentic Cowboy Adventures
San Antonio is the birthplace of the American cowboy. Yes, you read that right. Rope steering, bull riding, and busting broncos date back to the city's earliest days with vaqueros on the Mission ranches.
In the past, when Texas was ruled by Spain, vaqueros (cowboys) filled Mission ranches to rope and round up cattle. Today, this vital culture still thrives throughout the dude ranches and old-time dance halls that dot the Texas Hill Country, providing plenty of opportunities for visitors to immerse themselves in a truly authentic Western experience.
San Antonio knows how to rodeo. Every February, the San Antonio Stock Show & Rodeo gives visitors an opportunity to experience a world-class rodeo, concert entertainment and livestock exposition each February. Next Event Dates: February 8-25, 2024
Discover More Ways to Rodeo in San Antonio
If you are not able to make it in February, have no fear. Tejas Rodeo Company hosts rodeos weekly from March through November, and entertains with Texas Country concerts, too.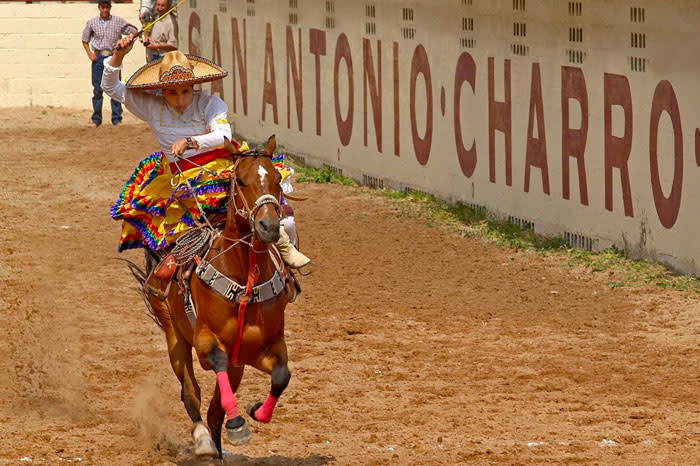 Plus you will not want to miss a true Charrería, the national sport of Mexico, at the Asociación de Charros de San Antonio for horse riding, rodeos and loads of culturally rich fun. Charrerías are held periodically throughout the year with this association – be sure to check their event calendar for up-to-date information!
Explore Cowboy Culture Throughout San Antonio
Briscoe Western Art Museum
Located along the San Antonio River Walk in the former San Antonio Public Library building with nine galleries on three levels, the Briscoe Western Art Museum is home to Pancho Villa's saddle, an authentic chuck wagon, and endless art, history, and culture of the American West. Founded in 2013, the Briscoe Western Art Museum strives to preserve the history and culture of the true American West with engaging exhibits, educational programs, and incredible special events highlighting our region's rich heritage and traditions of the West.
Insider Tip: Head over to the Briscoe Western Art Museum's Event Calendar. Regardless of when you visit San Antonio, there is sure to be a special event for you to catch!
Buckhorn Saloon Museum and Texas Ranger Museum
At the Buckhorn Saloon and Museum and Texas Ranger Museum, hundreds of Texas Ranger artifacts await to be discovered along with unique Alamo displays, a historic saloon, a café, and more. Be sure to check out the one-of-a-kind animal exhibits. And if you're looking for Texan souvenirs, the onsite gift shop is the place to be!
Tejas Rodeo Company
Located in Bulverde, just north of San Antonio, you can catch seasonal, live rodeo events country music performances, and pair it with great food at their steakhouse and bar.  Be sure to check their website for rodeo events and times. 
The Witte Museum
Take your learnings even further at The Witte Museum's South Texas Heritage Center, home to the Witte Museum's incredible collection of South Texas historical artifacts.
The University of Texas at San Antonio Institute of Texan Cultures
The UTSA Institute of Texan Cultures highlights the cultures and stories of the people who call Texas home. Check out periodic exhibits and events that bring cowboy culture to life with hands-on, interactive exhibits.