Yanaguana Indian Arts Festival
Held Every November at the Briscoe Western Art Museum
Get a glimpse into traditional and contemporary Native American culture at the Yanaguana Indian Arts Festival. Highlighting the continued vibrancy and artistic traditions of Native American communities, this free event welcomes all to celebrate Native American culture through workshops and lectures. This event showcased Native American artists with musical performances and dancing, Native American-inspired food, storytelling, and artist demonstrations of painting, printmaking, pottery, weaving and carving.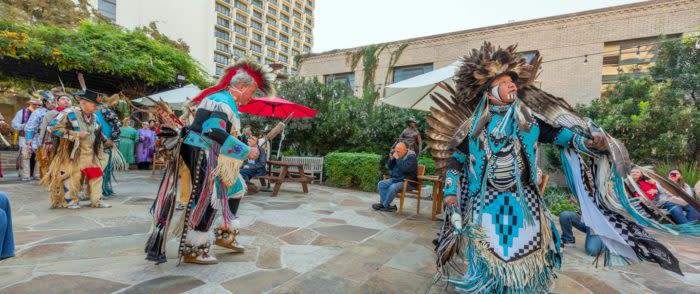 What does "Yanaguana" Mean?
The Yanaguana Indian Arts Festival's namesake comes from the Payaya people. These are the earliest recorded inhabitants of the region. "Yanaguana" is the name they gave to the River.
When and Where Can I Find the Yanaguana Indian Arts Festival?
The festival is held annually at the Briscoe Western Art Museum, located along the San Antonio River Walk and is held every year on the Second Saturday of November.