Fiesta San Antonio
Join Us for Our Annual 11-day Citywide Celebration
In San Antonio, culture sings. We celebrate our rich heritage with vibrant parades, food-centric events, and lively, local entertainment. We collect medals to show off our San Antonio pride. What started in 1891 as a way to honor the heroes from Texas Battles has transformed into a way to share in the fun of celebrating our city's largest city-wide party with a purpose, Fiesta.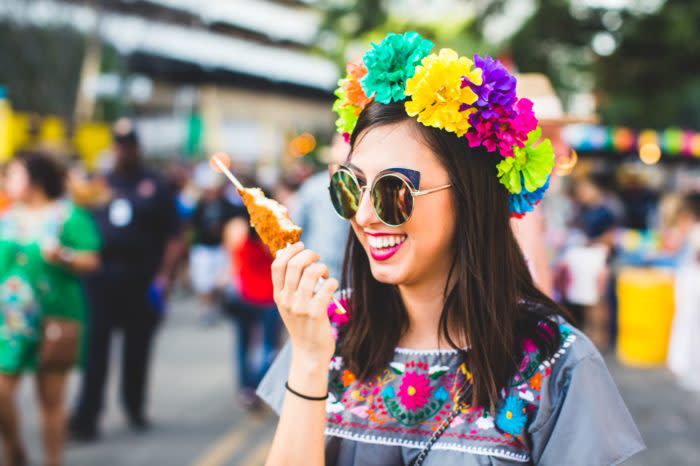 Fiesta San Antonio Returns April 18-28, 2024
Kick off the festivities with Fiesta® Fiesta at Hemisfair, an opening ceremony complete with locally-themed medal exchanges. Make plans to attend the one-of-a-kind Texas Cavaliers River Parade, The Battle of Flowers Parade, and the Fiesta Flambeau Parade.
For fun with food and drinks, do not miss NIOSA (A Night in Old San Antonio), the Taste of the Republic, and more. Explore distinctive culture with deep roots at events like A Day in Old Mexico & Charreada, the Ford Mariachi Festival, and more. Start planning your Fiesta schedule with this year's events, parades, and food/drink offerings by visiting the official Fiesta San Antonio website.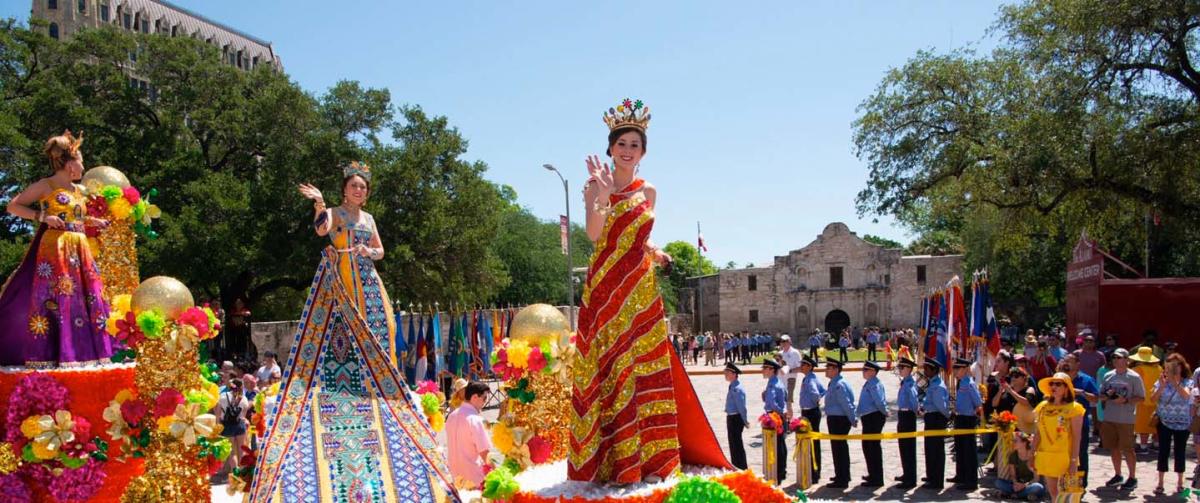 A Brief History of Fiesta San Antonio
The very first Battle of Flowers parade dates back to 1891 when a group of women from San Antonio sought a way to commemorate and pay their respects to the brave individuals who fought and died in the Battle of the Alamo and the Battle of San Jacinto. This inaugural parade took place in front of the Alamo where participants threw flowers at each other to reenact each of these battles. Each year the celebration grew in duration. Today, Fiesta has grown into an 11-day event full of medals, vibrant colors, live music and entertainment, delicious food and so much more.
Know Before You Go
Your Quick Guide to Fiesta San Antonio
What should I wear to Fiesta?
Fiesta is bright – and so is the clothing! Grab the most colorful items in your closet, your flower crown or "corona" and remember to bring a sash for your medal collection. We recommend comfortable shoes for all the walking and dancing you will be doing! Check out more Fiesta fashion.
What is with all the medals?
As a long-standing tradition, people go on a mission to obtain and wear as many Fiesta medals as possible. You will see people wearing their weight in medals – fastened to sashes, jackets, hats and more. Get your own Fiesta medals at various events throughout the 11-day celebration!
What is the best way to get to downtown Fiesta San Antonio events?
Grab the VIA Park and Ride to events like NIOSA and the parades. Rideshare is also a good option to get to Fiesta events. Should you choose to drive, take cash, as many parking lots do not accept credit cards.