By: Guest Blogger Samantha Ruiz | @BexarMom
What better way to learn about San Antonio, Texas than through the experiences of a local? The Alamo City is a city brimming with family-friendly activities, and as a mom myself, I know that it's the ideal destination for a memorable family vacation. From exciting theme parks to interactive museums, there's something for everyone! 
Here's your made-ready itinerary for some inspiration on your next visit:
Day 1: Explore the Heart of San Antonio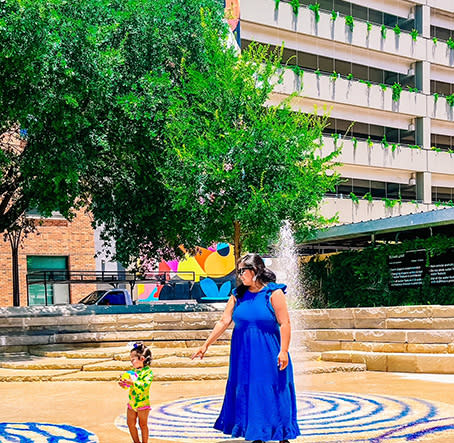 Start your adventure in the heart of San Antonio at Hemisfair. This iconic urban community offers a wide range of attractions for the whole family. Stroll through the Yanaguana Garden, a vibrant playground featuring climbing structures, splash pads, and a sand area. 
HOT TIP: Don't forget to take a family photo with the towering Tower of the Americas as a backdrop.
After a morning of fun at the park, head to Dough Pizzeria Napoletana Convention Center/Hemisfair, a popular spot for delicious artisanal pizzas. The restaurant offers a variety of toppings and has options to accommodate different dietary preferences. It's the perfect spot to refuel and enjoy a leisurely family lunch. 
Great news! Dough Pizzeria Napoletana will offer 20% off of food and non-alcoholic beverages for anyone showing the blog post during August. This discount is available from Monday-Thursday! 
Day 2: LEARN. EXPLORE. CREATE!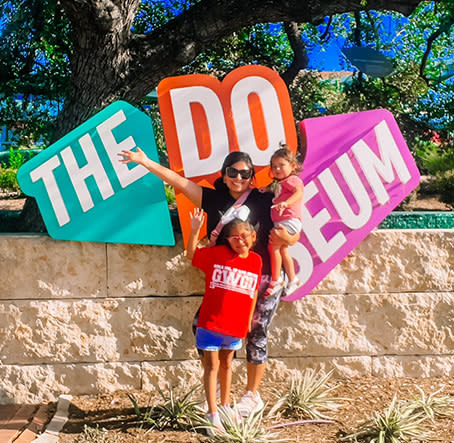 No trip to San Antonio with kids is complete without a visit to The DoSeum. This interactive children's museum offers hands-on exhibits that encourage learning through play. The DoSeum is beyond a children's museum. It is very innovative, engaging, and fun for all ages. 
Dream Tomorrow Today is the current summer exhibit that is active until October 15, 2023. Kids will learn how to positively impact the future and become empowered agents of change through fun, immersive experiences.
My girls and I all had a blast. My oldest one loved the new summer exhibit. She also has sensory sensitivities and benefitted from the Calm Corner. It's a serene spot with weighted blankets, dimmed lights, and other sensory-friendly activities.
My youngest had a blast at Little Town and the Bubble Lab outside. Kids just love bubbles!
Memberships are so worth it and have very fun benefits like members-only events, an additional hour on Sunday morning before opening, discounts, and early access to new exhibits. 
BONUS: The Doseum is also a participant in the Museums for All program which encourages families of all backgrounds to visit museums regularly. The program offers $3 general admission to individuals and families presenting a SNAP or WIC card with a matching ID. It's offered up to 4 guests per card. 
Day 3: Epic Thrills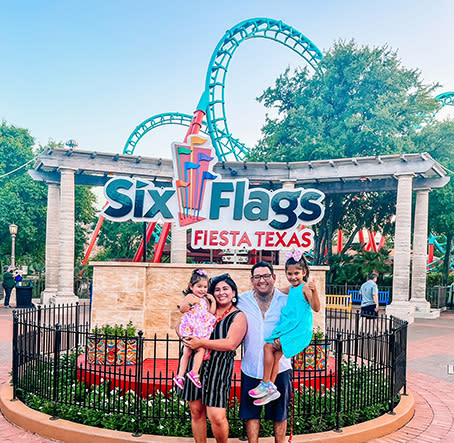 Get ready for an adrenaline-pumping day at Six Flags Fiesta Texas, an amusement park that offers a wide array of thrilling rides and family-friendly attractions. From roller coasters to live shows and themed areas, there's something for every member of the family. Don't forget to check the height requirements for rides, so everyone can join in on the fun. This place has such a special place in my heart! My late grandfather worked as a carpenter at this location and I have so many childhood memories here. I had not visited since I was a teen and I was so excited to bring my girls here. 
There were so many toddler-friendly rides and attractions which was awesome. I was concerned there would not be a lot for my two-year-old to do, but that is far from the truth.  There was so much for us all to do! My oldest had a blast and got on her first roller coaster too. We tried Flavors of the World which was delicious! It is a limited-time food festival. It was awesome trying foods and drinks from various countries. We enjoyed the VIP experience which I highly recommend if able to. We had front-of-the-line privileges, food and beverage deals, access to the VIP Lounge (a great way to cool off), and great lawn chair seating for the epic Oh What A Night: Drone & Fireworks Celebration!
Day 4: A Wild Good Time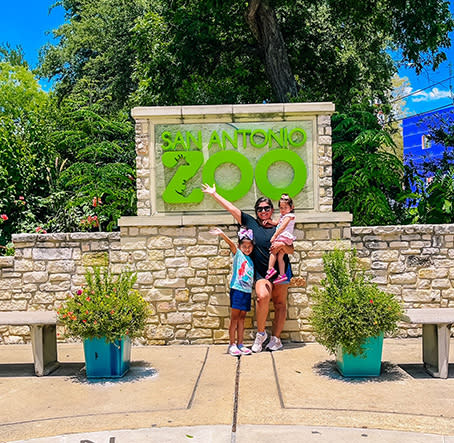 After an exhilarating day at Six Flags, take a more relaxed afternoon at the San Antonio Zoo. You may see some construction at the entrance but they are open and there are currently two entrances and exits. We're so excited to see the upgrades coming our way! We always have a fantastic time at the zoo and see so many incredible animals. The animal encounter experiences are so fun for all. Let's talk about the fantastic attractions and promotions going on right now:
Kids Wild Night Out

- Drop off your kids with San Antonio Zoo educators (like you would for camp) and enjoy some much-needed time for relaxing or date night! 

FREE water and Coca-Cola beverages until August 13th! In addition, the Zoo has many indoor and outdoor cool zones to get some relief from the scorching summer heat. Splashin Safari Water Party is a must and the times are listed in person at the zoo. Great way to cool off and get some relief from this Texas heat. 

Membership promotion

: Pay for 1 day and get a year membership for free. This is a limited-time offer so take advantage while you can!
Day 5: Discover San Antonio's River Walk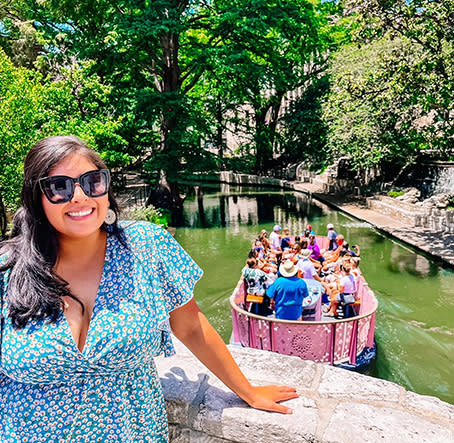 Embark on a delightful Go Rio Boat Cruise along San Antonio's famous River Walk. The guided boat tour offers a unique perspective of the city's historic architecture and lush landscapes. Your family will be captivated by the scenic views and fascinating stories shared by knowledgeable guides.
For a taste of authentic Italian cuisine, head to Zocca Cuisine D'Italia, located on the River Walk. The restaurant offers a family-friendly atmosphere and a diverse menu, including classic Italian pasta dishes and mouth-watering pizzas. It's the perfect spot to enjoy a relaxing family dinner while overlooking the river. They have great adult beverages and if you go on the weekend, consider trying out their delicious brunch menu!
For entertainment for the whole family, check out Liggettville Adventure Center inside the Shops at Rivercenter. Our oldest daughter who is 7 years old tried out the Sky Tykes + Sky Rail. These attractions are perfect for younger kids. She was initially so scared but their staff was so sweet and helpful, demonstrating their zip lines and giving her a walk-through of what they have to offer. She had a blast! 
There are tons of fun attractions for older kids and even adults as well. This could also be such a cool group gathering or birthday party idea!
A few tips to have a pleasant time are to fill out the online waiver in advance, wear closed-toe shoes, and wear activewear. Make sure to also check the website for limitations and general information. If you can walk up a flight of stairs you are likely fit for the attractions. 
BONUS: Check Liggettville's Deals + Specials:
Buy one Premier Combo, get one FREE from 10 am - 12 pm every Tuesday & Wednesday. Purchase tickets online using the code BOGODEAL or in person at the ticket counter. Offer valid through Aug. 30, 2023.
Receive 10% off when you book online! The price of all tickets is when you buy them in advance on our website www.liggettville.com versus purchasing them at the ticket counter.
Day 6: Cool off and Make a Splash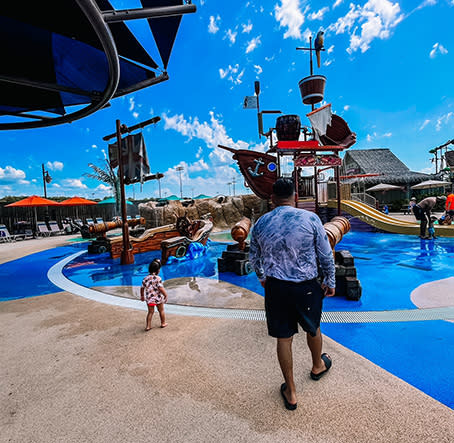 Lastly, for families seeking a truly inclusive and heartwarming experience, a visit to Morgan's Wonderland is a must. Morgan's Wonderland is the world's first ultra-accessible theme park, designed to accommodate individuals with special needs and disabilities. Every member of the family can enjoy this magical place, as the park ensures that all attractions are fully accessible and inclusive. From wheelchair-accessible rides to sensory-friendly areas, Morgan's Wonderland goes above and beyond to provide an unforgettable experience for everyone.
This location is truly remarkable and so special! It was heart-warming to know that people of ALL abilities were able to be accommodated and enjoy their time here. I don't think peaceful and theme parks are usually in the same sentence, especially with kids, but it was just that. We had a peaceful day of fun with the girls and it was a wonderful place where we enjoyed our time. We loved their mission so much! Consider getting annual memberships as it will be the best bang for your buck. Those with special needs are able to get entrance for free as well as children under age 2. Enjoy the theme park alone or add on Inspiration Island which is the splash park with multiple splash pads. The whole family is sure to enjoy it!