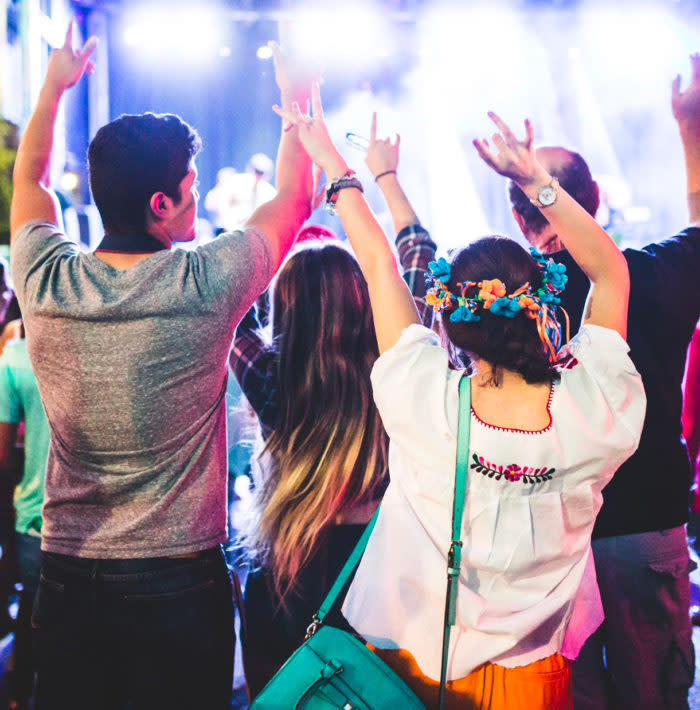 Are you ready to Fiesta? Let's start with the basics. This year, Fiesta San Antonio  takes over San Antonio April 20-30, 2023. If you have not planned your trip yet, get going! Find the perfect play to stay and get ready for the best Fiesta San Antonio yet! 
History
Fiesta San Antonio's story goes all the way back to 1891 when a group of locals wanted to find a way to honor the heroes of the Battles of the Alamo and San Jacinto. The idea they landed on was the Battle of Flowers where horses, carriages and bikes acted as floats in a parade with children dressed as flowers. Throughout the parade, fresh flowers were thrown at each other marking the first official Battle of Flowers.  
Each year, the festival grew larger and larger until it expanded to the 11-day celebration we now know it as. Fun Fact: The Battle of Flowers Parade is the only parade in the country completely planned and directed by women!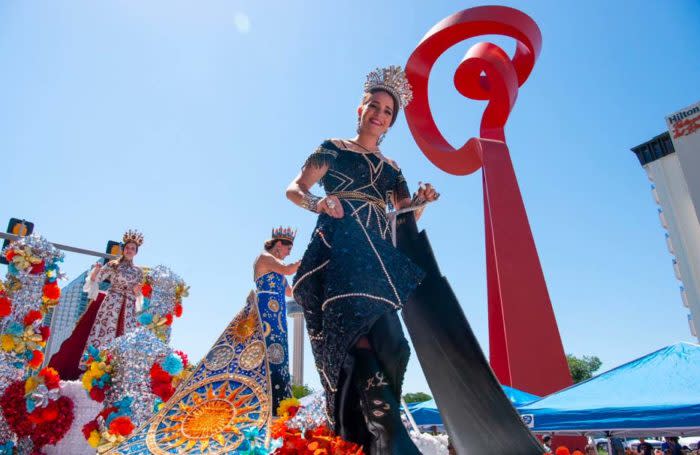 So now that you know how it all began, what can you expect this year at Fiesta San Antonio 2023? Read on to find out more on all things Fiesta San Antonio!
What Do I Wear?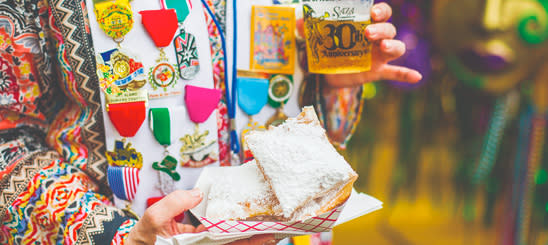 Just like San Antonio's vibrant community and culture - Fiesta is bright! Bring your bright, vibrant clothes for the occasion - but be sure to dress cool! San Antonio celebrates an average of over 250 days of sunshine a year, so come prepared with cool clothes, comfortable shoes, sunscreen and water! You'll likely see plenty of flower crowns in the crowds, but have no fear if you forget yours. Local boutiques around the city specialize in getting the public Fiesta ready!
Another item you'll see throughout Fiesta is colorful Fiesta medals! Fiesta medals are an essential part of the tradition. Local businesses sell unique medals whose designs often change each year. Many people wear their medals on sashes and are always looking to grow their collections. See how many medals you can collect this year!
What Events Are Happening?
Parades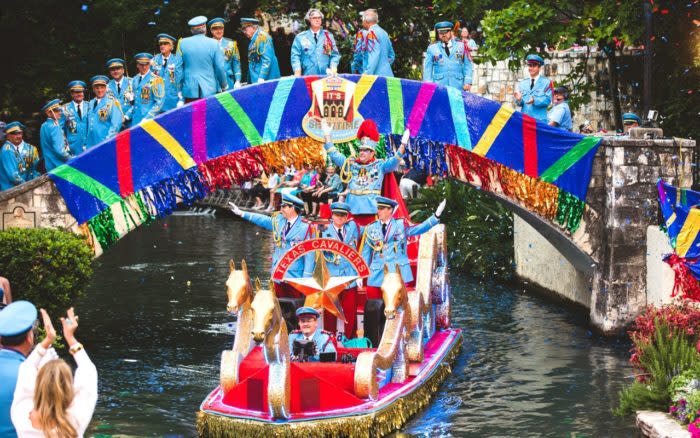 If you didn't know by now, San Antonio loves our parades and there is no shortage of parades during Fiesta which include:
River parades take place on the River Walk. Be sure to check our event calendar to see which restaurants are offering packages for river parade seating. And though technically not a parade, you'll still want to catch the Ford Mariachi Festival (April 25-27, 2023) where local Mariachi bands and Folklorico dancers drift down the River Walk. It makes for a truly entertaining evening, find a river side restaurant of your choice and enjoy the show!  
Family Events
Parades aren't the only we celebrate Fiesta. Enjoy a wide range of events for all ages promising top-notch live entertainment, special door prizes, vendors, guest appearances, and more. Festivals are also aplenty at Fiesta with something for everyone to enjoy. Kid-friendly areas and live music will be complemented by many vendors and shopping opportunities.
Celebrate Fiesta all month long at Six Flags Fiesta Texas' Viva La Fiesta (Saturdays & Sundays, April 15-May 14, 2023).

Kickoff Fiesta San Antonio at

Fiesta Fiesta 

(April 20, 2023)

.

Mission Flotilla Fest is Fiesta's Kayaking event at Padre Park (April 22, 2023).
The King William Fair prides itself on being Fiesta's largest block party. This daylong event includes a 2-mile parade, 5 stages of entertainment, and over 65 food/beverage vendors (April 29, 2023).
And the Festival de Animales at the San Antonio Zoo celebrates Latin American, culture, animals and food (April 29, 2023).
Events for the Adults
Looking for events more catered to adults? We have those too!
Book a Mariachi Sip and Cruise with Go Rio Cruises. Tickets include a cruise down the river, mariachi entertainment, two drink tickets, and a souvenir cup. (April 7, 8, 14, 15, 21, 22, and 28, 2023).
Try the 21+ Taste of the Republic for a VIP culinary event featuring chefs cooking food from Texas' 6 culinary regions.  (April 20, 2023).
At Red Bull Batalla San Antonio, you can catch some of today's top Latin MCs battling it out to see who will be moving on to the 2023 Batalla Regional Qualifier later this summer! (April 20, 2023).
The WEBB Party held this year at The Espee is geared toward raising funds for the San Antonio AIDS Foundation (April 21, 2023).
The Chili Queens Chili Cook-Off isn't your average cook-off, competitors from all over put their chili to the test here - but each entry must be represented by a queen! This is an adult event for 18+ only (April 23, 2023). 

A special adults-only event at the

Fiesta Cornyation

, provides a comedic satirical review of current events (April 25-27, 2023).

The Fiesta experience is not complete without a Night in Old San Antonio (NIOSA). Though kids are welcome to this event, it does run later into the evening which may be past some children's bedtimes (April 25-28, 2023).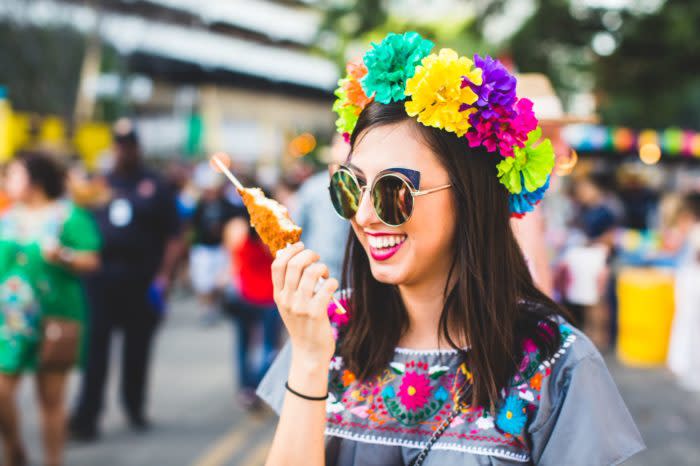 Culinary Events
Fiesta is all about our cultures - and that includes food! Many of the events already listed above have fantastic food options. But you'll also find delicious dishes at these events:
You may also want to check out Fiesta Oyster Bake for incredible food (Insider Tip: try the infamous Chicken on a Stick) and live music and entertainment (April 21-22, 2023). 
A Taste of New Orleans offers authentic New Orleans-style food like gumbo, beignets, and crawfish paired with music styles from the Big Easy (April 21-23, 2023).

Taste Of the North Side

celebrates over 60 

local restaurants

 and countless wine and spirits vendors (April 25, 2023). 
More! We Want More!
We couldn't possibly talk about every single Fiesta San Antonio event here - after all, there are over 100 events throughout the 11-day celebration to attend! From Viva Botanica!, to Chanclas y Cervezas, Fiesta Gartenfest and so much more - head over to the Official Fiesta San Antonio Event Calendar for event more events!
Join Us for Fiesta San Antonio 2023
So, in short - what can you expect at Fiesta San Antonio? Great food, phenomenal entertainment, and endless fun! Plan your trip now and we look forward to seeing you at Fiesta San Antonio in April!