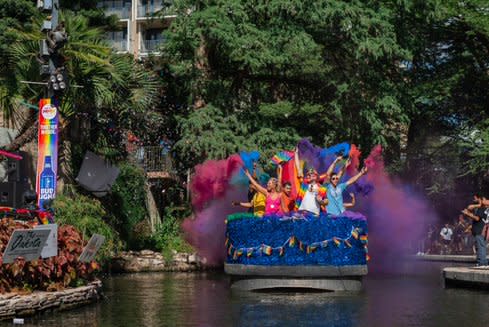 June is officially Pride Month, when San Antonio and the LGTBQ+ community celebrate diversity, equality, and love. Here in San Antonio, our culture runs deep, and we embrace people from all walks of life.
We also know how to have fun, colorful celebrations, which makes San Antonio the perfect destination for finding the best LGTQ-friendly spots and experiences. Whether you are local or a visitor, there are plenty of great spots to check out LGBTQ culture and celebrate in style.
San Antonio Pride Events
San Antonio's Pride celebrations are as colorful as they are inclusive. Join us for these exciting pride events!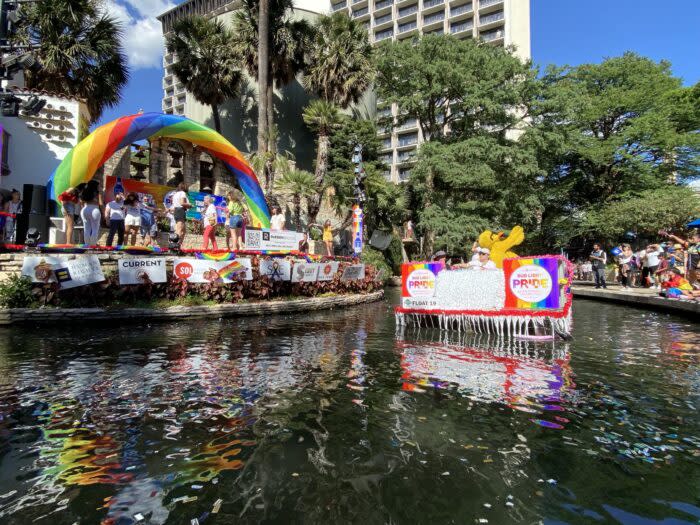 Pride Night | June 2, 2023: Alamo Area Resource Center invites you to Pride Night on June 2nd at 6:00 p.m. Experience vibrant performances by Mariachis Los Compadres and Folklorico de Bendiciónes, and be captivated by the talented drag performers Ira Decent, Diablo Banx, Jey K Banx, and Natasha Capri!
Pride Ride | June 3, 2023 + Pride Anthems | June 15, 2023 + Out at the Tobin Pride Brunch | June 15, 2023: Get your heart racing on June 3rd at 9:00 a.m. with Pride Ride at the Tobin Center for the Performing Arts! Throw on your favorite bike shorts, lace up your rainbow sneakers and clip in for an inclusive, energetic spin class led by Coach Wes and Coach Matteo. Not only will your $5 donation hold your bike reservation, but it will also be donated to THRIVE Youth Center San Antonio. That's not all the Tobin has in store for Pride. Pride Anthems lands at Tobin on June 15th and the Out at the Tobin Pride Brunch hosted by Kristi Waters is happening on June 18th at 11:30 a.m!
Pride Sip & Pour | June 7, 2023: Enjoy a candle-making experience inspired by the iconic RuPaul! Pride Sip & Pour happens June 7th at 5:30 p.m. and promises to be an evening full of fun with glitter, glamour, and neon! 20% of proceeds from ticket sales will be donated to THRIVE Youth Center San Antonio.
Bud Light Pride River Parade & Celebration | June 10, 2023: The 2nd Annual Bud Light Pride River Parade and Celebration occur on June 10th, from 1:00 p.m to 8:00 p.m. Presented by Bud Light, this lively celebration will feature plenty of fun. From 1:00 pm to 5:00 pm, there will be live on-stage entertainment at La Villita's Arneson River Theatre. This will include impersonators, dancers, DJs, bands, and more! There will also be two showings of the Bud Light River Parade, one in downtown San Antonio from 4:00 pm to 5:00 pm and then at the Museum Reach from 7:00 p.m to 8:00 p.m. Both locations will feature colorful river barges. The downtown location will serve as the closing event for the La Villita festival, while the Museum Reach location will act as an encore festival. Both will be jam-packed with fun and unforgettable experiences. So, don your favorite rainbow attire and come on out to join us in the ultimate pride celebration. While you are here, there are plenty of other LGBTQ-friendly spots and events to check out.
Night out at the Zoo | June 16, 2023: Check out Night out at the Zoo, the San Antonio Zoo's family-friendly ticketed event welcoming guests of all ages to enjoy a supportive community celebrating the LGBTQIA+ community happening June 16 at 6:00 p.m!
Heels With Hearts | June 18, 2023: Over at Woodlawn Pointe, you can attend Heels with Hearts: A Pride Drag Show Benefitting the Human Rights Campaign happening Sunday, June 18 at 8:00 p.m.
Pride Bigger than Texas | June 24, 2023: The Pride Bigger Than Texas Festival and Pride Night Parade are happening June 24, 2023. Enjoy food, entertainment, a health fair and so much more! While no outside food or drink is allowed, incredible food options can be found on site and costumes are welcome. This is a family-friendly event so bring everyone! Pets are welcome too as long as they are leashed and owners clean up after them. Expect a $10 entry fee at the gate for ages 12+. Ages 11 and under are free. There is no fee to view the parade. Be sure to check the Pride San Antonio website for the upcoming parade map route. This is an outdoor festival in June, so be sure to dress for high temperatures and plenty of sunshine!
Eats & Drinks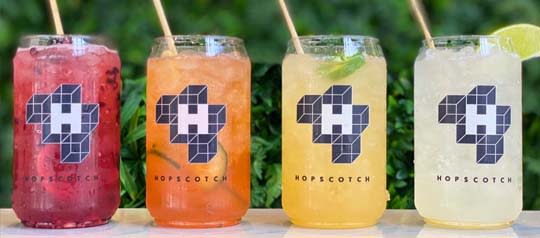 San Antonio's LGBTQ+ scene is thriving; you will find plenty of friendly bars and restaurants in the city. If you want to get your blood pumping, then try out Pegasus. Meant for the 21 and up crowd, this bar serves only top-quality brand spirits and beers. It is known as the "club for everyone" and is one of the city's most popular nightclub experiences. You can also head over to Hopscotch for immersive art installations and a phenomenal on-site bar.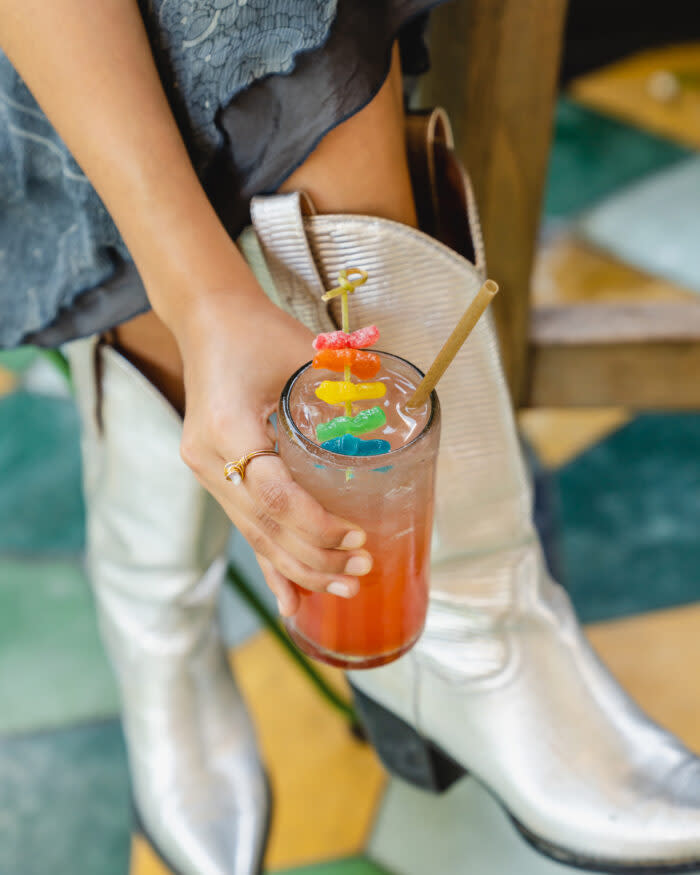 Over at Otro Bar, enjoy the "Yall Means All" cocktail throughout the month of June in celebration of Pride. Partnering with Community Spirit Vodka, a portion of sales will be donated to Pride Center San Antonio.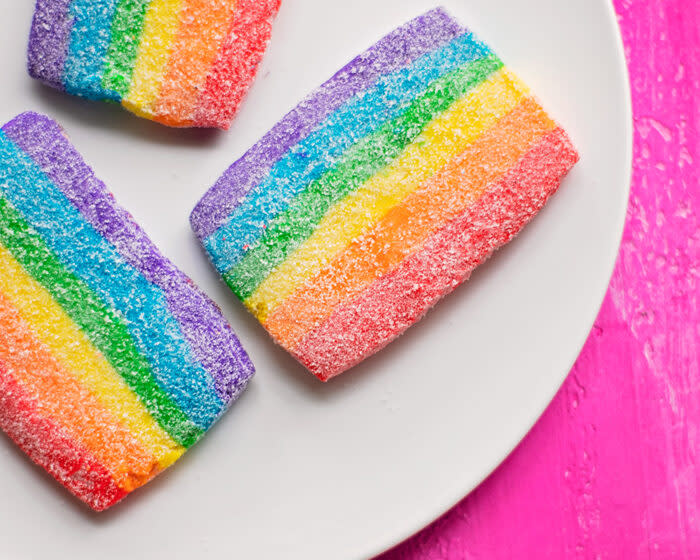 Make your way to Bakery Lorraine who is supporting THRIVE Youth Center San Antonio all month long and is also offering up Pride-inspired goodies throughout the month.
The Good Kind, which is owned and operated by James Beard Fellow and Food Network Chopped competitor, Tim McDiarmid,is known for great food, local eats, and on-site entertainment, including Wednesday night karaoke. Elsewhere is a gorgeous hidden gem on the River Walk with food, drinks, entertainment and great scenery. For incredible Chinese cuisine head over to Sichuan House for a menu chock full of traditional Chinese Sichuan options. Check out all our dining options, where you will find no shortage of great food and a welcoming atmosphere.
The LGBTQ Culture in San Antonio is Like No Other Place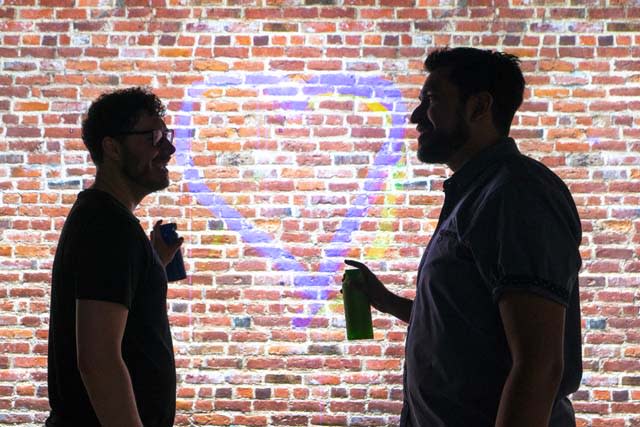 Hopscotch
San Antonio is a city rich in history and culture, and the LGBTQ community is integral to that. The city is home to several LGBTQ organizations. Pride Center San Antonio, which acts as a safe zone for the LGTBQ community and their families. The center offers many affirming programs, including Youth Empowerment with Pride Conference and the Youth Empowerment with Pride Summer Camp.
There is also the San Antonio LGBT Chamber of Commerce, whose mission is to "amplify the voices and contributions of the LGBTQ+ owned and allied businesses in the City of San Antonio." The organization does this through economic empowerment, education, outreach, and community collaboration.
San Antonio Is A Welcoming Tourist Destination for All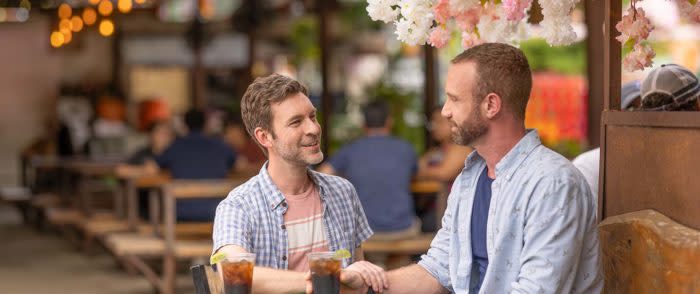 In addition to its LGBTQ-friendly spots, San Antonio is a welcoming tourist destination for all. The city is home to several attractions that celebrate diversity and inclusivity, from our cultural events to our upcoming fairs and festivals. The Alamo City has something to offer everyone, so start planning your trip today.