It's the most wonderful time of the year! Now that the holidays are here, many people are looking and planning for the perfect holiday destination. If you are still on the fence about where to spend the holidays, look no further than San Antonio!
There is no better place to feel the festive holiday cheer than San Antonio. The perfect holiday getaway is the Alamo City, known for its high walkability score, rich culture, and many other holiday events and festivities happening throughout the holiday season.
There is an abundance of reasons to spend the holiday season with us, but we have narrowed it down to 7 great reasons to make San Antonio your holiday destination.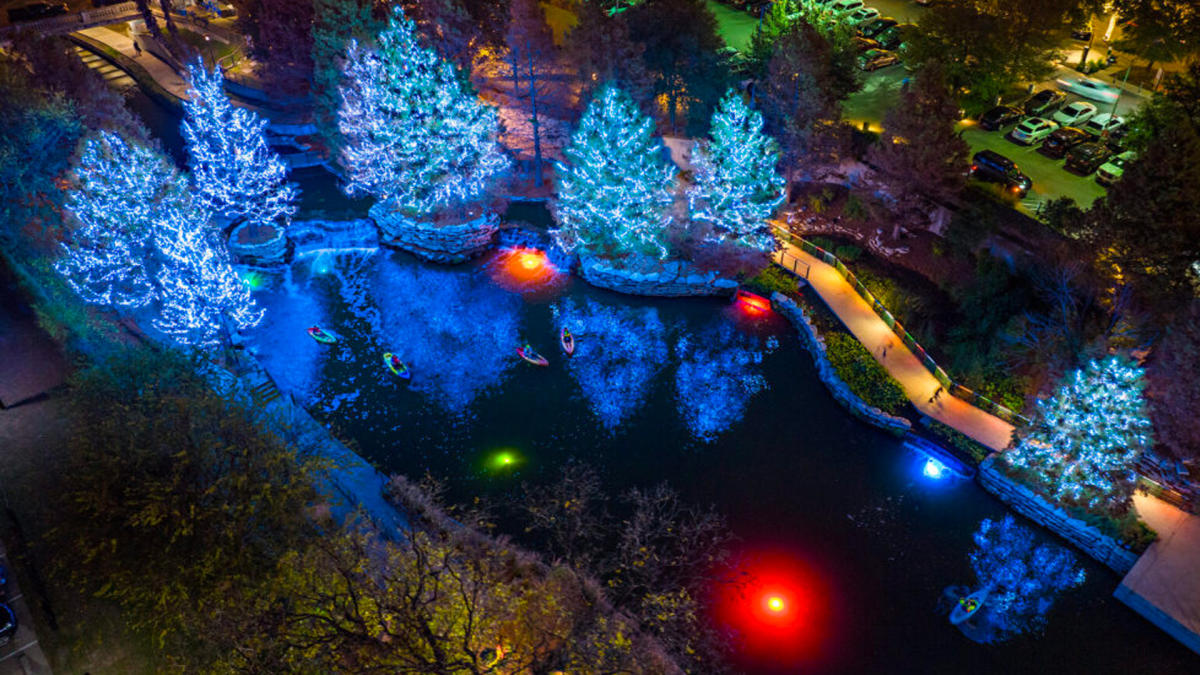 Photo Courtesy of San Antonio River Authority
San Antonio's Walkability Makes It Perfect for Strolling Under the Glow of Thousands of Holiday Lights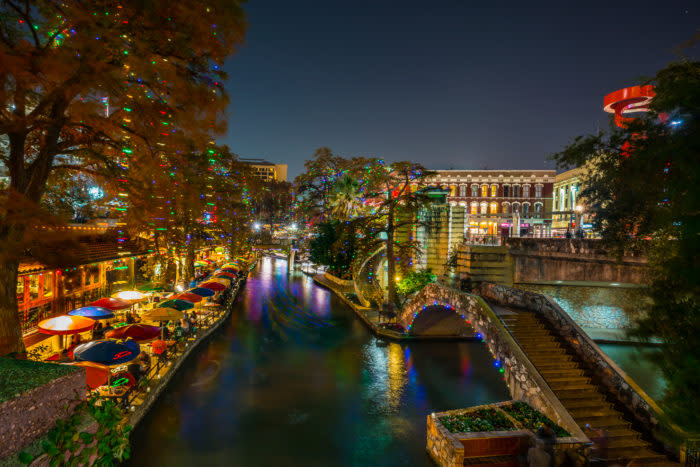 Hear the sleigh bells jinglin' while you stroll our beautiful city. While there is certainly plenty to explore by car, many shops, hotels, restaurants, and events are within walking distance along the River Walk, which extends 15 miles from Museum Reach to Mission Reach.
It also helps to have a beautiful view - our River Walk is lit up with festive lights to guide your way from the day after Thanksgiving through the beginning of January. If you find your feet need a rest, be sure to hop aboard a GO RIO River Cruise to explore the city by river barge.
Many of San Antonio's neighborhoods also have city centers with high walkability scores. Visit these fantastic areas and save at the pump during your holiday vacation.
Immersive Historical Landmarks Found Only in San Antonio Shine Bright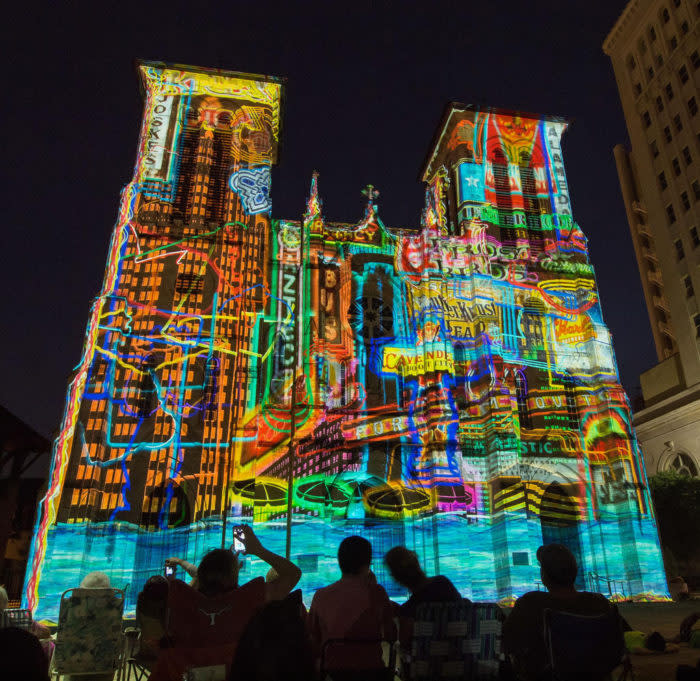 You're likely already familiar with The Alamo and The River Walk - both lit up, especially for the holiday season, but did you know that San Antonio has many more historical and cultural landmarks you will not find anywhere else?
Take a trip to San Antonio Missions National Historical Park and visit the only UNESCO World Heritage site in Texas where communities are still thriving today.
Then, head over to Main Plaza and view an amazing light show projected onto the facade of San Fernando Cathedral at a showing of San Antonio | The Saga.
Experience all the fantastic spots found only in San Antonio.
Diverse Communities and Proud Heritages Share Their Holiday Traditions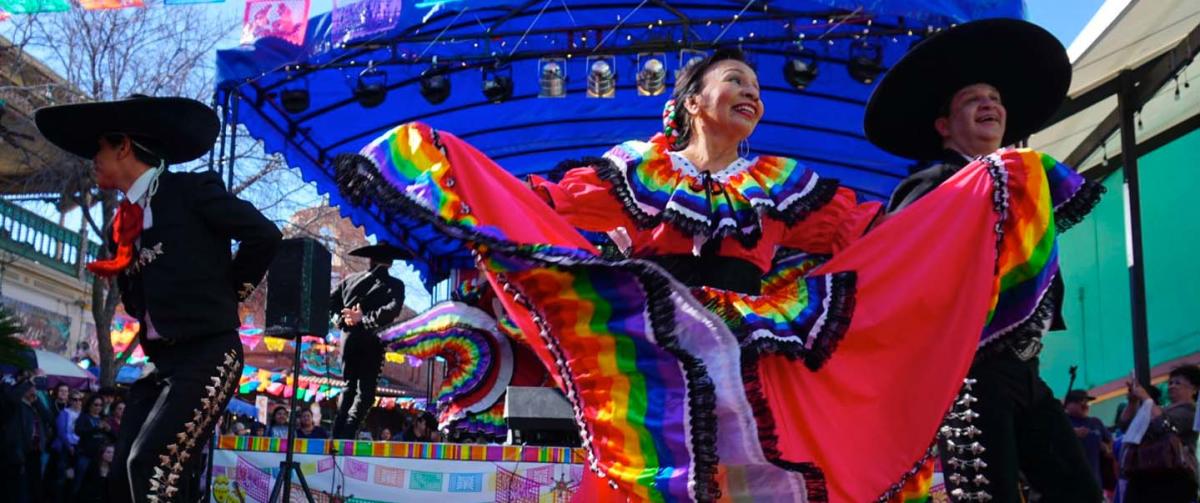 Photo Courtesy of City of San Antonio Department of Arts & Culture
In San Antonio, our roots run deep, which is shown through our holiday heritage and diverse community. From the 8th Annual Pecan Harvest, brought to you by the American Indians In Texas At The Spanish Colonial Missions, to our Gran Tamalada event and more, San Antonio is the best place to see how our many cultures not only coexist but they also share customs and blend together to form new traditions. 
You will find no cultural experience anywhere else quite like what you will find in San Antonio. Get in some holiday shopping at Historic Market Square, the largest Mexican Market in the United States, and explore the many cultures that call San Antonio home.
Our Accommodations Get in the Holiday Spirit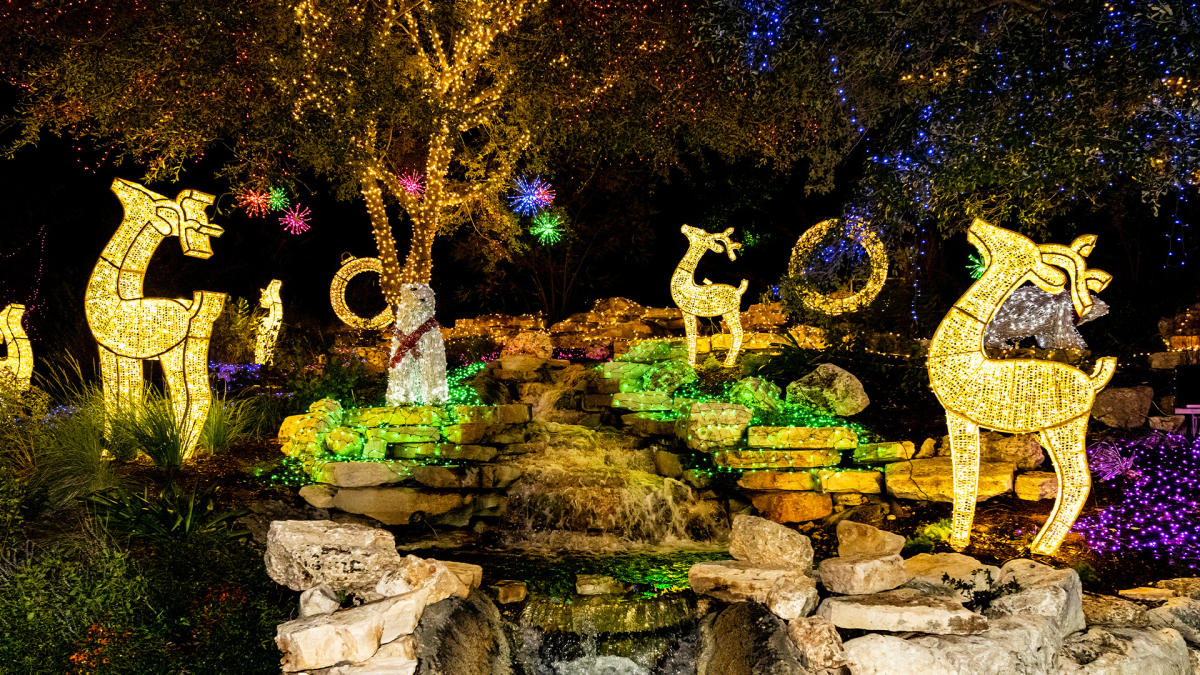 Photo Courtesy of JW Marriott Hill Country Resort & Spa
There is no shortage of fantastic places to stay out if you plan your perfect holiday destination, and many take part in their own holiday pop-ups, extravaganzas, and more. Take JW Marriott Hill Country Resort & Spa, for example, where a Hill Country Christmas comes to life with storybook readings with Mrs. Claus, gingerbread decorating, letter writing to Santa, pop-up holiday lounges, and more.
San Antonio offers plenty of accommodations, from high-end stays at the River Walk to historic spaces near The Alamo, hotels throughout the city, resorts in the Hill Country, and more. 
San Antonio Holiday Experiences Don't Have to Break the Bank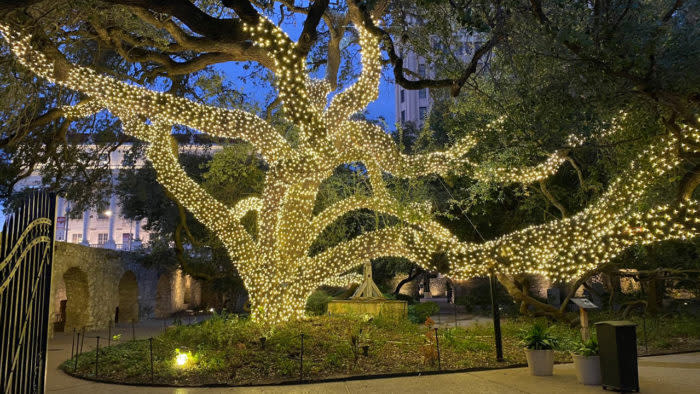 Alamo Lights, Photo Courtesy of The Alamo
If you are traveling on a budget, you will be happy to know that San Antonio offers many affordable experiences, including countless free events throughout the year. In addition to The Alamo, Missions National Historical Park, and San Antonio | The Saga, all of which are free events, The Tobin Center for the Performing Arts hosts monthly free outdoor movie watch parties at their Cinema on Will's Plaza events.
San Antonio Is a Foodie's Paradise - Especially During the Holidays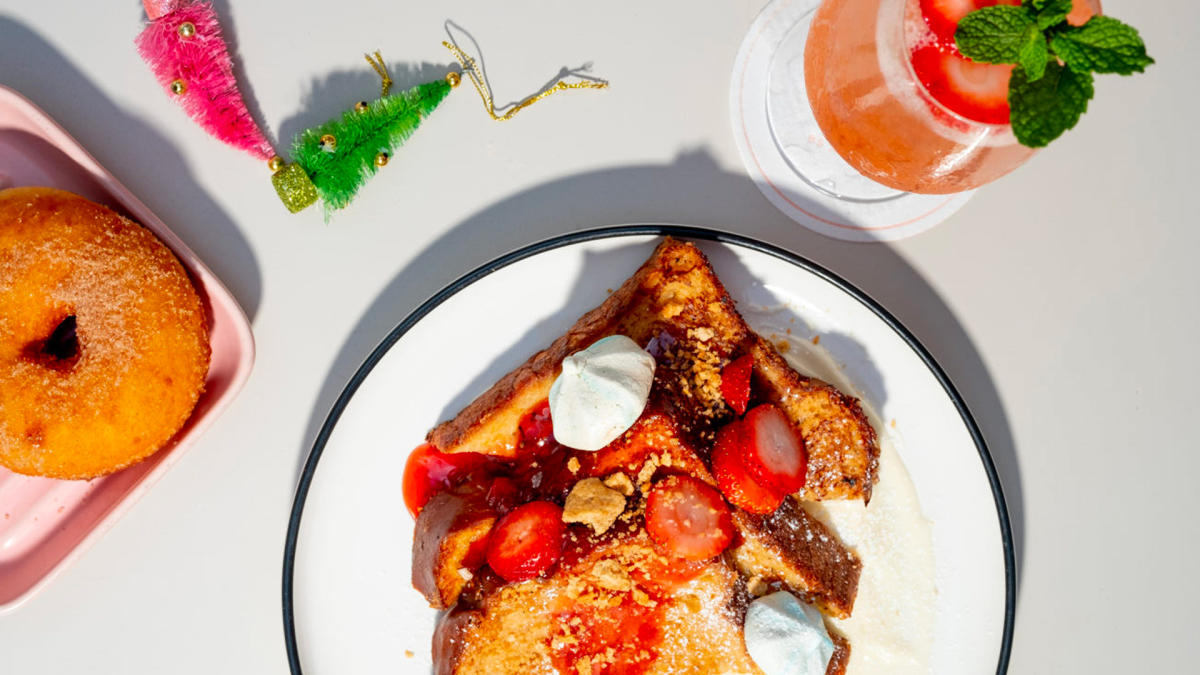 Photo Courtesy of Box St. All Day |  Zach St. Ward
There is a reason San Antonio has been named one of the country's only two Creative Cities of Gastronomy. You'll find no shortage of delicious holiday flavors in San Antonio. We have fine dining from James Beard Award-winning chefs and the best part is, our fine dining can be experienced throughout the entire city! From our eastside to our westside, and everywhere in between - there is a restaurant that serves exactly what you're craving.
Get your mouth watering with some of our favorite restaurants and bars and find some of the best holiday treats in the area. 
Holiday Events That Will Keep Your Vacation Plans Shiny and Bright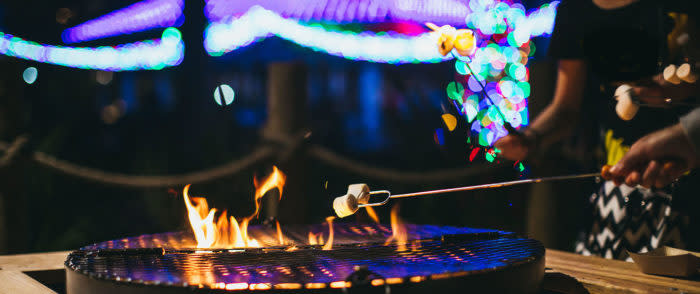 There is no need to limit your holiday cheer; San Antonio has a wide variety of exciting events for you and the family to enjoy! From Christmas at the Caverns at Natural Bridge Caverns, Museum Reach River of Lights, the Annual Ford Holiday River Parade, experience the holidays like never before. 
Make your ideal holiday itinerary with these upcoming events.