San Antonio is home to a variety of restaurants, from quaint cafes to upscale eateries. Whether you're looking for a quick bite or a full-course meal, there are plenty of amazing San Antonio restaurants to choose from.
---
But First...Restaurant Weeks!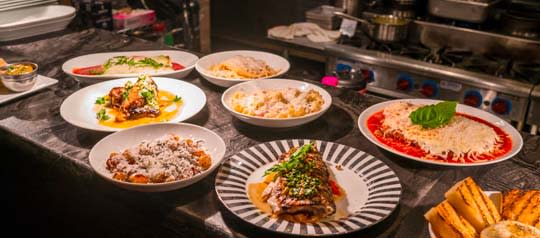 Battalion
Before we get started - Culinaria Restaurant Weeks takes over San Antonio January 16th-28th. During this two-week extravaganza, some of San Antonio's top restaurants invite you to select from three-course prix fixe menus, complete with to-go options! Select restaurants will be offering wine, cocktail, and beer pairings as well. Culinaria Restaurant Weeks offers the public the unique opportunity of experiencing the unparalleled culinary and cultural riches of San Antonio and introduces visitors to both brand-new establishments and local favorites alike. Check out menu options now!
---
And now, without further ado - here are 20 of the best restaurants in the city that you should check out!
Enjoy Restaurants Along the River Walk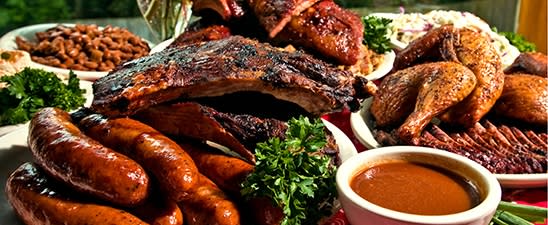 County Line BBQ
The River Walk is one of the most visited places to visit in San Antonio. So naturally, there would be good eats along this historical landmark, including:
County Line Barbeque Location: 111 W Crockett Street #104 | San Antonio, TX 78205 If you want legendary, slow-cooked barbeque then County Line is the place to get it. Bring your Texas-sized appetite and enjoy savory BBQ dishes!
Biga on the Banks Location: 203 S. St. Mary's Street | San Antonio, TX Experience the true taste of Texas on the River Walk with Biga on the Banks. Chef Bruce Auden boasts an especially inspired menu, such as Texas Axis venison with roasted quail, Grilled Ahi Tuna, and crowd favorites like the toffee pudding.
Lone Star Cafe Location: 237 Losoya | San Antonio, TX 78205 This restaurant keeps it Texas through and through. Start with an appetizer like the Come and Take it Queso or the San Antonio nachos, then try a main dish like Davy Crockett's Chicken Fried Steak or the Galveston Fried Shrimp.
NONNA Osteria Location: 401 S. Alamo | San Antonio, TX 78205 Named after a "Nonna" (grandmother in English) this River Walk staple features favorites such as antipasti platters, pizzas, and plenty of homemade pasta.
Paesanos Riverwalk Location: 111 West Crockett St. | San Antonio, TX 78205 Find delicious Mediterranean cuisine right here in San Antonio. Paesanos Riverwalk offers a wide selection of old country dishes such as bruschetta crostini or spicy tuna tartare, all made with fresh, locally sourced ingredients.
Authentic Tex-Mex in San Antonio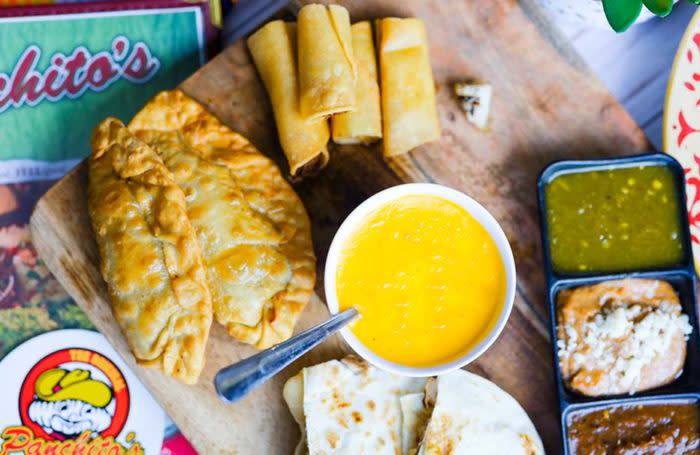 The Original Panchito's Restaurant
Tacos, enchiladas, quesadillas, burritos, and more! If you want authentic Tex-Mex cuisine, then San Antonio has you covered:
The Original Panchito's Restaurant Location: 4100 McCullough | San Antonio, TX 78212 Can you get much more authentic than a scratch kitchen that prides itself on homemade recipes daily? Guest favorites include enchiladas, shrimp nachos, parillada de fajita, caldo de res, tacos ricos and puffy tacos!
Cafe Ole  Location: 521 River Walk | San Antonio, TX 78205 Are you ready for the Ultimate Fajita paired with a 60oz Margarita? If so, then Cafe Ole on the River Walk is waiting to host you. Pair your meal with mariachi music and enjoy the scenic River Walk views.
La Fonda on Main Location: 2415 N. Main | San Antonio, TX 78212 La Fonda on Main is San Antonio's oldest Mexican Restaurant - serving the city since 1932. Taste what keeps locals and tourists alike coming back for more! Be sure to plan ahead and make reservations here.
Poblanos Mexican Restaurant Location: 204 E. Houston | San Antonio, TX 78205 Located next to the historic Majestic Theatre, if you have a craving for breakfast tacos or superb Mexican lunch, try Poblanos Mexican Restaurant. Grilled fajitas are always a favorite - can you hear them calling?
Rio Rio Cantina Location: 421 E. Commerce St. | San Antonio, TX 78205 Not only is this restaurant known for its Tex-Mex, such as fresh homemade tortillas, but it is also known for its River Walk bar, which offers margaritas, cervezas, wine, cocktails, and tequila.
Fine Dining Options for a Wonderful Night Out 
Looking to have a fine-dining experience with a special someone? Or perhaps you want to treat yourself. Either way, San Antonio has plenty of options for fine dining: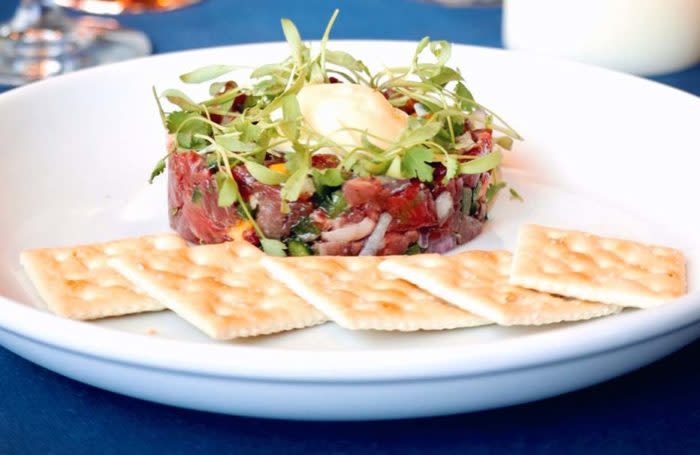 Range
Range Location: 125 E Houston St. | San Antonio, TX 78205 Take a culinary steakhouse journey with popular bites like Wagyu stuffed Arancini or white cheddar jalapeno hushpuppies. You can also find superb steak, seafood, or other main dishes that will satiate even the biggest hunger cravings.
Antler's Lodge Location: 9800 Hyatt Resort Drive | San Antonio, TX 78251 Try innovation at its finest with Antler's Lodge. Here you will find traditional Texas fare within the heart of the hill country. True to its namesake, 500 sets of naturally shed antlers make up much of the decor.
Cured Location: 306 Pearl Pkwy #101 | San Antonio, TX 78215 Hand-crafted cured foods serve as the foundation for incredible dishes that include the classic charcuterie and cheese plates, and decadent entrees like stuffed quail gumbo or pecan-crusted redfish. Chef Steve McHugh's restaurant makes use of the purest regional ingredients
Sternewirth Location: 136 E. Grayson | San Antonio, TX 78215 Sternewirth is a luxe tavern that is adorned with 25-foot vaulted ceilings, giving the atmosphere an expansive, powerful feel. The menu is diverse, and the tavern offers both traditional and house-created cocktails.
The Palm Location: 233 E. Houston | San Antonio, TX 78205 Prime steaks, whole lobster, and Italian specialties are just some of the cuisine options you'll find at this restaurant that pairs a fun-loving atmosphere (see how many faces you can recognize!) with some of the most flavorful dishes around.
Flavorful San Antonio Restaurants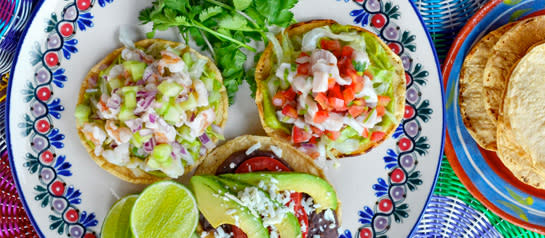 La Gloria
There are so many fusions of flavors to find in San Antonio. Check out even more of our favorites we just have to tell you about!
La Gloria (Dominion) Location: 21819 Interstate 10 | San Antonio, TX 78257 Take an eclectic outdoor atmosphere and pair it with upscale Mexican dishes and top-notch tequilas at La Gloria - that's what you'll find at La Gloria. Chef Johnny has traveled throughout Mexico and his creations are a reflection of his travels.
Pharm Table Location: 611 S Presa St. | San Antonio, TX 78215 Locally-sourced, globally-inspired food with a spice library, inventive cocktails and natural wines? You must be at Pharm Table - this one is a great option if you're looking for a weekend brunch spot!
Botika Location: 303 Pearl Pkwy #111 | San Antonio, TX 78215 Botika is a modern Peruvian-Asian-fusion restaurant with an incredible atmosphere and a menu that features dishes that are nationally recognized.
Dough Pizzeria (Castle Hills) Location: 6989 Blanco Road | San Antonio, TX 78216 Authentic Neapolitan pizza. Deep in the heart of San Antonio. Dough makes their pizza with local, farm-fresh ingredients and true Neapolitan techniques. *Menu is subject to change.
Costa Pacifica Location: 434 N. Loop 1604 West Ste. 2101 | San Antonio, TX 78232 Dine on the freshest seafood surrounded by a vibe that reminds you of seaside villages, of Puerto Vallarta or Mazatlan at Costa Pacifica. Relax and enjoy yourself at this casual place with a cool vibe.
There is No Shortage of Flavor in San Antonio
These restaurants are just a fraction of the flavor you will find in San Antonio. We have countless dining options, no matter what style of cuisine you are looking for. Come to the world's largest kitchen and start planning your trip today!