If you are someone who cannot resist bringing your canine friend along on adventures, this one is for you. Did you know that during the pandemic, more than 23 million households adopted a pet? That is nearly 1 in 5 people throughout the country!
Nationwide, doggy daycares and boarding centers are reporting months-long waitlists. With many starting to plan summer vacations, options can be limited for those with fur babies. Finding pet-friendly hotels, restaurants and bars at your holiday destination can be very time-consuming and frankly exhausting. 
Luckily, San Antonio is very Fido-friendly! So, get to planning your vacation today with this pup-to-date list of dog-friendly restaurants, events, and hotels throughout the Alamo city. 
Dog-friendly Places to Stay in San Antonio
When traveling with pets, many feel constrained by the limited list of viable pet-friendly accommodation options. Between weight limitations, breed restrictions, noise policies and more, the research alone can be daunting. 
But here in San Antonio, there are over 350 dog-friendly hotels to choose from across a broad range of price points. We have just a few to get you started on your search - and we have even filtered for places that allow pets to be left in rooms unattended— just in case they need a break from a busy day of sightseeing. 
La Quinta Inn & Suites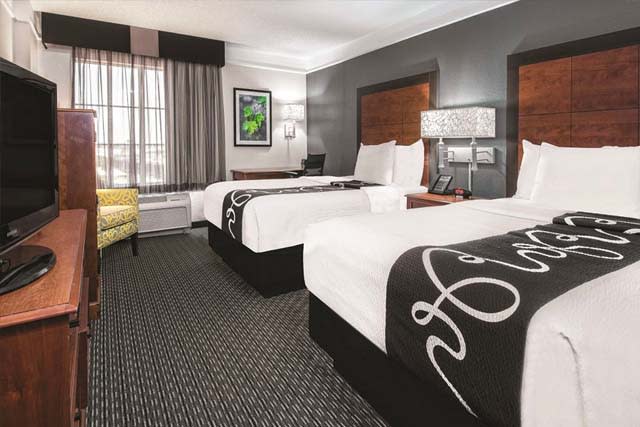 With over 15 hotels spread across San Antonio, La Quinta Inn by Wyndham  is an excellent choice if you are looking for a budget-friendly stay with your pet. A majority of the popular locations such as La Quinta Inn & Suites Downtown, La Quinta Inn & Suites Market Square and La Quinta Inn & Suites River Walk allow for up to two pets per room. Both dogs and cats are permitted for a nominal fee per night. 
 Hotel Gibbs Downtown Riverwalk 
Are you howling for some history? Constructed at the turn of the century in 1909 in the heart of downtown San Antonio is the city's first high-rise office building. Present-day, the building has since transformed into an elegant and modern boutique hotel known as Hotel Gibbs. 
Conveniently located within walking distance of the River Walk, Alamo, and other popular landmarks — this hotel is the perfect place to accommodate you and your pooch for an additional fee. 
Hotel Indigo 
Hotel Indigo is a beautiful, Spanish-style villa settled on the Museum Reach of the River Walk and within close proximity to the San Antonio Museum of Art, Hopscotch, Historic Pearl District and Tobin Center of Performing Arts. 
Although some of these attractions may not be pet-friendly themselves, Hotel Indigo makes it easy to pop in and check on your pup as you bounce from place to place.  For an added fee per stay, pets are welcomed with a bag of treats, a water bowl and bottled water at check-in. Just remember, crates or kennels are required for housecleaning services. 
Hotel Havana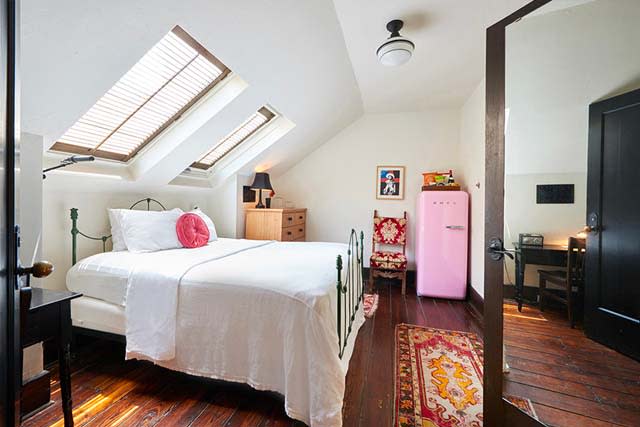 If the hustle and bustle parts of the city provide too much excitement for your pet, Hotel Havana is the pur-fect haven away from tourist crowds. This charming Cuban-inspired boutique oasis is nestled on the north end of the River Walk and within walking distance from some of the city's most reveled culinary assets. The hotel accommodates up to two pets of any size for a nightly fee. 
The Fairmont Hotel 
If you are wanting to treat yourself to an elevated experience, the Fairmont Hotel is paws-itively the place for you and your pet. Enjoy European-style accommodations with access to luxurious amenities, all while being just steps away from La Villita's artisan shops, Hemisfair, the Tower of the Americas, and more. The hotel does charge a non-refundable fee to host your pup and requires them to be crated when left unattended in rooms.  
Dog-friendly Places to Go in San Antonio
It can be ruff on your dog to be locked up in an unfamiliar place all day. So why not bring them along? San Antonio is home to a multitude of pet-friendly parks, historical landmarks, and attractions.  
San Antonio River Walk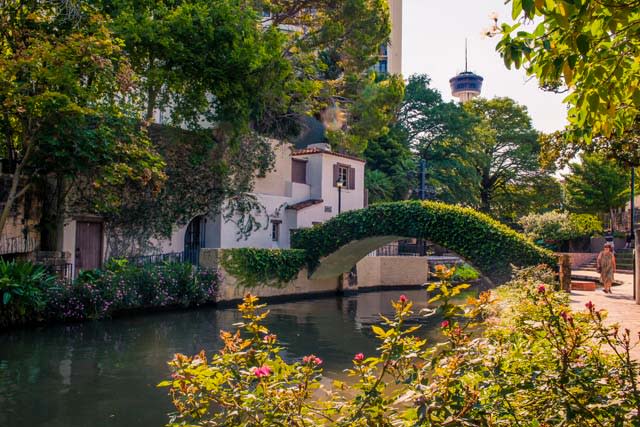 Unsurprisingly, one of the most popular pet-friendly places in San Antonio is the River Walk. The 15-mile-long, serpentine urban park is open 24/7, year-round and provides direct access to some of the city's most beloved historical and cultural sites.  There is quite a mesmerizing charm to the parallel sidewalks lined with local shops, restaurants, hotels, nature and more! 
King William Historic District 
Go for a stroll back in time with a self-guided tour of San Antonio's King William Historic District for a peek into the city's first suburb. Settled by German merchants back in the late 1800s, this 25-block stretch of historical mansions has since been converted into local shops, museums and cafes. Relish in the rich history and architecture from afar with Fido, all at the comfort of your own pace! 
San Antonio Missions National Park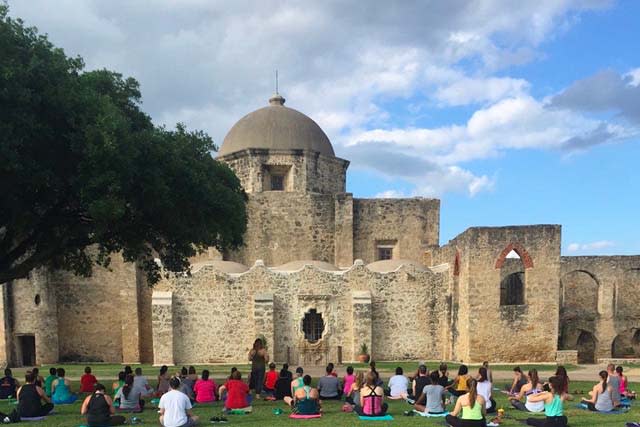 Grab your pup for a local adventure to explore what is old and discover what is new at the San Antonio Missions National Historical Park, an eight-mile stretch along the River Walk's Mission Reach. The grounds consist of four remaining 18th-century Spanish colonial missions built to serve as the center for an ethnically diverse society. Although dogs are not permitted inside any of the park buildings or churches but are allowed to walk the grounds on a leash. 
Historic Market Square  
Historic Market Square is a pet-friendly, outdoor market plaza filled with over 100 locally owned businesses. In fact, it is the largest Mexican market in the United States. Three blocks lined with mouth-watering food, live entertainment, and a variety of local artisans— what's not to love? 
Hemisfair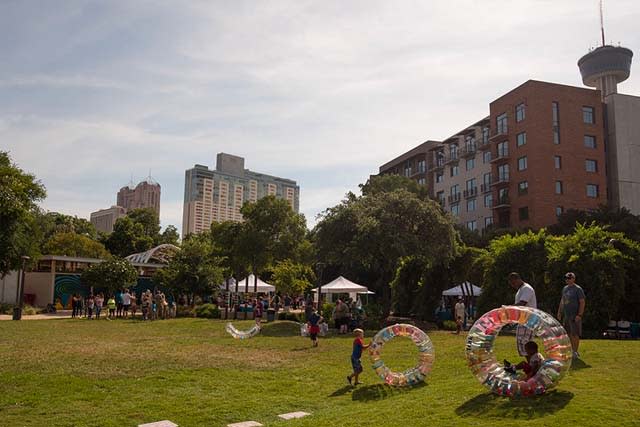 Pack a picnic and trek over to the centerpiece of San Antonio, otherwise known as Hemisfair. The scenic park space includes various jogging trails, ample green space, game tables, play structures, and more. 
Ghost Tours 
Pets provide their owners with protection and a sense of safety. Thankfully, several San Antonio ghost tours allow you to bring your pets for the support! 
You can visit the  Sisters Grimm Ghost Tours, which offer dog-friendly nightly ghost tours starting at 8:30 pm from Monday to Saturday. All leashed and friendly dogs are welcome to enjoy this 90-minute stroll across the city's most haunted places. Another ghost tour organized by Bad Wolf Ghost Tours lets you and your dog explore the notorious locations of historic battles, murders, and the gruesome side of history in San Antonio. 
Dog-friendly Places to Eat in San Antonio
A day of play in San Antonio with your four-legged friend can really work up an appetite. Luckily, with more al fresco dining options than ever, you can easily satisfy those stomachs in no time. Here's just a taste of some pet-friendly restaurants you'll want to test out!  
Beto's Alt-Mex
You and your fur-ever friend can enjoy delicious Mexican cuisine at Beto's Alt-Mex. With plenty of outdoor tables, this family-owned restaurant is the perfect hangout for you and your pup. Not to mention, the empanadas and street-style tacos are out of this world. 
The Friendly Spot Icehouse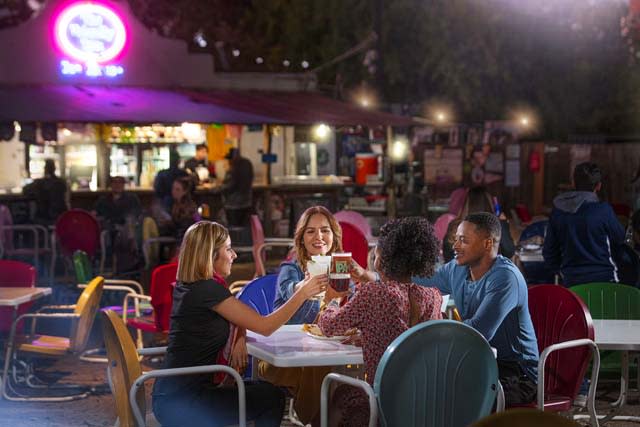 Sit back, relax, and enjoy some tasty treats out on the outdoor patio at The Friendly Spot Ice House. With a modest pub-style menu that includes a unique variety of beer and other drinks, you can cool off, socialize, and watch games with your pet by your side. 
Green Vegetarian Cuisine 
Green Vegetarian Cuisine is the new veggie hot spot in San Antonio offering yummy kosher meal options for breakfast, lunch, and dinner— great for those having to accommodate for certain dietary restrictions. 
Located within the picturesque historic Pearl district, it's a great spot to post up outdoors and treat yourself to fresh health-conscious comfort food. 
Hops & Hounds 
What is better than a restaurant with an on-site dog park? Hops & Hounds not only features a gated dog park with ramps and obstacles for your furry friends but also offers delicious food, satisfying drinks and a lively ambiance. There are even fun games for humans! So, sip on a pint, play some ping pong or grab the bags for corn hole while you wait for your food. 
Plan Your Trip
If you are planning on traveling with your pet this summer, no need to forgo fun or sacrifice your comfort— come to San Antonio!  
With hundreds of dog-friendly hotels, parks, restaurants, and attractions to choose from, you can have the time of your life exploring a new city with your best friend. After being isolated indoors for the past couple of years, it's the perfect push to go outside and immerse yourself in San Antonio's rich and vibrant culture. Start planning your trip today!