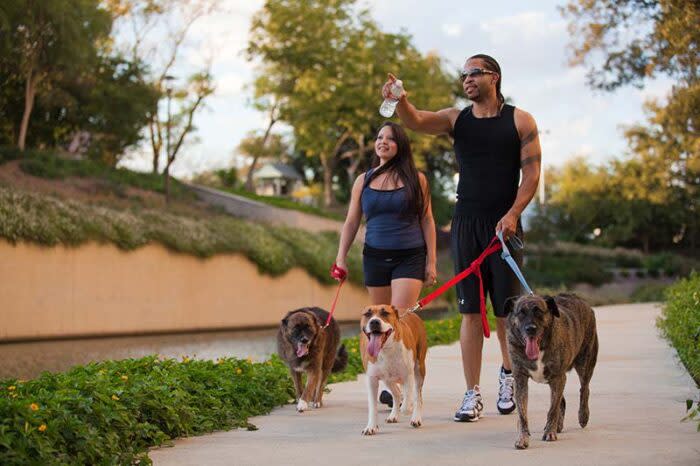 We've talked about how fido-friendly San Antonio is, but did you know that the Alamo City also has plenty of activities for you and your pup? From dog parks to one-of-a-kind dog-friendly events, San Antonio is a fantastic city for dogs and their owners.
Whether you are looking for a relaxing day out or want to get more active, here are seven activities you enjoy with your furry companion in San Antonio:
Go to these San Antonio Parks For A Fun Day Out With Your Furry Friend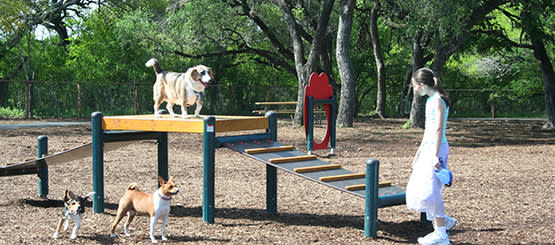 Spending time with your furry friend at a dog park is a great way to get outdoors and get some fresh air. San Antonio has plenty of dog parks to choose from. First, there is the 2.2-acre McAllister Park, which includes exercise equipment, a picnic area, a walking trail, and benches. Another option is the 1-acre Tom Slick Park. While shorter, this dog park still offers a section for small dogs and one for large dogs.
Grab A Leash and Explore These San Antonio Hiking Trails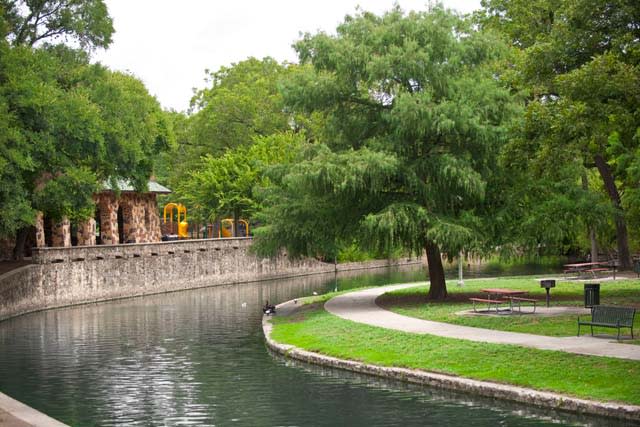 Brackenridge Park
If you and your dog want to be a little more adventurous, San Antonio has some of the most beautiful hiking trails. First is the lovely Brackenridge Park, which allows dogs on the walkways and paths if they are kept on a leash. While dogs are not allowed in the playgrounds, and there is no separate dog park, you and your pup will certainly enjoy the views. Eisenhower Park, which also includes hiking and jogging trails, picnic tables, and 320 acres to explore!
Catch a Bite from These Dog-Friendly Restaurants in San Antonio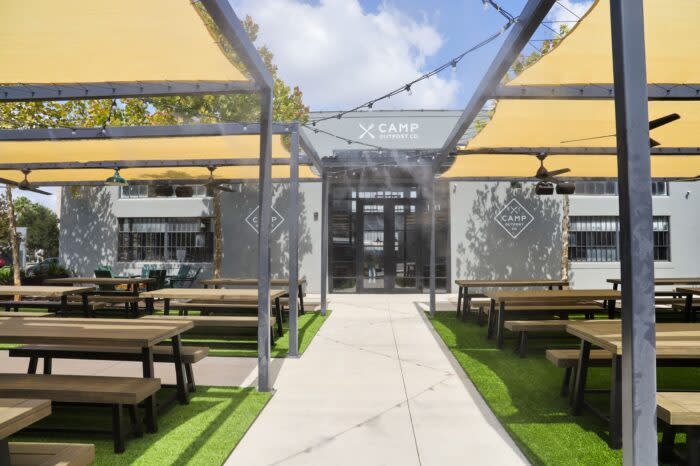 Camp Outpost
San Antonio is known worldwide for its excellent and diverse cuisine. If you want to have a doggie date that puts your canine friend front and center, then head over to Hops and Hounds, a restaurant not only has a dog park onsite, but there is also plenty of fun for humans, including ping pong tables, cornhole, and more!
You and your pooch can also try Camp Outpost Co., which serves wood-fired comfort food and has a spacious patio your dog will surely enjoy. Another patio option is Chicken N Pickle, which is known for its favorite yard games, including pickleball courts.
Get Spooky With Your Pooch at A San Antonio Ghost Tour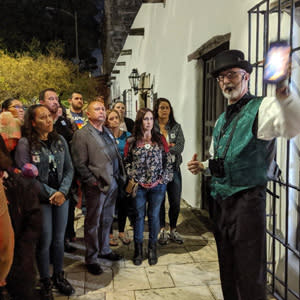 Sisters Grimm
If your dog is less like Scooby Doo and more likely to protect you from the paranormal, why not get spooky with a San Antonio Ghost Tour? Sisters Grimm Ghost Tours offers an evening of unforgettable dark history and bone-chilling ghost stories. Sisters Grimm Ghost tours are dog-friendly except for the haunted ghost tour and the dinner. Check out all tour options on the website.
Get Some Shopping Done with Your Canine Companion in Tow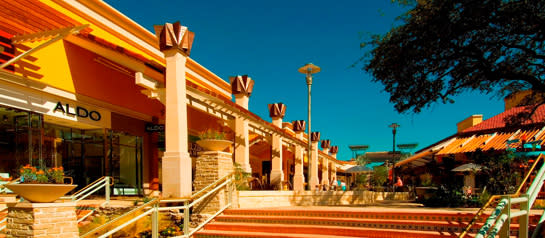 The Shops at La Cantera
Shopping with your furry friend can be a delightful experience in San Antonio. For a cultural shopping experience, try Historic Market Square, which includes a three-block outdoor plaza with locally-owned shops and stalls. Dogs on leashes are welcome in the outdoor areas, and there are plenty of treats along the way.  The Shops at La Cantera features dog-friendly stores, public spaces, and common areas. In addition, the shopping center's waste disposal and bag stations keep the location pristine.
Have A Tail-Wagging Good Time at Barkitecture San Antonio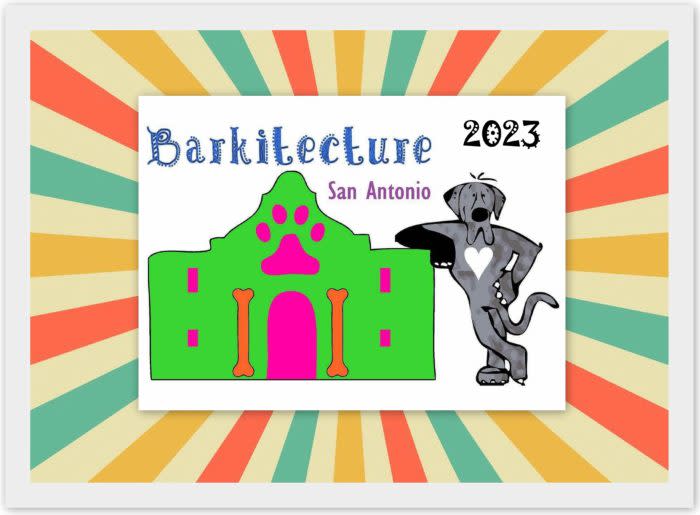 On May 6, 2023, from 10:00 am to 4:00 pm, bring your dog to Woodlawn Lake Park for Barkitecture San Antonio. This event is centered on a city-wide student competition in which students associated with architect, construction, and engineering groups will build unique dog houses. These will then be auctioned off to the public.
Not only is this a free-to-the-public event, but festivities will also include the judging of the dog houses, arts and craft vendors, and food trucks. Proceeds from the auction will benefit local pet charities. Barkitecture will be full of fun and excitement, so bring your pup, your loved ones, and enjoy this unforgettable experience.
Stay in and Relax at These Dog-Friendly Hotels
Fairmont Hotel
After all the excitement with your furry friend, you may want to stay in and relax. We have you covered because plenty of dog-friendly hotels in San Antonio offer a wide vary of amenities for you and your pooch. If you like European-style décor and accommodations, try The Fairmont Hotel, which is close to Hemisfair, Tower of the Americas, and other San Antonio Attractions.
You can also try the historic Hotel Gibbs on the River Walk. This hotel offers a perfect balance of history and modern décor to give you an unforgettable lodging experience. With amenities like a 24 business and fitness center, as well as hot and cold beverages on-site, you will enjoy your stay while having your pup at your side.
There are plenty of other pet-friendly hotels in San Antonio, so check out our list of hotels, resorts, and more! Just be sure to check each website for pet accommodation details and associated fees.
San Antonio is a Top Travel Destination for Both People and Pets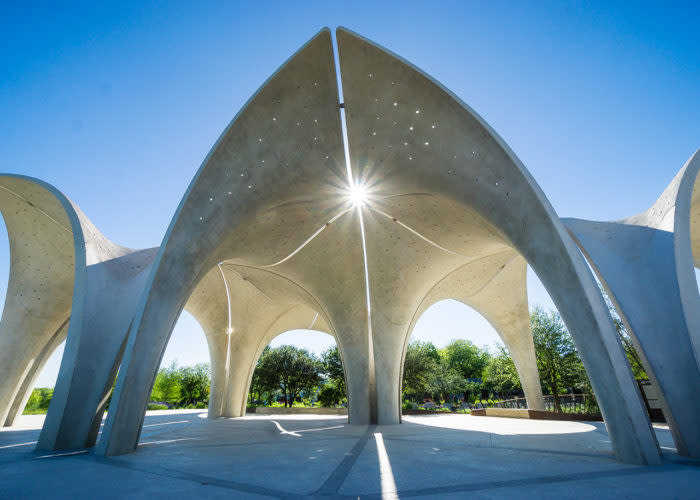 Confluence Park
San Antonio is a paws-itively welcoming place for both people and pets! From outdoor adventures to pet-friendly experiences, there are plenty of activities for you, and your furry loved one to enjoy. San Antonio is the ultimate travel destination for animal lovers of all ages, so start planning your trip today.