Who doesn't love a good brunch? What better way to start the day than with a meal you will love? With so much variety, it can be difficult to decide. But do not fret - we have you covered! We've narrowed down 6 brunch spots to check out - but this list just scratched the surface. Head over to our Eat page for even more options.  
Pharm Table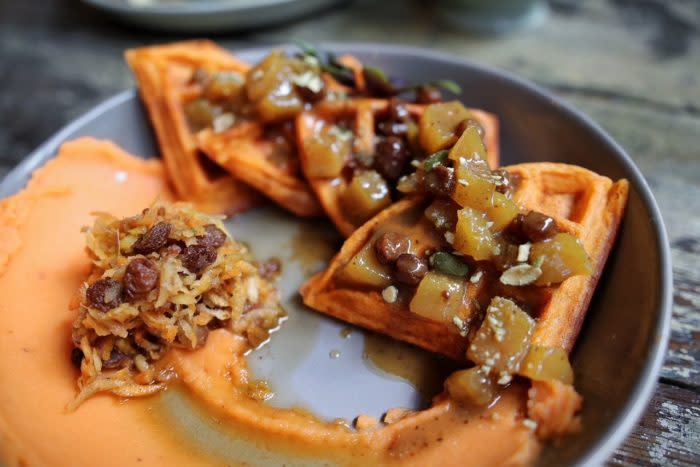 Photo by Amanda Spencer
611 South Presa St. #106 San Antonio, TX 78205
Pharm Table is an apothecary kitchen that features locally sourced and globally-inspired menus and if you think that sounds like it equals incredible food - then you're correct! With indoor and outdoor dining, you can enjoy your meal in the comfort of a serene ambiance or bask in the sunshine of beautiful San Antonio weather.
Choose from Sweet Potato Waffles topped with Asian pear chutney, indulge in berry pancakes, or take on the Huevos 'Rancheros.'  Then get an eye opener with the Abre Ojos, a Central Mexican-inspired Bloody Mary!
Southerleigh Fine Food & Brewery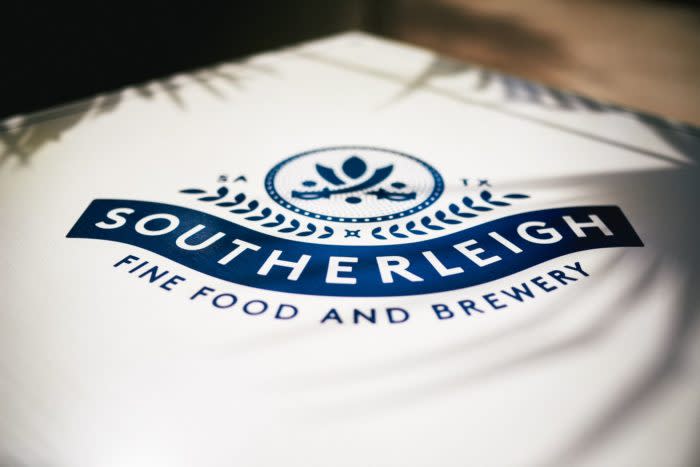 Photo by Nick Simonite
136 E. Grayson San Antonio, TX 78215
You can catch a great brunch at Southerleigh Fine Food and Brewery every Saturday and Sunday from 10 a.m. to 3 p.m. Pair your delicious entree with freshly squeezed orange juice or wake up with Katz coffee.
Chef Balfour has a background and a great love for Galveston, Texas - and his delectable menu reflect this! Southern Fried Chicken & Waffles, Braised Country Ham Benedict, Galveston Bay Shrimp Boil, a juicy House Burger, and much more - you're sure to find something to enjoy here.
Located on Grayson street, you can find this one in the Historic Pearl brewhouse.
Full Belly Café + Bar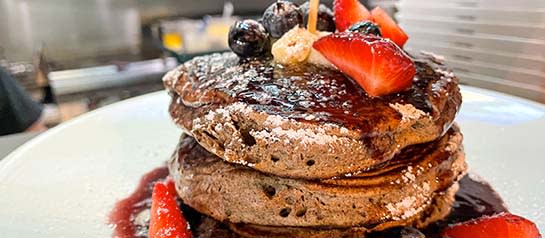 427 N Loop 1604 W Suite 202 San Antonio, TX 78232
Breakfast? Brunch? Lunch? No need to choose at Full Belly Café + Bar! While the brunch menu has much to choose from, consider the famous Buckwheat Soufflé Pancakes - the Black & Blueberry syrup is phenomenal.
If pancakes are a little too sweet for your brunch cravings, check out the Crab-stuffed Avocado Louie - a flavorful delight that will leave your savory cravings satisfied.
In addition to brunch, here you can find an array of breads, pastries, buns, and desserts - made in-house! Add a $5 mimosa and you're set to start the day off with a great meal!
Meadow Neighborhood Eatery + Bar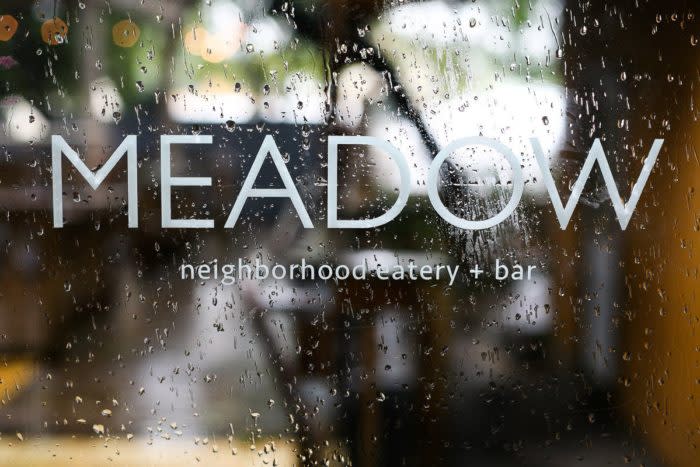 555 W. Bitters Rd. #110 San Antonio, TX 78216
If it's a seasonal Texas southern dining experience you're searching for, then brunch at  Meadow Neighborhood Eatery + Bar  is the perfect spot for you. Enjoy brunch in a warm, welcoming setting and enjoy southern charm on your brunch menu.
Satisfy your sweet tooth with the Caramel Apple French Toast or opt for a hearty Hill Country breakfast - complete with smoked brisket, two beef-fat-fried eggs, breakfast potatoes, house salsa, and tortillas. The brunch selection here is sure to satisfy everything you're looking for in a brunch menu.    
Ocho at Hotel Havana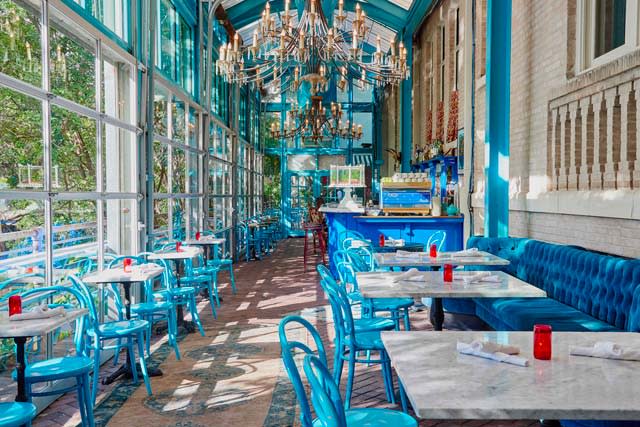 Photo by Nick Simonite
1015 Navarro St.  San Antonio, TX 78205
Enjoy brunch in a picturesque setting overlooking the San Antonio River Walk at Ocho at Hotel Havana. What better place to enjoy Cuban Hash, Chilaquiles Oaxaquenos, or Plantain Cakes con Carnitas than in a beautiful glass observatory surrounded by blue-hued furniture?
With a menu grounded in this location's pan-Latin cultural influences that include Mexico, Cuba, and Texas - you can't go wrong in your brunch selection here. Pair your selections with a refreshing cocktail, like the Mimosas Tres Veces, and enjoy a relaxing day! 
The Good Kind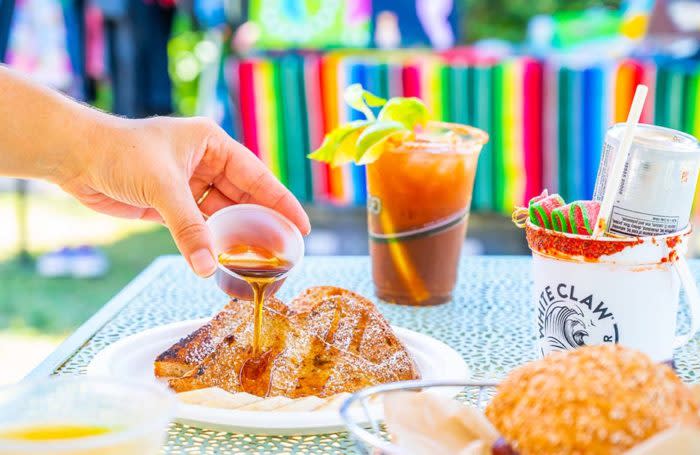 1127 S St. Mary's St.  San Antonio, TX 78210
If you're looking for meals that are good for you - and good for the environment, head over to The Good Kind. Not only does The Good Kind offer fresh comfort food - it comes with a great view of San Antonio's iconic skyline.
Choose from French Toast, Sweet & Spicy Chicken & Waffles, a Good Morning Burrito and so much more. The Turkey & Cheddar Panini pairs flavors that fuse together to make a delicious meal.
To quench your thirst with your brunch, check out The Good Kind's Brunch Drink Menu where you can choose from refreshing housemade cocktails, wines, mocktails, and more!
Let's Brunch...And More!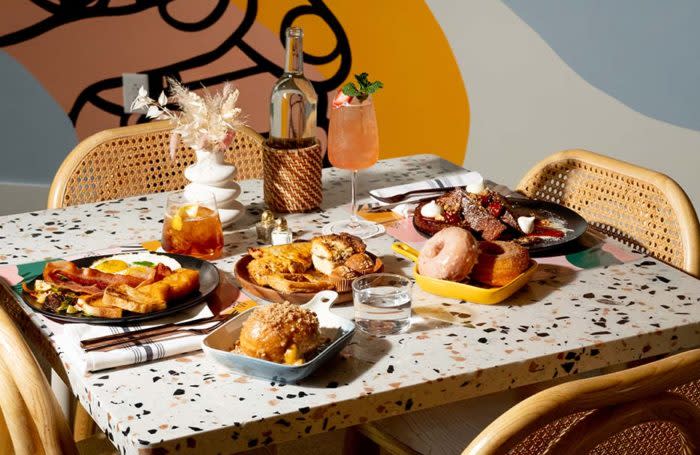 Box St. Social
The places to dine in San Antonio - for brunch, and for any other time you find yourself hungry in the Alamo City, truly are endless. Let our Eat page help you narrow down your options based on desired cuisine and location in the city!