Dear Partners:
I hope this finds you well and preparing for a wonderful Thanksgiving week of feasting, football and family – not necessarily in that order. We at Visit San Antonio are so looking forward to the holidays, and please know how thankful we are for all you do, and your continued support.
It is needed, of course, and will be moving forward as we continue our collective efforts to spur the revitalization of San Antonio's impacted economy. In recent months, the damaging effect of the COVID-19 pandemic has given this community a stark examination of what the destination looks like without a strong tourism and hospitality industry.
That impact, and the forecast resurgence in coming months, will provide the foundation of the messaging at the Visit San Antonio Annual Meeting, a hybrid in-person and virtual program Dec. 2 from 2-4 p.m. at the Henry B. González Convention Center. The slogan for this year's program is, "Resilience. Recover. Recreate." It's an apt description of the game plan for success for our embattled industry. Your registration gives you access to what we feel will be a remarkable program:
On the eve of the 87th Texas Legislative Session, we will welcome State Representatives Barbara Gervin-Hawkins, Steve Allison and Ina Minjarez to a panel to discuss some of the pending issues important to our industry. Scott Joslove, President & CEO of the Texas Hotel and Lodging Association, will moderate.
A diversity and inclusion panel will feature several clients who will speak to their experiences in visiting San Antonio. They'll also provide their thoughts on how we as an industry can further embrace cultural and racial diversity as we examine what has been a challenging year in this area.
Adam Sacks, President of Tourism Economics, will offer an honest economic update regarding the hospitality industry, including where we are and where he projects we'll be as we move forward.
In recent weeks, Visit San Antonio has worked with its Board of Directors and Paul Ouimet, President & CEO of NEXTFactor Enterprises, Inc., to construct a strategic plan for the important next three years. Ouimet will join us to review the plan.
I will also be presenting my annual Visit San Antonio state of the union. We hope you'll join us, in part so we can enjoy each other's company again – with safety protocols in place. Also, we'll be releasing our Business Plan and Annual Report at the Annual Meeting, so keep an eye out for that.
As I mentioned last month, Visit San Antonio has made the decision to tactically begin marketing our destination again, partnering with the U.S. Travel Association on its "Let's Go There" campaign. The initiative invites potential travelers to make their plans to head out, either quickly or later when they feel comfortable. The next chapter in that campaign is, "Let's Go There, Together," promoting family travel and giving the gift of travel (for those who are ready). The outreach is under way from now through the end of the year.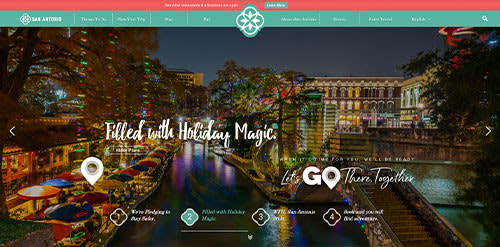 Along with that leisure travel, San Antonio, with its widespread wireless availability and array of appealing work locations, is perfect for travelers to "Work From Here," and we also have begun spreading that message to our regional audiences. Several of our hotel partners have joined in to create packages for those looking for a creative place to work, learn and play.
Like you, a larger component of our messaging is the commitment to safety by San Antonio's business, civic and association partners, as evidenced by the more than 2,000 sign-ins to our "Greater. SAfer. Together." Pledge housed on our website. Yet, it's just a start.
We're reminding visitors that there is a shared responsibility regarding their welfare, and that of others. Whether visiting the River Walk or any of our popular and diverse assets, travelers must commit to the data-based guidelines designed to ensure the well-being of everyone around them, from family to fellow visitors and those who are serving them. We hope you'll join us in stressing that message.
While we enjoy this stretch of the holidays, we're also keeping an eye on the first quarter of 2021 when the 87th Texas Legislative Session begins on Jan. 12. We expect that there will be several topics in Austin that will demand our attention as an industry, and our Government Relations team will be tracking and responding to any legislation of potential impact.
Earlier this month, legislators began pre-filing legislative bills. As of this week, nearly 800 pieces of legislation had been introduced, covering a spectrum of issues including mandatory sick leave, redistricting, minimum wage and protecting the environment. If you'd like to keep track, the Texas Travel Alliance has developed a text notification advocacy system for the Legislative Session. Take a few minutes and text to 40649, type in Travel, and then hit send to sign up.
Additionally, Visit San Antonio has put together our Board-approved agenda for the coming Session. You can access it here.
Recently, our industry has received some media attention, including news of the long-awaited opening of the luxurious Thompson Hotel near the Tobin Center for the Performing Arts. Also, Texas Public Radio offered a thoughtful, comprehensive look at how the travel industry has been impacted in recent months, including here in San Antonio. I had the opportunity to add my thoughts to "The Shakeout" podcast on TPR.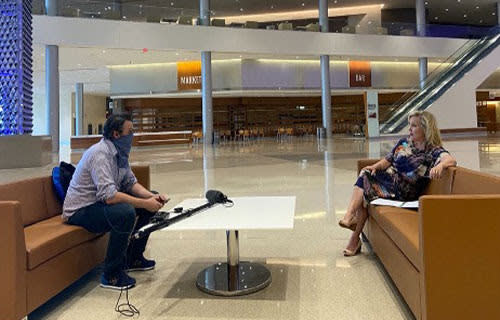 Visit San Antonio continues to complement the work of so many great organizations to better our community, especially as we make the turn toward the holiday season. A new fundraising program called "Holiday Gifting 4 Good" is designed to give shoppers the opportunity to purchase curated gifts from organizations such as Spurs Give, Pearl, Visit San Antonio, X Level Inc. and San Antonio in a Box, all in support of local businesses and United Way of San Antonio & Bexar County. A limited number of each offering will be available for purchase from Nov. 13-Dec. 10 through the United Way website. It's a great way to support our wonderful community.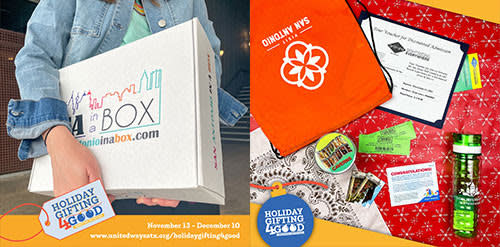 Finally, with that impact in mind our updated hotel numbers continue to reflect the ongoing effect of the pandemic, but the trends are looking more positive in comparison to previous months:
In October, hotel occupancy was at 43.0 percent, average daily rate was $90.60, room demand hit 627,926 and room revenue was at $52.3 million.
Year to date, occupancy is now up to 43.1 percent through September, with a $91.17 average daily rate. Room demand was at 5.9 million and room revenue at $539.8 million.
If you have any questions or suggestions for next month's newsletter, don't hesitate to contact me. Thank you for all that you do, and please have a safe and happy Thanksgiving!
Deep. In The Heart,

Casandra Matej, CDME, CTA
President & CEO
Visit San Antonio