Dear Partners: 
Today marks the beginning of National Travel & Tourism Week, and in 2021 it carries a different message and feeling than in years past. We have endured an unprecedented ordeal in recent months, and as we turn toward recovery, there is little doubt the tourism and hospitality industry will be a catalyst.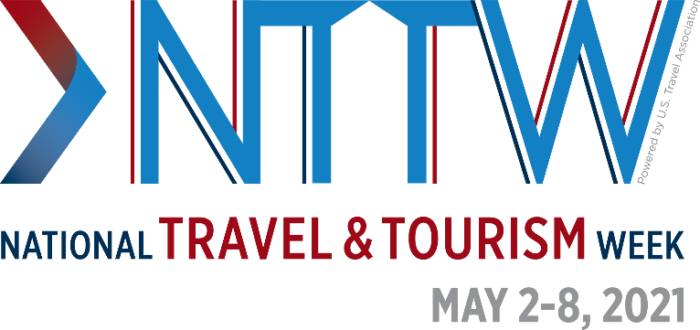 Last spring, NTTW highlighted the "Spirit of Travel" in recognition of our industry's resiliency. The theme of this year's NTTW, which runs through next weekend, is, "Power of Travel." Indeed, we now start a new chapter where the power of travel will drive our rebound and help define the way forward for our community and country.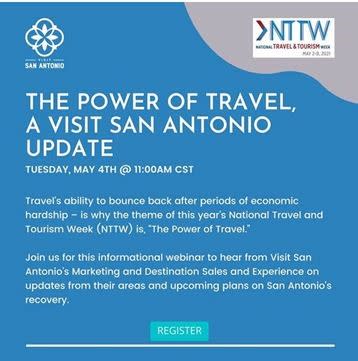 Visit San Antonio will be celebrating NTTW in a variety of virtual ways, from social media posts to outreaches to various segments of the industry. Notably, I invite you to join me Tuesday at 11 a.m. for a NTTW webinar with our organization's Partner, Marketing and Destination, Sales and Experience executives. They'll be providing updates from their areas and reviewing coming plans for San Antonio's recovery. Register now! 
The devastating losses over the past year have proven how critical travel is to our community, the U.S. economy and American workforce. We know that most of you are seeking to get your staffing levels back up to where they need to be. With that in mind, we have created a job page on our website that allows you to post links to your employment boards. Through our various outreach programs, we'll be alerting potential employees to the one-stop site for the information, and invite you to do the same. 
While we are not listing individual job descriptions, you are welcome to provide links that will go to our partner job boards. In order to participate, please submit here the following information: business name, business website, description of business and link to company job board/web page. 
The evidence that we are in recovery is all around us. March brought the best hotel occupancy numbers we have experienced since the arrival of the pandemic. Year over year, our industry experienced a 58.8 percent rise in room revenue and a 57.9 hike in room demand. Most impressively, we saw 64.9 percent occupancy during the month, a 60.5 percent hike from March 2020. 
As we look forward, Visit San Antonio is eyeing what may be a compelling development for our destination. The Census Bureau announced Monday that Texas' population has grown by 15.9 percent, to 29.2 million, since the last report. That's a growth of more than 4 million residents, or the combined populations of Dallas, San Antonio and Austin. For our purposes, that's 4 million more potential visitors (or staycationers) for our region, and all the more reason to spread the message about San Antonio as a safe, accommodating destination for travelers in this complicated time. 
That includes looking ahead to the all-important summer season, which sees more than a third of our annual leisure visitation. With that in mind, Visit San Antonio is re-introducing its campaign, "Si San Antonio," from Memorial Day Weekend throughout the summer. It will provide visitors with a card that features discounts to several of the array of experiences that make our destination unique. Also, the San Antonio Food Bank will benefit whenever visitors use the card. We thank all of you who are participating in this important promotion. 
Visit San Antonio has also been proactive in other ways in spreading the word about our destination. A unique initiative took place recently when our staff created a Virtual Field Trip for students at four school districts in the Rio Grande Valley. You can find more information about this program in the attached Tourism and Development update, but the program was a resounding success and we plan to expand it to other areas as soon as possible. 
The Visit San Antonio Sales team has been active, as well. While groups are still gauging what form their meetings will take, bookings are beginning to gain traction as the battle against COVID-19 takes a turn for the better. For instance, the International Foundation of Employee Benefits Plans has confirmed its 2024 IFEBP Canadian Annual Convention here, including more than 1,500 rooms on peak and more than 8,800 total room nights. Please check the attached Sales update for more information.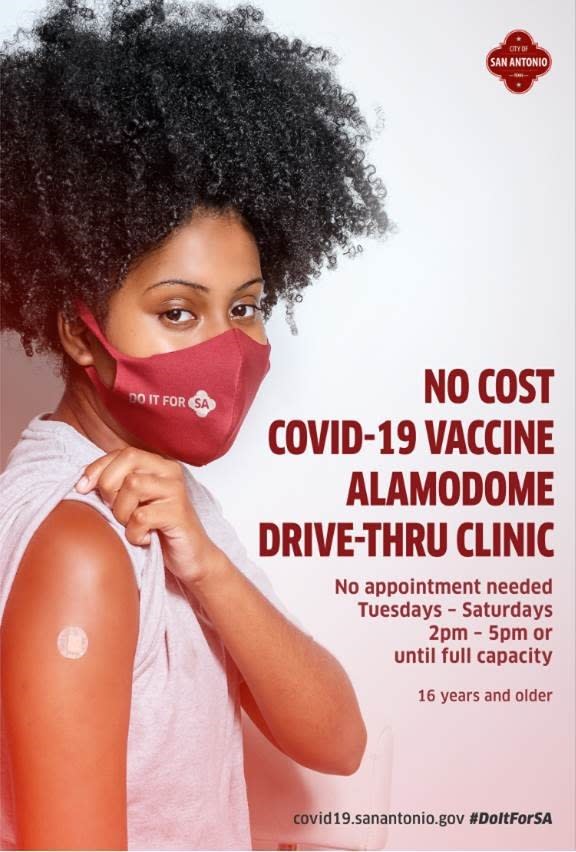 Getting business back to normal will depend, in large part, on getting everyone protected from the pandemic. With that in mind, no-cost COVID-19 vaccines are now available at an Alamodome drive-through clinic from noon-5 p.m. Tuesdays through Fridays. The shots are available for ages 16 and up.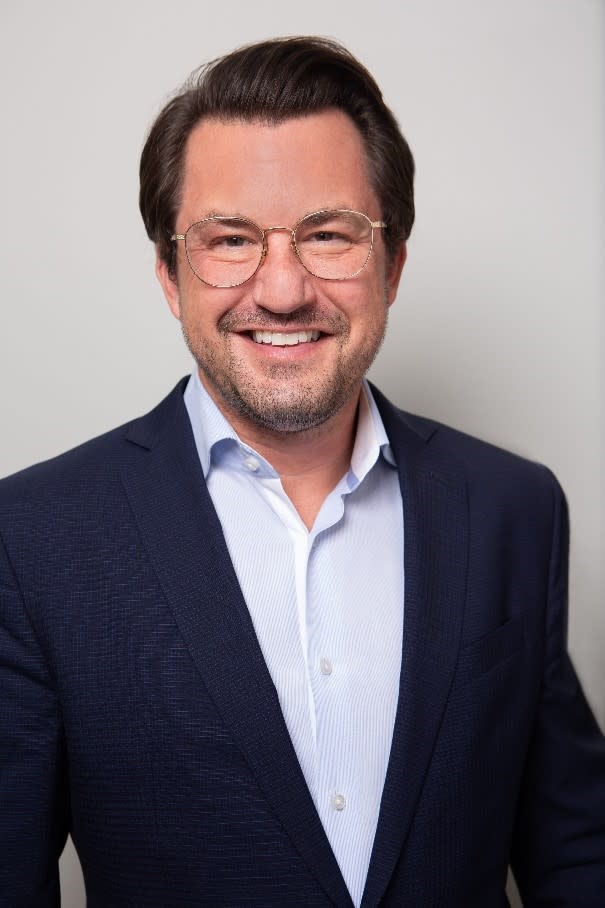 Last but certainly not least, we're pleased to welcome our new President & CEO, Marc Anderson, when he takes over at Visit San Antonio on June 1. We look forward to you meeting him as he takes the helm of an organization committed to benefiting your efforts in recovery. 
As always, we appreciate our partnership with you. If you have any questions or suggestions for next month's newsletter, don't hesitate to contact me. We look forward to continued better days in 2021! 

Dave Krupinksi, CTA
Chief Operating Officer
Interim President & CEO
Visit San Antonio