Dear Partners:
I'll admit, like many of you I have had my down moments in recent weeks over the COVID-19 pandemic and how it has impacted all of us. It's a marathon that seems to have no end, and a true low spot occurred earlier this month when the Texas High School Coaches Association was forced to cancel its in-person conference at the Henry B. González Convention Center.
These moments affect us, both personally and professionally, because of our relationships with great organizations like the THSCA – and so many other groups that have had to make difficult choices during an unprecedented time. It spurs us all to reflect on business, in general, for the future. What form will it take?
Yet, even as we do so, each new day brings us a step closer to regaining our footing as an industry and a community. We eye that finish line, and I remain as convinced as ever that the tourism and hospitality sector will be at the forefront of economic recovery. The timetable may be uncertain, but my mantra remains constant.
I am perpetually optimistic.
It's a backdrop for Visit San Antonio as we move forward in a new normal. Business has been affected, and our organization is not immune to the results of it. Our staff numbers have been significantly reduced in recent days, and there are resulting challenges. But our focus hasn't changed: We work with purpose for the good of this remarkable community.
We're not alone. I sat in recently on a virtual Destinations International conference and found myself part of an audience that included officials from DMOs from around the world. We are united in our struggles, and in seeking unique and innovative ways to survive – and rebound.
As I write this, Visit San Antonio still has 47 conventions and in-house meetings on the books for the remainder of the year, including nearly 73,000 total room nights and $47 million in projected economic impact. Each of those meetings serves as a building block for revival.
Our hotel numbers, while still down, have seen some encouraging signs:
Year over year for the month of June, we experienced a 47.6 percent drop in occupancy and a 66.3 percent fall in room revenue. For a look at all the updated numbers, click here.
For the year through June, room revenue is down 50.4 percent, occupancy has fallen 36.7 percent, room rate is behind 17.3 percent and room demand is down 40.0 percent.
I know that working together, we'll see those numbers continue to improve. It is tied, of course, to how the overall coronavirus numbers look. In recent days, we have seen the hospitalization rates begin to flatten, perhaps indicating a turn for the better. Bexar County Judge Nelson Wolff discussed the trends during a State of the County address presented by the North San Antonio Chamber of Commerce this week.
I'll experience a bit of a return to normalcy next week when I travel to Washington, D.C., for a Meetings Mean Business gathering of officials from hotel companies and DMOs, among others. We'll be discussing best practices and protocols for meetings in the face of this pandemic, and naturally I will be taking all precautions for traveling safely.
In doing so, I'll be working to be part of the solution. As the U.S. Travel Association has detailed in its current campaign, Travel Confidently, the shared responsibility for traveling rests with the traveler as much as the businesses working for the welfare of customers. Visitors must wear masks, maintain social distancing and wash their hands – among other protocols that ensure their safety and that of those around them.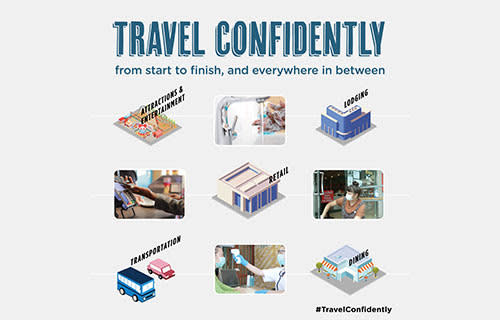 As we look ahead, working side by side in the face of these challenges, I invite you to be perpetually optimistic with me. And if have any questions or suggestions for next month's newsletter, don't hesitate to contact me.
Thank you for all that you do and thank you for your continued support. We look forward to better days ahead!
Deep. In The Heart,

Casandra Matej, CDME, CTA
President & CEO
Visit San Antonio