Dear Partners:
We face the future with more optimism than we have in some time. Our hotels are reporting more positive trends in occupancy, and our restaurants, museums and attractions are seeing an encouraging increase in traffic. Last weekend, we enjoyed our annual Visit San Antonio staff retreat at Six Flags Fiesta Texas, and it was heartening not only for the chance for our team to see each other in person again for the first time since spring, but to witness the park populated throughout the day with impressive attendance.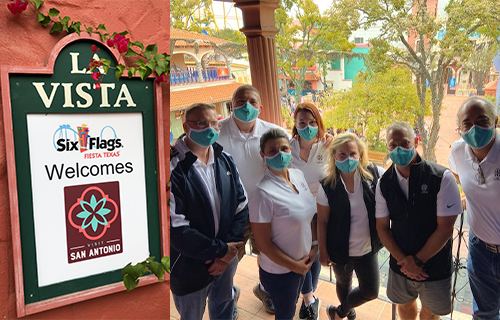 As we in San Antonio continue to tactically and carefully adapt to a new reality, it was a glimpse not only at what is, but also what can be as we move forward. Like most of you, Six Flags Fiesta Texas is exercising the kind of responsible management of its operations that will enable our city and our tourism and hospitality industry to survive and heal. With that in mind, we continue to remind residents and visitors about how San Antonio is staying safe, and how each of us can do our part to ensure the welfare of ourselves and those around us.
At our retreat, I repeated to our staff what I have brought up to many of you in recent months: I remain perpetually optimistic about today and what is to come. Visit San Antonio is strategically and proactively returning to marketing the destination, partnering with the U.S. Travel Association on its "Let's Go There" campaign that invites people to make their plans to travel, either sometime soon or down the road when they feel comfortable to do so. Studies show that even as this new normal limits our mobility, people are increasingly eager to visit familiar and comfortable places.
San Antonio, which in 2019 attracted more than 40 million visitors because of its warmth, authenticity and generational familiarity, will be a destination of choice. Consider that even before COVID-19 upended our world, more than 70 percent of our leisure visitation came from inside the state of Texas.
We're working with some headline partners to help us carry the "Let's Go There" message, including the Food Network, Hulu, ESPN, HGTV, Pandora, Expedia and social media outlets including Facebook, Twitter and Instagram. Some specific shows included in the plan are: SportsCenter, Hallmark Channel Christmas movies, college football and Masters coverage on Golf Channel among many others.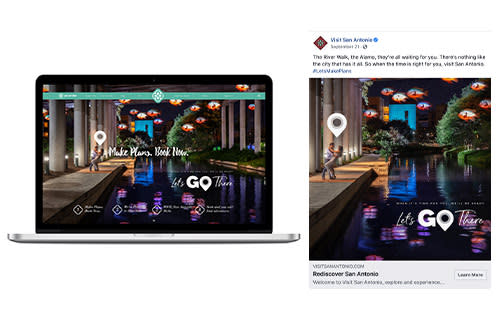 Along with leisure travel, we're also plugging into another new normal – the fact that many workers are now toiling remotely, able to do their jobs from almost anywhere that has adequate internet access. San Antonio, with its widespread wireless availability and comfortable, often-scenic work locations, is perfect for travelers to "Work From Here," and we also have begun spreading that message to our regional audiences. Several of our hotel partners have joined in to create packages for those looking for a creative place to work and play.
Now that we've hit the final quarter of 2020, we know that many of you have begun forming your business plans for the next year. Visit San Antonio is doing the same, and will be complementing your efforts in coming days with our Business Plan for 2021 and beyond. The Visit San Antonio Board of Directors is currently molding the organization's Strategic Plan, and we look forward to showcasing for you our blueprint for the future as our industry works to spur our community's recovery. As I wrote in the Express-News recently, a healthy tourism and hospitality industry is a $15 billion economic generator for San Antonio.
We'll also be reviewing many of our plans at the 2020 Visit San Antonio Annual Meeting, which will be held at the Convention Center. Please save the date of Dec. 2, from 2-4 p.m., for a gathering that will include both live and virtual presentations. We'll be taking a look at our strategy for 2021, and offering information that we hope will help you in your tactical planning.
It will be an important opportunity for us to get together as an industry at a critical juncture. At that time, we'll also be releasing our complete Annual Report, which will pair the Business Plan with a look back at some of the key findings from the past year, including pre-pandemic.
An important discussion point will be the arrival Jan. 12 of the 87th Texas Legislative Session. We expect that there will be several topics in Austin that will demand our attention as an industry, and our Government Relations team will be tracking and responding to any legislation of potential impact.
We've also joined the U.S. Travel Association in its "COVID Relief Now" coalition, calling on the federal government to take immediate action to provide protection and monetary stimulus to all sectors of the travel industry. We urge you to take action by encouraging members of Congress to pass a small business relief package that extends and expands the Paycheck Protection Program (PPP) to include destination management organizations.
As I mentioned earlier, we've seen some encouraging signs regarding our hotel numbers. While still far below the numbers for this time of year, our September numbers reflected the continued impact of the pandemic, yet are markedly better in many cases than we saw in late spring:
In September, hotel occupancy was at 42.1 percent, average daily rate was $83.38, room demand hit 595,681 and room revenue was at $49.7 million.
Year to date, occupancy is now up to 43.1 percent through September, with a $91.17 average daily rate. Room demand was at 5.4 million and room revenue at $490.8 million.
Getting the San Antonio story in front of some regional, national and international audiences will be important in driving up those hotel numbers, of course. Last week, San Antonio took an important step when the River Walk hosted a made-for-television procession of barges decorated for the Día de Muertos recognition. The parade of floats, taped late in the evening by KSAT-TV and not open to the public in order to keep health guidelines in mind, will be showcased by the station Friday, Oct. 30, at 8 p.m. in San Antonio and then will air in syndication in cities across the country and in Mexico in late October and throughout November.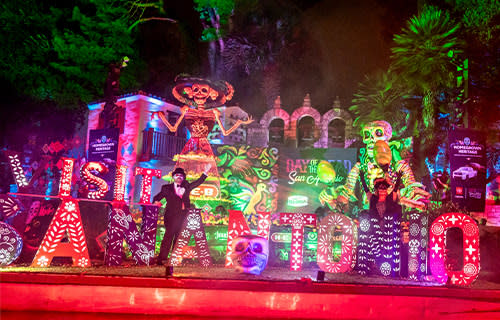 Of course, Dia de Muertos, which begins Oct. 31 and ends Nov. 2, has been an authentic celebration of life and part of San Antonio for several generations. With a large lineup of events, San Antonio recognizes this remarkable holiday more than any other community in America.
Finally, some additional welcome news: As I finish up this note to you this week, I am with a few members of our Visit San Antonio team in Orlando, Fla., at Connect Travel Marketplace. This international travel show represents a wonderful opportunity to interact with clients and facilitate new business for our destination. While the event includes aggressive health protocols and adaptions to today's pandemic climate, it also represents a return to normalcy as we tactically and safely begin to branch out again. It's nice to see some familiar faces – in person!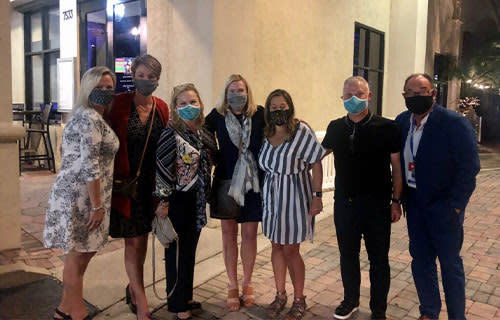 If you have any questions or suggestions for next month's newsletter, don't hesitate to contact me. Thank you for all that you do and thank you for your continued support. We look forward to better days ahead!
Deep. In The Heart,

Casandra Matej, CDME, CTA
President & CEO
Visit San Antonio