San Antonio: Safe, Friendly and Inclusive
San Antonio Invites and Welcomes All to Our Beautiful City
San Antonio welcomes and celebrates all! When you visit or meet in San Antonio, you will see people of various identities interacting and enjoying the safety and camaraderie of the community. It will be immediately evident that we are a city where differences are accepted and celebrated, leaving a lasting impression.
View our Diversity and Equity Official Statement signed by leadership across our community, and learn more about our commitment to inclusion at
Welcome to San Antonio, an authentic city that is truly welcoming, safe, and inclusive. With over 300 years of heritage under our belt, come experience how our rich confluence of cultures makes the city an inviting place where we welcome and celebrate all. Check out our events calendar for a wide variety of events throughout the year, partake in a cultural celebration, visit the world's first and only ultra-accessible theme park and splash park, or just relax in the Alamo City!
FIND ADDITIONAL RESOURCES AND INFORMATION ON SAN ANTONIO'S COMMITMENT TO SAFETY:
Hotels
Attractions & More
There's so much to see and do in San Antonio – from the great outdoors and historic sites to unique must-sees and family-fun parks. Below is a list of insights on how different entertainment options are ensuring a safe and healthy visit.
San Antonio International Airport
Inside the airport terminals, the Center for Disease Control and Prevention (CDC) has provided San Antonio International Airport, Customs and Border Protection, Emergency Medical Services providers and TSA with public health readiness measures. While following all CDC guidelines and recommendations, the Operations team is ensuring that the following actions are being executed
The CDC has provided guidance for local emergency medical service personnel responding to medical calls at the airport to help them assess and identify potentially infected travelers.
Communicating early and often regarding all issues surrounding the virus and precautions that need to be taken.
Custodial provider is placing an additional emphasis on public touchpoints in all areas, including handrails, bathroom stalls, seating, door handles, chairs and tables, touchscreen directories, concessions credit card machines, etc.
Custodial employees are wearing Personal Protective Equipment (PPE).
CDC health alert signage is being placed throughout facilities, specifically at the entrances of security checkpoints and in all restrooms.
Rental Car Facility is open for business with reduced hours of operation to serve travelers.​ View schedule here.
Concessions:

A variety of restaurants and other concessionaires are open for business with reduced hours of operation to serve travelers. ​
Concessions may be running limited hours of operation at this time: View Concessions Hours of Operation
Henry B. Gonzalez Convention Center
The Henry B. Gonzalez Convention Center's number one priority is the health and safety of guests, employees, and partners. The Center has taken proactive measures in response to this rapidly evolving situation and continually monitor information from various resources. The Center is ready to work with meeting planners to develop plans and procedures specific to each event. Current guidelines encompass information from the Center for Disease Control (CDC), Texas Governor's Office, City of San Antonio Health Department, and International Association of Venue Managers (IAVM).
The Convention Center is proud to have received the Global BioRisk Advisory Council (GBAC) Accreditation. GBAC is a division of International Supply and Sanitary Association (ISSA), the worldwide cleaning association. This accreditation program assesses cleaning and disinfection practices and infectious-disease prevention. GBAC is currently the industry's only accreditation for outbreak prevention, response and recovery establishing requirements to control risks associated with infectious agents, such as the virus that causes COVID-19.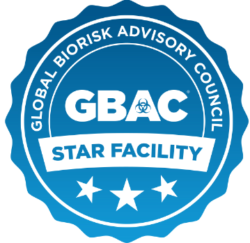 The following are measures taken to ensure a clean and healthy environment for guests, employees and partners. View the detailed Convention Center Reopening Plan and Safer Event Practices.
Sanitation methods have increased for high contact areas including guest information desks, escalator and stair handrails, elevators, water fountains, public furniture, door handles, push bars and restroom surfaces
Free-standing hand sanitizer units are available for strategic placement
Signage is prominently displayed in facilities with CDC protocols for hand washing
Custodial managers and supervisors were trained by the International Sanitary and Supply Association (ISSA) on improved cleaning procedures. As a result, a comprehensive training program was administered to custodial staff
Hand hygiene processes and respiratory etiquette were reintroduced to staff
Ventilation standards were adjusted for increased outside air intake/air change rates
Screening measures are employed for all partners, staff, vendors, and contractors utilizing City of San Antonio guidelines
Will ensure successful meetings by working with each meeting planner on social distancing and space allocation
The Center's exclusive caterer is revising many processes to ensure guests continue to receive the highest food safety and quality of food and beverages. Food presentation options may include one-sided buffet lines served by catering wait staff, silverware individually wrapped, condiments provided by a server upon request, and a new variety of boxed meals and prepackaged food items.
Additional Information & Resources
COVID-19 / Health Updates
One of the many reasons San Antonio is one of the top vacation and business destinations in the country is our commitment to the safety of our community and visitors. Individual businesses may have their own guidelines on face coverings.
Find more information on the health and safety measures instituted by Bexar County and the City of San Antonio.