SAN ANTONIO (September 26, 2017) – Visit San Antonio President & CEO Casandra Matej has been awarded the 2017 Distinguished Affiliate Award by the Texas Society of Association Executives (TSAE). The prestigious honor recognizes outstanding professionalism and exemplary service to the association community. Significant contributions to the employing organization and to professional organizations further characterize the Affiliate Award recipient.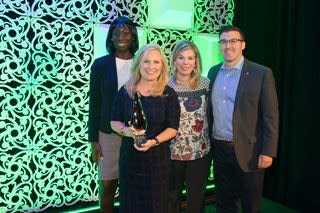 TSAE offers association professionals a community for collaboration and learning and honors outstanding professionals from within the industry annually at its TSAE New Ideas Conference. This year's conference was held Sept. 17 – 19 in Houston. Additional 2017 honorees included Distinguished Executive award-winner David A. DuBois, CAE, CMP, CTA, FASAE, Professional Excellence award-winner Julie Courtney, CAE, CMP and Young Professional Leadership award-winner Taylor Jackson, CAE, MPA.
"TSAE is excited that our membership named Casandra Matej as the 2017 Distinguished Affiliate. Although Casandra is involved with a number of different industry groups, she always makes you feel like you are the most important one, and you forget she is running a destination marketing organization for the seventh largest city in the county. She has been a dedicated member of this community for a number of years, and we are grateful for her recent leadership in spearheading TSAE's brand refresh last year, giving us a chance to showcase who we truly are as an organization," said TSAE Executive Director Steven J. Stout, CAE.
"I am truly humbled to receive this recognition from my peers at TSAE, but it is the support and dedication of the entire Visit San Antonio team that makes it possible" said Matej. "The community of association professionals is dedicated to collaboration, learning and leadership, and it has been an honor to work with them to help move the association industry forward."
Matej is a leading figure in San Antonio's $13.6 billion hospitality industry, and her more than two decades of tourism experience have helped guide Visit San Antonio in achieving record highs in convention sales, media coverage and traffic to visitsanantonio.com. A year ago, Casandra spearheaded the transition of the bureau from a department of the City of San Antonio to a 501(c)6, a public-private partnership. Matej is active in a number of industry organizations and currently serves on the Board of Directors for the U.S. Travel Association and is the incoming chairman of the Texas Travel Industry Association.
###
About Visit San Antonio
Visit San Antonio is a 501(c)6, and serves as the sales and marketing arm of San Antonio as a leading leisure and meetings destination. San Antonio welcomes 20.9 million overnight visitors annually. Hospitality is one of the top five industries in the city, contributing $13.6 billion into the local economy and employing more than 130,000. More information about Visit San Antonio can be found at VisitSanAntonio.com. 
Photo Caption: Visit San Antonio staff on hand to accept the 2017 TSAE Distinguished Affiliate Award.
From Left to Right: Azari Jones, Casandra Matej, Alysia Roden and Tyler Orwig
Photo Credit: Photo Courtsey of Kayla Prasek Photography