SAN ANTONIO (Nov. 28, 2017) — San Antonio has been named to National Geographic Traveler magazine's annual lineup of the 21 must-see destinations to visit in the year ahead. The 2018 Best of the World list, comprised of Traveler editors' top picks, is available today in the December/January 2018 issue of the publication, on newsstands and online at NatGeoTravel.com/BestTrips2018.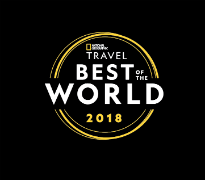 "Our mission is to inspire curiosity and encourage our readers to explore the world with passion and purpose," said George Stone, editor-in-chief of National Geographic Traveler. "The 21 places that we profile make for a year of exhilarating discoveries and a dream itinerary for intrepid travelers."
San Antonio, which draws more than 34 million visitors a year, was one of three U.S. destinations listed. Also honored were Cleveland, Ohio, and Oahu, Hawaii.
San Antonio will be celebrating its 300th birthday throughout 2018, including a kickoff celebration on New Year's Eve. It has recently enjoyed a string of notable accolades, including recognition from Conde Nast Traveler, Fodor's and Frommer's, all naming the city as a must-visit destination. In October, Travel + Leisure named San Antonio one of the friendliest communities in the country.
Already home to the only World Heritage Site in Texas, San Antonio also was honored earlier this month when UNESCO named it a Creative City of Gastronomy for its mix of culinary cultures. San Antonio is only the second U.S. city to receive this recognition.
"As San Antonio prepares to celebrate its Tricentennial in 2018, this incredible honor arrives at a special place in our timeline as one of the most authentic, culturally celebrated destinations in the world," said Casandra Matej, president and CEO of Visit San Antonio. "This National Geographic designation puts the international spotlight on a World Heritage community that contains a rich diversity of attractions, from arts to history to culinary to family fun, all complemented by the warmth and hospitality of its residents."
Added Stone, "Our list is guided by National Geographic values of cultural engagement, heritage preservation and ecological conservation and sustainability. Our list is fun, vivid, surprising and rewarding."
In alphabetical order, the 2018 Best of the World destinations are:
Albania
Cleveland, Ohio
Dublin, Ireland
Friesland, Netherlands
Harar, Ethiopia
Jordan Trail, Jordan
Jujuy Province, Argentina
Labrador, Canada
Madagascar
Malmo, Sweden
Oahu, Hawaii
Oaxaca, Mexico
Phnom Penh, Cambodia
Ruaha NP, Tanzania
San Antonio
Santiago, Chile
Seoraksan National Park, South Korea
Sydney, Australia
Tbilisi, Georgia
Tetouan, Morocco
Vienna, Austria
National Geographic Traveler has the largest audience of any travel magazine, with more than 9.6 million readers. Its readers have the highest passport ownership, most international and domestic trips and most outdoor recreation spending of any other travel title.
###
Media Contact:   
Richard Oliver     
Director of Partner & Community Relations
richardoliver@visitsanantonio.com
(210) 207-6708
David Gonzalez
Director of Communications
davidgonzalez@visitsanantonio.com
(210) 207-6758
Visit San Antonio is a 501(c)6, and serves as the sales and marketing arm of San Antonio as a leading leisure and meetings destination. San Antonio welcomes 20.9 million overnight visitors annually. Hospitality is one of the top five industries in the city, contributing $13.6 billion into the local economy and employing more than 130,000. More information about Visit San Antonio can be found at VisitSanAntonio.com.