SAN ANTONIO (January 17, 2018) – Travelers to San Antonio now have access to a brand-new, state of the art $178M Consolidated Rental Car Facility (CONRAC) at the San Antonio International Airport. The facility makes it convenient for travelers to access rental cars in one centralized, on-site location. The short-term garage is on the first two levels of the facility and the next five levels are designated rental car areas. Access to the rental car area is through the sky bridge, taking passengers directly from the mezzanine level of the terminal to the rental car counters.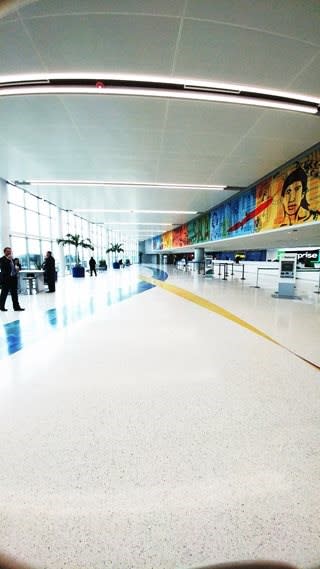 The 1.8 million square feet CONRAC facility houses 14 rental car companies, a quick turnaround (QTA) area for fueling, vacuuming, washing and light maintenance, and approximately 2,600 ready/return parking spaces. The CONRAC, just a few steps away from the terminals, eliminates the need for shuttles to take passengers to their rental car locations, enabling the airport to initiate significant improvements to traffic flow in the arrivals area. 
"The airport continues to enjoy great success in several areas as we continue to set record passenger numbers, add additional air service and achieve national recognition for our fantastic customer service.  With the opening of the CONRAC, we now enjoy a state-of-the-art structure that provides customers with the convenience of an on-site, consolidated rental car facility, truly offering a first-class experience to those visiting San Antonio and the region," said Russ Handy, Aviation Director for the City of San Antonio. 
In addition to the CONRAC, the city invested substantial resources in airport aesthetics, including detailed lighting and public art installations created by local artists Suzy Gonzales and Michael Menchaca. The artwork celebrates 300 years of San Antonio history, focusing on the airport's culture, architecture and role in aviation history.
###
San Antonio: America's 21st Century City
San Antonio is a global city with a dynamic economy and workforce, a deep cultural heritage and diverse communities that are resilient and welcoming. It is one of the strongest fiscally managed cities in the country with a vibrant business climate and a 'AAA' general obligation bond rating from all three major rating agencies. San Antonio is a city that nurtures entrepreneurship, encourages investment and funds infrastructure. America's seventh-largest city offers growth opportunities in bioscience, financial services, aerospace, cybersecurity, energy, transportation, manufacturing and healthcare. In 2015, UNESCO designated San Antonio's 18th century Spanish colonial missions as a World Heritage Site - the first in Texas. Proudly called Military City, USA®, San Antonio is home to one of the largest populations of active duty military, veterans and crucial military commands. In 2018, the city celebrates its 300th anniversary, honoring its rich past and a bright future focused on innovation and livability. For more information, visit www.sanantonio.gov.