SAN ANTONIO — The San Antonio City Council on Thursday approved a new management agreement that essentially transitions the San Antonio Convention & Visitors Bureau to a new public-private nonprofit called Visit San Antonio.
The management agreement for the 501(c)(6) nonprofit takes effect Oct. 1, with the organization's staff and structure moving under the Visit San Antonio model on Jan. 1, 2017.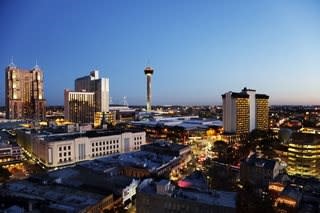 Casandra Matej, executive director of the current SACVB, described the vote as "historic," adding that the new organization will now be able to pursue other revenue opportunities to market the city's $13.4 billion tourism industry.
"By approving this management agreement, you will give this new entity more autonomy," Frank Miceli, who has been appointed chairman of the Visit San Antonio board of directors, told the Council on Thursday.
Miceli, Senior Vice-President of Sales and Franchise Operations for Spurs Sports & Entertainment, added that the new organization "will be better positioned to keep San Antonio squarely in the spotlight as a remarkable destination for visitors."
Matej stressed that the move to a nonprofit model came after months of collaborative work between the City Council, SACVB, industry leaders and other community stakeholders.
San Antonio's CVB was formed in 1968 following the city's role as host of the international HemisFair. The city, which attracts more than 32 million visitors annually, has been a perennial leader in the travel and meetings market in Texas, but has seen that dominance tested in recent years as other destinations have grown their budgets.
With a more nimble speed-to-market capability under the new Visit San Antonio structure, Matej and other leaders hope to see the organization's marketing budget and operations grow to keep pace with the rising competition.
"Today, the City Council took a huge step," said Matej, who has headed San Antonio's destination management organization since 2011. "This allows us to be more agile, able to react quickly to changing market conditions.
"It's a transformative time in San Antonio," added Matej, who will head the new Visit San Antonio, "and this is a transformative moment."
Councilwoman Rebecca Viagran, a current member of the Convention & Visitors Commission who also is a charter member of the Visit San Antonio board, noted that the historic transition to a more powerful public-private nonprofit is timely. San Antonio will be celebrating its Tricentennial in 2018.
Recently, San Antonio's five Spanish colonial missions, including the Alamo, were named a World Heritage Site, the only such designation in the State of Texas.
Viagran said San Antonio is in "a new era of tourism." She added, "We are all working together to make it the best."
For more information, visit SATravelsForward.com.
###
The San Antonio Convention & Visitors Bureau is a department of the City of San Antonio, and is the sales and marketing arm of San Antonio as a leading leisure and meetings destination. San Antonio welcomes 32.5 million visitors annually. Hospitality is one of the top five industries in the city, contributing $13.4 billion into the local economy annually and employing 122,500. For more information, visit www.visitsanantonio.com.