SAN ANTONIO (October 6, 2017) – Casandra Matej, president & CEO of Visit San Antonio, has been named one of the Top 25 Women in the Meetings Industry for 2017 by Meetings & Conventions Magazine. The third annual ranking includes a select list of high achievers in the meetings industry who have demonstrated extraordinary talent, leadership, creativity and advocacy in the field.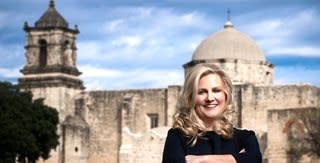 "The meetings world is dominated by extraordinary women, and Meetings & Conventions chooses the crème de la crème each year for its list of the Top 25 Women in the Meetings Industry," said Loren Edelstein, editor in chief of Meetings & Conventions. "Casandra has proved herself a champion for travelers locally, statewide, and in the greater world of convention and visitor bureaus."
Matej was recognized for her ongoing vision and leadership at Visit San Antonio. Her more than two decades of tourism experience have helped guide the organization in achieving record highs in convention sales, media coverage and traffic to visitsanantonio.com. In her role, Matej is also a key advocate for legislative issues that may impact the meetings industry on a local, state and national level. In 2017, Matej was instrumental in leading a successful effort by San Antonio and major cities across the state in opposing the Texas Legislature's controversial Bathroom Bill.
"I am honored to be named among this group of powerhouse women and have a tremendous amount of respect and admiration for my fellow honorees," said Matej. "It is my privilege to know and work alongside these women who are the epitome of professional excellence."
Matej is a leading figure in San Antonio's $13.6 billion hospitality industry. A year ago, Casandra spearheaded the transition of the bureau from a department of the City of San Antonio to a 501(c)6, a public-private partnership. Matej is active in a number of industry organizations and currently serves on the Board of Directors for the U.S. Travel Association and is the incoming chairman of the Texas Travel Industry Association.
###
About Visit San Antonio
Visit San Antonio is a 501(c)6, and serves as the sales and marketing arm of San Antonio as a leading leisure and meetings destination. San Antonio welcomes 20.9 million overnight visitors annually. Hospitality is one of the top five industries in the city, contributing $13.6 billion into the local economy and employing more than 130,000. More information about Visit San Antonio can be found at VisitSanAntonio.com.