We sat down with Sean Massay, one of Visit San Antonio's Senior Sales Managers to get a feel for some of his favorite parts of San Antonio, and why you should host your event here.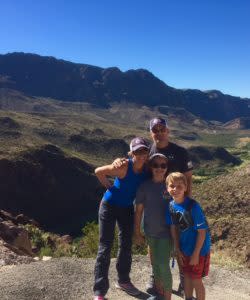 How long have you lived in San Antonio?:
SM: I have lived in San Antonio for 26 years.
You're a native Texan, but not from San Antonio, tell us more about that.
SM: I'm from Allen, Texas, but once I found San Antonio, I never wanted to leave.
What meetings, conventions and event markets do you primarily handle?
SM: I work with clients in the sports industry, and with some of Visit San Antonio's clients in the government sector.
What do you love about working for Visit San Antonio?
SM: I have this awesome opportunity to sell this very special and unique destination, as well as being a part of a dynamic, progressive, and ever evolving organization.
Why should people host their next event in San Antonio?
SM: I have been all over the United States, and I can honestly say, you'll never find San Antonio's genuine culture, friendliness, and the instant feeling of "being home" elsewhere.
When you're not busy selling San Antonio, what do you like to do in your free time?
SM: I'm a runner and a Crossfit guy. I also love discovering new, local restaurants and bars with friends. My family is extremely active, we love the hike & bike trails here in San Antonio. When I'm home I spend time reading and cooking.
Describe San Antonio is three words:
SM: Vibrant. Warm. Welcoming.
Now for a few speed round questions:
Flour or Corn (Tortillas)?
SM: Corn
Who are your "teams"?
SM: Basketball, Spurs. Football, Cowboys. Like I said, native Texan.
What is your favorite "hidden gem" in San Antonio?
SM: I really enjoy going to the San Antonio Botanical Garden with my family. Their recent expansion is amazing!
Think you'd like to plan your next San Antonio event with Sean or want to know the best hiking trails in the city? Reach out via email – SeanMassay@visitsanantonio.com.
Be on the lookout to meet more of our Visit San Antonio Sales Staff, and in the meantime, kick-off your event planning by visiting our website: http://meetings.visitsanantonio.com/.