We sat down with Néstor Núñez, one of the Senior Sales Managers here at Visit San Antonio, to get a feel for what his favorite bike trails are and why San Antonio is perfect for your next event.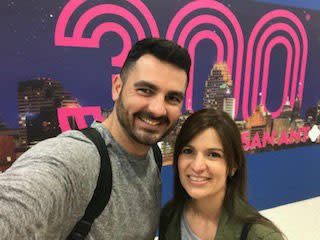 How long have you lived in San Antonio?:
NN: I've lived in San Antonio for 10 years.
Where are you from and what brought you to San Antonio?
NN: I was born and raised in beautiful San Juan, Puerto Rico! I worked with Hilton Hotels and eventually transferred here. I'm glad that I moved to San Antonio because it is a great place to live and raise a family!
What meetings, conventions and event markets do you primarily handle?
NN: I have the pleasure of working with Visit San Antonio's clients in the Northeast and Southeast.   
What do you love about working for Visit San Antonio?
NN: Visit San Antonio is an organization full of humble people that are consistently honoring others and hustling to provide top-notch hospitality. I also enjoy working with our clients and partners!
Why should people host their next event in San Antonio?
NN: San Antonio is an authentic, walkable and memorable city with awesome hotels, a world-class Convention Center and the best margaritas!
When you're not busy selling San Antonio, what do you like to do in your free time?
NN: I love spending time with my wife, our two children and our two fur-children, at church, biking the Salado Creek or at Sideliner's playing sand volleyball.
Describe San Antonio is three words:
NN: Diverse, Authentic, Fun!
Now for a few speed round questions:
Flour or Corn (Tortillas)?
NN: Corn
What is your favorite "hidden gem" in San Antonio?
NN: Guero's Taco Diner. Make sure you tell Bern that Nestor sent you. You'll know who he is as soon as you get there. My weekend habit is Mario's of New York City because I can't resist an amazing pizza-pie!
Think you'd like to plan your next San Antonio event with Néstor, reach out via email – NestorNunez@visitsanantonio.com, or feel free to ask him for a taco recommendation.
Be on the lookout to meet more of our Visit San Antonio Sales Staff, and in the meantime, kick-off your event planning by visiting our website: http://meetings.visitsanantonio.com/.