We sat down with Mario Bass, Visit San Antonio's very own Vice President of Sales & Services, to get a feel for some of his favorite things about the Countdown City and where to hit your next golf swing when you're here.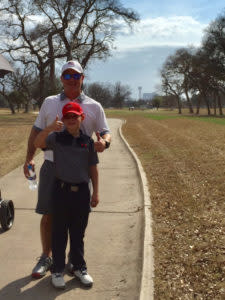 How long have you lived in San Antonio?:
MB: I'm a proud San Antonio native.
As someone who grew up here in San Antonio, what made you stay?
MB: San Antonio is the only place I call home. I moved away twice during my 22 years in the lodging and hospitality industry, and I got back here as soon as I could!
What meetings, conventions and event markets do you primarily handle?
MB: I have the greatest pleasure of working with Visit San Antonio's clients in all markets.
What is your favorite thing about working at Visit San Antonio?
MB: San Antonio boasts 34.4 million visitors a year, and tourism is big business for us here with a $13.6 BILLION economic impact across the entire city. Imagine being a part of that landscape. it is truly amazing.
Why should planners host their next event in San Antonio?
MB: When I speak with planners that are looking for a truly memorable meeting or event experience, I can tell them all day why San Antonio is perfect for them. You will seriously never find another San Antonio out there.
When you're not busy selling San Antonio, what do you do in your free time?
MB: I love spending time on the golf course with my son Aiden.
Describe San Antonio is three words:
MB: Historic. Cultural. Diverse.   
Now for a few speed round questions:
Red Salsa or Green Salsa?
MB: Green
What is your favorite "hidden gem" in San Antonio?
MB: I love the Historic Brackenridge Park Golf Course. It is a great course in the heart of the city, with a wealth of history and beauty.  
Think you'd like to plan your next San Antonio event with Mario, or need someone to hit the green with? Reach out via email – MarioBass@VisitSanAntonio.com.  
Be on the lookout to meet more of our Visit San Antonio Sales Staff, and in the meantime, kick-off your event planning by visiting our website: http://meetings.visitsanantonio.com/.