We snagged a few moments with Kristy Hernandez, one of the Visit San Antonio Destination Sales Managers. She gave us the inside scoop on where to get a great margarita in town and why San Antonio is the perfect spot for your next fiesta!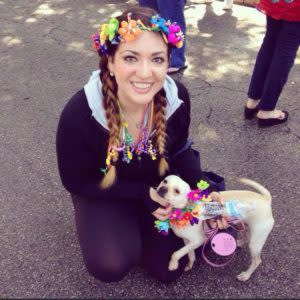 How long have you lived in San Antonio?:
KH: I have lived in San Antonio for almost my ENTIRE life! I did live in Austin during my college days (Go Horns!!) and a few other cities when I was younger.
As someone who's a born and bred San Antonio-an, why have you stayed?:
KH: I absolutely LOVE San Antonio!  I have always wanted to live somewhere beautiful, friendly and rich in culture. San Antonio checks all of those boxes and my family lives here, so it is the perfect fit!  
What meetings, conventions and event markets do you handle?
KH: I handle site visits for all markets, and have the pleasure of working closely with our Sales Managers in San Antonio, D.C., Chicago, Florida and Dallas.  
What do you love about working for Visit San Antonio?
KH: The people. Visit San Antonio is a lovely little work family. I enjoy coming to work every day and I have fun while working. It is the perfect combination.
Why should people host their next event in San Antonio?
KH: San Antonio is such a wonderful place and we will welcome you with open arms every time you visit. There is so much to do here for everyone. We also have the friendliest people here, which is a huge plus! 
When you're not busy showing off the city, what do you like to do in your free time?
KH: When I have some free time, I love relaxing at home with my family, friends and my fur-baby, Lucy! I also love to go walking along the Museum Reach section of the River Walk, it's so calming.
Describe San Antonio is three words:
KH: Beautiful. Friendly. FIESTA!   
Now for a few speed round questions:
Red Salsa or Green Salsa?
KH: Red.
What is your favorite "hidden gem" in San Antonio?
KH: This is so difficult, because everything is my favorite! I love Mi Tierra's bakery and their decorations are gorgeous. When people visit they MUST the get a cocktail at Sternewirth inside of Hotel Emma and a margarita on the patio at La Gloria (the Mangonada is my favorite)! I love the San Antonio Zoo (Did you know you can feed the giraffes?!) and SeaWorld (Aquatica water park is so fun!). I also never skip out on a chance to sing with my friends at Howl at the Moon - they know how to throw a party. I truly could talk for hours, but I'll stop here.
Think you'd like to plan your next San Antonio event with Kristy, or sing the night away at piano bar with her? Reach out via email – KristyHernandez@visitsanantonio.com.   
Be on the lookout to meet more of our Visit San Antonio Sales Staff, and in the meantime, kick-off your event planning by visiting our website: http://meetings.visitsanantonio.com/.