We caught up with Erin Sheehy-Campbell, one of Visit San Antonio's National Sales Managers to chat about the local farmers market scene and why San Antonio is the perfect destination for any meeting.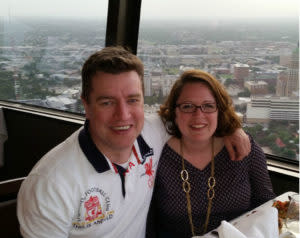 How long have you lived in San Antonio?:
ESC: I was born and raised in San Antonio, the heart of Texas!  
Why have you stayed in San Antonio?
ESC: I left San Antonio briefly to attend college and graduate school, but I missed the city and my family so much that I returned in 2010. When I came back, I saw San Antonio with a fresh set of eyes and was so impressed by the growth and development the city had experienced and still is experiencing. I can't imagine living anywhere other than San Antonio.
What meetings, conventions and event markets do you primarily handle?
ESC: I partner with our clients from D.C., Virginia and Maryland.   
What do you love about working for Visit San Antonio?
ESC: It is an honor to be an ambassador for my hometown, and the city I love. The team that I work with here in San Antonio and our partners are amazing. We are all proud to sell our city as a premiere meetings and event destination.  
Why should people host their next event in San Antonio?
ESC: The San Antonio experience is one that offers a rich heritage, vibrant culture and genuine hospitality. Our city provides the ideal canvas for networking, learning and having fun at the same time. Whether your perfect setting is in the heart of the city, mixed with the local color and flavor or relaxing hill country views, San Antonio truly is a destination for all.
When you're not busy selling San Antonio, what do you like to do in your free time?
ESC: I love to travel with my family. My husband and I take a special trip to Ireland to visit his family each year and we always take some time to explore another country while overseas. I also enjoy cooking for family and friends, reading, singing and playing with our fur-baby, Oliver.
Describe San Antonio is three words:
ESC: Genuine. Surprising. Authentic.
Now for a few speed round questions:
Red or Green (Salsa)?
ESC: Green
What is your favorite "hidden gem" in San Antonio?
ESC: If you're looking for a small piece of what our local community has to offer, I highly suggest the Pearl Farmers Market on the weekends. You can get some great food, while hanging out with friends, family and pets in a beautiful space.  
Think you'd like to plan your next San Antonio event with Erin or if you want a buddy for the Pearl Farmers Market, reach out via email – ErinSheehy@visitsanantonio.com.
Be on the lookout to meet more of our Visit San Antonio Sales Staff, and in the meantime, kick-off your event planning by visiting our website: http://meetings.visitsanantonio.com/