We snagged some time with Elissa Nava, one of the Visit San Antonio National Sales Managers. She gave us the scoop on where to get the best edamame in the Alamo City and why you should host your next event here!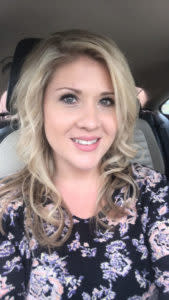 How long have you lived in San Antonio?
EN: I've lived in San Antonio a quarter of a century!
Where are you from and what brought you to San Antonio?
EN: I moved to San Antonio from San Diego, CA when I was 11. You could say I went from "Hang Ten," to "Howdy Y'all!".
What has kept you in San Antonio for this long?
EN: Though I'm not originally from San Antonio, I chose to stay and raise my family here because it is an amazing city. I wanted my children to grow up somewhere that is diverse and full of culture, so they could experience and gain world views right here at home. It seems like every month there is a celebration of heritage, history or culture in our city, and I love that we take pride in that. If that's not enough, San Antonio has a great culture, is within a few hours of the Gulf, close to the Mexican Border, within an hour from tons of lakes and rivers and we are close to the picturesque Texas Hill Country. We have a plethora of options for fun-in-the-sun activities and great food. I could go on for days about my love for this city.
What meetings, conventions and event markets do you primarily handle?
EN: I work with small meetings out of the West and Midwest United States or Internationally.    
What do you love about working for Visit San Antonio?
EN: I have the best job because it is so FUN! I love San Antonio, so having the opportunity to promote it as a destination is truly exciting for me. I enjoy helping people find the perfect place for their event and showcase the experience that their groups will have in our city. Site visits are my favorite aspect of this position, because what could be better than showing all the greatness that our city has to offer to those that have never been here?
Why should people host their next event in San Antonio?
EN: There is absolutely no place like San Antonio. The city has something to offer every meeting, convention or event. You will love our vibrant, walkable downtown area that includes the River Walk and many restaurants and cool venues. The Hill Country resorts are beautiful options for planning as well, with a great location (30 minutes from downtown and the airport) and amazing experiences. No matter where you go in San Antonio, you will love the southern hospitality, coupled with genuine culture.
When you're not busy selling San Antonio, what do you like to do in your free time?
EN: I'm married and have three children, so I spend most of my free time with them. We enjoy going to the San Antonio Zoo, Sea World San Antonio and Six Flags Fiesta Texas during the summer and throughout the holiday season. My kids love to play in Yanaguana Gardens and grab a paleta in Hemisfair. As a family, we visit Mexico a few times a year since it is a short drive away. We love soccer, my favorite team is from Monterrey, Mexico, so we love to watch the games on TV and sometimes at the stadium!
Describe San Antonio is three words:
EN: Culture. Cuisine. Convivial.
Now for a few speed round questions:
Red or Green? (Salsa)
EN: Green!
What is your favorite "hidden gem" in San Antonio?
EN: I like to consider myself a foodie, so obviously my hidden gem is a restaurant. We have an amazing culinary scene, but one of my favorite spots in town is Kimura, a Japanese-style ramen shop. It is a small place, downtown near the Greyhound Station but it's a really amazing experience because they make their ramen right in front of their patrons. Another special thing about Kimura – they are the only restaurant in San Antonio that chars their edamame. You must try it!    
Kick off your event planning or catch a soccer game with a cold brew by reaching out to Elissa via email at ElissaNava@visitsanantonio.com.
Be on the lookout to meet more of our Visit San Antonio Sales Staff, and in the meantime, kick-off your event planning by visiting our website: http://meetings.visitsanantonio.com/.