We took a few minutes to sit down with Andrea Harrington, one of Visit San Antonio's National Sales Managers, to get the scoop on her favorite places in the city, and why you should plan your next event here.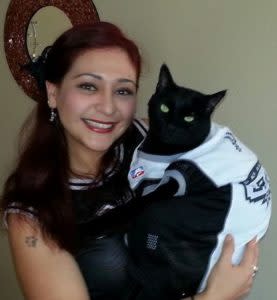 Where did you grow up?
AH: I'm a born and raised San Antonio-an (Go Spurs Go!). I grew up on the Northwest side of the city.
What has kept you in San Antonio?
AH: I love this city, it is the epitome of versatility and growth. Throughout each stage in my life, there has been something for me here in San Antonio.
What meetings, conventions and event markets do you primarily handle?
AH: I work with our clients from the Northeast, and Mid-Atlantic markets.  
What do you love about working for Visit San Antonio?
AH: What's not to love about selling the greatest city in the world?! Seriously though, I have such a neat opportunity to meet with all types of fantastic and eclectic personalities throughout my day to day here at Visit San Antonio. My co-workers, clients and friends continually inspire me to keep working hard to do my part in providing a premiere visitor experience.  
Why should people host their next event in San Antonio?
AH: San Antonio isn't geared towards one type of person, or event. We cater to every different personality as a destination, and we are constantly on the search for ways to exceed expectations, and leave lasting impressions. In one sentence: San Antonio is a friendly, welcoming city, and we are happy to give visitors a taste of what makes us San Antonio residents so proud.   
When you're not busy selling San Antonio, what do you like to do in your free time?
AH: When I'm not working, or spending time with my friends and family, you can find me painting or playing poker. I always have my "game-face" on!  
Describe San Antonio is three words:
AH: Vivacious. Humble. Sensational.   
Now for a few speed round questions:
Red Salsa or Green Salsa?
AH: Red.
Flour or Corn (Tortillas)?
AH: Corn.
What is your favorite "hidden gem" in San Antonio?
AH: Blue Box, at Pearl. They have the most magnificent infused vodkas. I also love jogging and taking picnics to Woodlawn Lake. It is a serene little oasis within the city!
Are you ready to start planning your next San Antonio event, or just want to grab a cocktail? Reach out via email – AndreaHarrington@visitsanantonio.com.  
Be on the lookout to meet more of our Visit San Antonio Sales Staff, and in the meantime, kick-off your event planning by visiting our website: http://meetings.visitsanantonio.com/.