We chatted with Alysia Roden, Visit San Antonio's Associate Director of Sales, to find out which of her favorite hidden gems in the city you should visit next time you're here.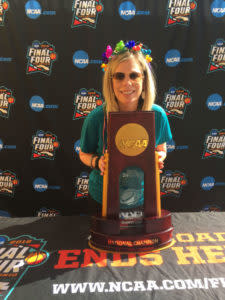 How long have you lived in San Antonio?:
AR: I moved from Austin to San Antonio, to work for Visit San Antonio 9 years ago!
What meetings, conventions and event markets do you primarily handle?
AR: I primarily work with Visit San Antonio's clients that are planning citywide conventions in Texas and the Southwest.
What do you love about working for Visit San Antonio?
AR: I. Love. My. Job. Seriously, I work with the greatest people on Earth, and I have the opportunity to represent this amazing city. I've always had a passion for providing the ultimate convention experience, and making planning easy on our event professionals.  
Why should people host their next event in San Antonio?
AR: Every planner is on the search for a memorable, friendly and unique experience for their attendees. San Antonio is that experience.  
When you're not busy selling San Antonio, what do you like to do in your free time?
AR: I love spending time with my family. I have two children, ages 4 and 1, so they keep me busy.
Describe San Antonio is three words:
AR: Fun. Authentic. Friendly.  
Now for a few speed round questions:
Flour or Corn (Tortillas)?
AR: Flour
What is your favorite "hidden gem" in San Antonio?
AR: I spend a ton of time with my family at Eisenhower Park. We love the playground and the trails.
Think you'd like to plan your next San Antonio event with Alysia, or find out a hot new spot to grab dinner? Reach out via email – AlysiaRoden@visitsanantonio.com.
Be on the lookout to meet more of our Visit San Antonio Sales Staff, and in the meantime, kick-off your event planning by visiting our website: http://meetings.visitsanantonio.com/.