Adrienne Nudo is one of Visit San Antonio's Senior Sales Managers and has the unique opportunity to represent our city all the way in Chicago, IL. We grabbed a few minutes with her to learn more about her and why she thinks San Antonio is the perfect location for any event.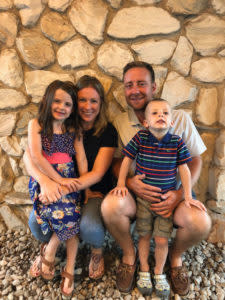 Where you from?
AN: I grew up in the Midwest. Madison, Indiana to be specific.
What meetings, conventions and event markets do you primarily handle?
AN: I work closely with Visit San Antonio clients in the Midwest.
What is unique about your job?
AN: I get to know my customers on a more personal level since I am based here with them. I love having the opportunity to meet with them in their space, see them in my community and attend social events with them.   
What do you love about working for Visit San Antonio?
AN: It is such a great honor to represent San Antonio and the amazing people that call the city home. Everyone is so proud of their city which makes our jobs that much more rewarding.
Why should people host their next event in San Antonio?
AN: Between the authenticity of the people and cuisine, you can't go wrong in San Antonio. Your attendees are sure to have a wonderful time and everyone in your group will be raving about how this year's event knocked it out of the park. The city is walkable, friendly and full of culture to surprise and delight everyone.  
When you're not busy selling San Antonio, what do you like to do in your free time?
AN: I love spending time with my family and friends. I really like music, my favorite artists are Dave Matthews, Eric Church, Kenny Chesney, Miranda Lambert and Zac Brown Band.
Describe San Antonio is three words:
AN: Authentic, Memorable and Fun.
Now for a few speed round questions:
Flour or Corn (Tortillas)?
AN: Flour
What is your favorite "hidden gem" in San Antonio?
AN: The King William District is so unique and every time I take people there they say, "Wow, I never knew this area existed!". It's fun to surprise visitors and take them to places they wouldn't have thought we have in San Antonio. I love the historic homes and the location on the "quieter" section of the River Walk. My favorite spot to take people to grab some grub is Tito's Mexican Restaurant!
Interested in booking your San Antonio event? Catch Adrienne via email at AdrienneNudo@visitsanantonio.com or feel free to ask her to show you around the King William District.
Be on the lookout to meet more of our Visit San Antonio Sales Staff, and in the meantime, kick-off your event planning by visiting our website: http://meetings.visitsanantonio.com/.