We had some time with Michelle Moon, Visit San Antonio's Director of Destination Experience and Engagement, to chat about why she loves San Antonio and where she takes her girls on the weekends.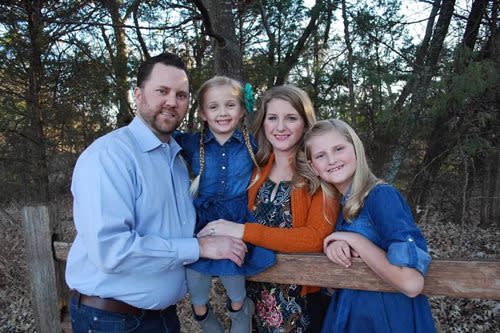 Michelle with her family.
How long have you lived in San Antonio?
MM: I am a born and bred San Antonioan! I was born at Fort Sam Houston.
What has made you choose to stay in San Antonio throughout your life?
MM: I love the history, culture and essence of the Alamo City. San Antonio has a great sense of place and is authentically a true melting pot of cultures. It is a large city, with top-notch amenities, but the personality of a small town. I also love the weather because what's not to love about an average of 300 days of sunshine per year?
What do you love about working for Visit San Antonio?
MM: I love having the opportunity to share the San Antonio story with our clients and other visitors. I come to work each day and get to work alongside a group of passionate professionals, who are all working towards a common goal. You can't find another team that is more diverse and energetic about San Antonio.
How does the Destination Experience department help set the San Antonio meeting experience?
MM: The Destination Experience department works closely with our meeting planner clients to be a true extension of their team. We spend time learning their goals and objectives so we can best serve their needs and approach the planning process holistically. We are the San Antonio storytellers, a local expert or the go-to resource for our clients on all things within our city. With the help of our local partners we are able to collaborate to ensure the meeting planner and attendee's best interest is always at heart.
If you had to tell meeting attendees one reason why they should come to San Antonio, what would you say?
MM: This is quite difficult! I'm going to give you my top three: (1) To experience a destination that is truly unique and full of rich history and culture. (2) To visit one of the friendliest and most inviting cities in the world! (3) To see what everyone else who has been to San Antonio is raving about!
Now for a few speed round questions:
Breakfast or Brunch?
MM: Brunch.
You have a free Saturday, where will we find you?
MM: I am a mother of two young girls and I love spending time with them on the weekends, exploring our city. We like to visit the museums that line the Broadway Cultural Corridor, shop local markets and venture downtown to the River Walk. Their favorite treat is to ride up to the top of the Tower of the Americas to get a 360 view of the city! We also have season passes to SeaWorld San Antonio, so we spend a lot of time there enjoying shows, riding the coasters and enjoying their special events.
Have questions about where to find a unique venue for your next San Antonio Meeting or just want to pick Michelle's brain on where to take your kiddos? Reach out via email.
Keep your eyes peeled to meet the rest of the Destination Experience team but in the meantime start exploring San Antonio: http://meetings.visitsanantonio.com/.